Eagles edge Huskies for Olsons 100th win as NYM head coach
NewsSports | Published on September 27, 2021 at 9:23pm GMT+0000 | Author: Chad Koenen
0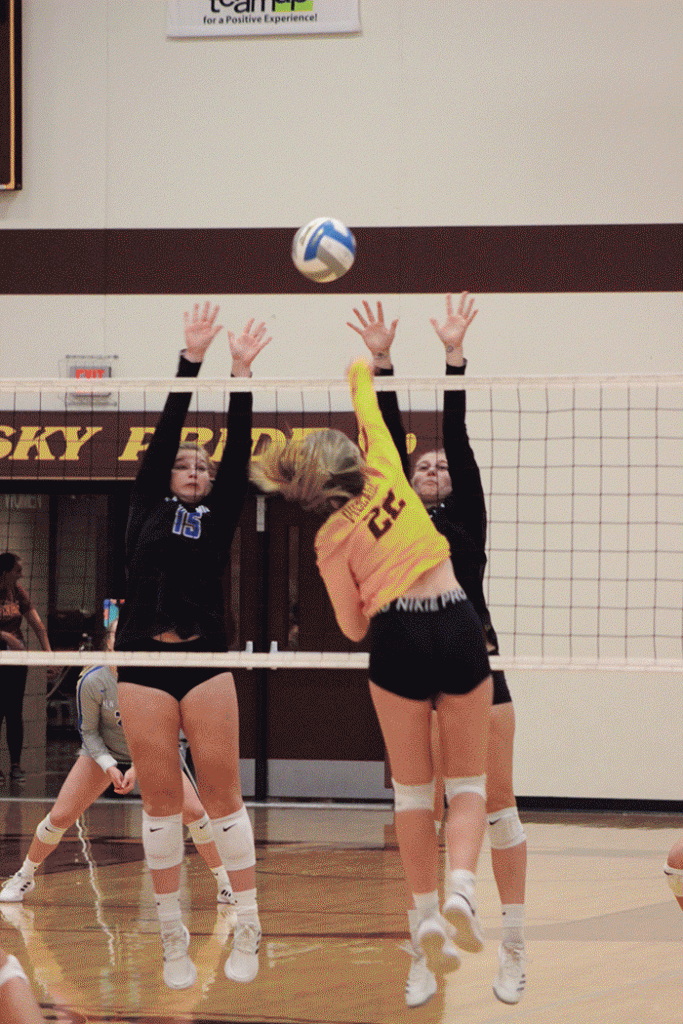 PRC win improves NYM to 3-0 in the conference, 7-3 overall
By Chad Koenen
Publisher
The New York Mills volleyball team had a reason to celebrate last week as the Eagles secured the 100th win in head coach Tammy Olson's career at the school. The Eagles overwhelmed the Pillager Huskies 3-0 to not only improve the team to 3-0 in conference play, but also secure the 100th win for Olson at the helm of NY Mills.
In addition to their win over the Huskies, the Eagles fell to Staples-Motley by a score of 3-1 on Tuesday night.
NY Mills is now 7-3 on the season and 3-0 in the conference as they will travel to Norman County East/Ulen-Hitterdal on Monday and host Menahga on Thursday night.
Tuesday
NY Mills came out of the gates on fire on Tuesday night as they overwhelmed Staples-Motley by a score of 25-11 in the first game to take a 1-0 lead. Unfortunately, the Eagles were unable to keep that momentum going as the Cardinals faught back to secure a 3-1 win by winning the next three matches by scores of 25-16, 25-22, 25-21 to come away with a non-conference win.
Kali Olson had a huge night for the Eagles as she finished with 18 kills, as well as 15 assists. Ayla Olson chipped in with 9 kills and a team-high 20 assists.
Aliya Gerber led the way with 19 digs and a pair of aces in the loss.
SERVING- Ayla Olson 14-17 (4 ace), Mairyn Erp 0-, Bella Bauck 4-5 (1 ace), Kali Olson 11-12 (4 ace), Natalie Pederson 0-1, Moriah Geiser 19-19, Aliya Gerber 15-16 (2 ace), Hayley Hudalla 10-10 (1 ace)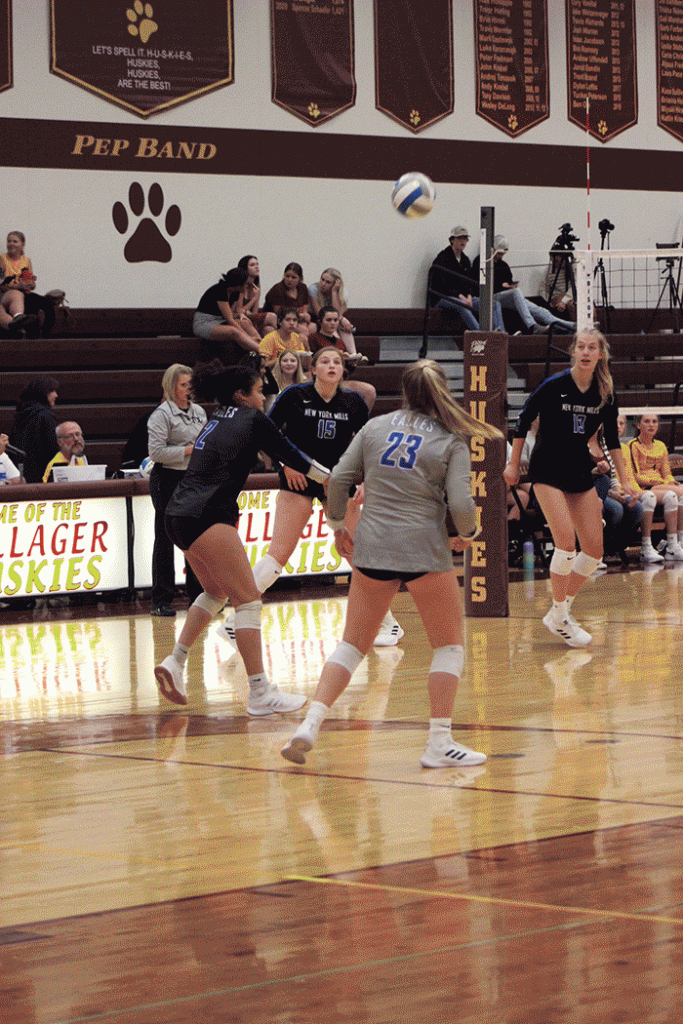 KILLS- Megan Riedel 2, Ayla Olson 9, Mairyn Erp 2, Bella Bauck 2, Kali Olson 18, Natalie Pederson 2, Moriah Geiser 5, Aliya Gerber 1, Hayley Hudalla 1
BLOCKS- Ayla Olson 2, Bella Bauck 1, Kali Olson 6, Natalie Pederson 2
ASSISTS- Ayla Olson 20, Kali Olson 15, Aliya Gerber 2
DIGS- Megan Riedel 2, Ayla Olson 10, Mairyn Erp 3, Bella Bauck 12, Kali Olson 5, Natalie Pederson 1, Moriah Geiser 9, Aliya Gerber 19, Hayley Hudalla 6
Thursday
NY Mills made quick work of Pillager on Thursday night as they secured wins of 25-14, 25-8, 25-19 to pick up their third straight win in conference action.
Kali Olson once again led the way offensively with 13 kills and also finished with 14 assists. Ayla Olson finished with 6 kills of her own, as well as17 assists.
Bella Bauck led the team with digs as she finished with 12 and Aliya Gerber was perfect from the line as she went 20-20 from the line and had 6 ace serves.
SERVING- Ayla Olson 1-3, Bella Bauck 8-8 (1 ace), Kali Olson 13-16 (3 ace), MacKenzie Gilster 1-2, Moriah Geiser 13-13, Alayna Baune 1-1, Aliya Gerber 20-20 (6 ace), Hayley Hudalla 10-10 (2 ace)
KILLS- Megan Riedel 3, Ayla Olson 6, Mairyn Erp 3, Kali Olson 13, Natalie Pederson 4, Moriah Geiser 4, Alayna Baune 1
BLOCKS- Ayla Olson 2, Mairyn Erp 1, Kali Olson 1, Natalie Pederson 3, Moriah Geiser 2, Alayna Baune 1
ASSISTS- Ayla Olson 17, Bella Bauck 1, Kali Olson 14, Alayna Baune 2
DIGS- Ayla Olson 4, Bella Bauck 12, Kali Olson 3, Natalie Pederson 2, MacKenzie Gilster 1, Moriah Geiser 6, Aliya Gerber 7, Hayley Hudalla