Olson gets 100th win as NYM coach
NewsSports | Published on September 27, 2021 at 11:23pm GMT+0000 | Author: Chad Koenen
0
Eagles improve to 7-3 on the season with a 3-0 win in Pillager
By Chad Koenen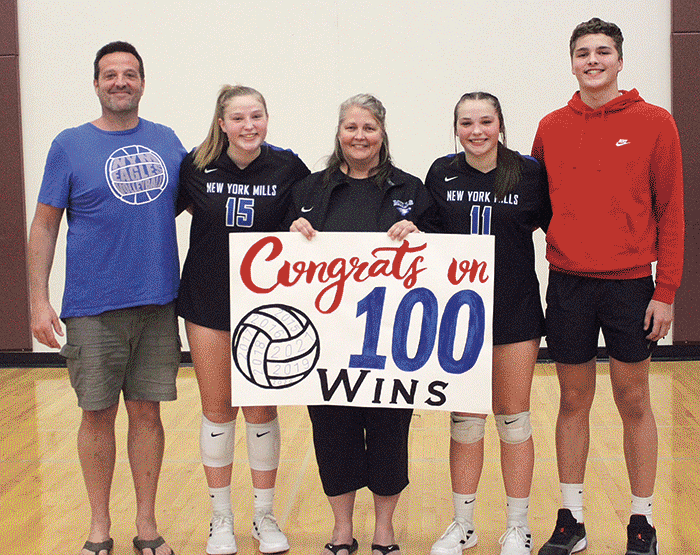 Publisher
There was an extra special reason to celebrate for New York Mills when the ball hit the ground for the final time on Thursday night. Not only did the NY Mills Eagles improve to 3-0 in the Park Region Conference with a clean 3-0 sweep of the Huskies, but head coach Tammy Olson picked up her 100th win as head coach of the NY Mills Eagles.
Olson, who also served as head coach at St. Michael-Albertville for one year, now has 115 career wins as a head coach. The last 100 of them have come at the helm of the NY Mills Eagles. She took over the program in 2016 and just two years later helped to guide them to their first state tournament since 1981. The Eagles finished that season in 2018 with a 29-4 record and have continued to find themselves near the top of the Park Region Conference year in and year out.
With two former players as assistant coaches by her side, Olson said getting her 100th win as an Eagle was a very memorable accomplishment.
"It was very exciting to do it with such great athletes and coaches over the few years I have been the head coach. I really enjoyed the fact that I had two former players Harley Wurst and Annika Frost coaching with me now, which is cool because they contributed to over half of the wins," she said.
One thing that continues to make each game memorable for the volleyball coach has been the dedication to the program from the players and the Super Fans that show up each night. After playing just six games last year due to COVID-19, the program continues to fill the stands both at home and away games with shades of blue and white. The Eagles are currently 7-3 overall and 3-0 in the conference.
The 100th win was made a bit extra special as Olson's two daughters, Kali and Alya, are members of the current volleyball team. Olson said the two Eagles have essentially grown up in the program as she started working as an assistant coach, before taking over the head coach responsibilities in 2016.
"I have been coaching in the New York Mills program for the past 10 years, so my daughters have grown up watching the changes that happened in our program.  They have witnessed the hard work it took to make it to state in 2018, to the heartache of the shortened season last year," said Olson. "The 100 wins with my daughters on my team is even more special since they have been with me through it all, and now they are impacting the game as players."