Paradise found in a vintage RV
News | Published on September 27, 2021 at 11:25pm GMT+0000 | Author: Chad Koenen
0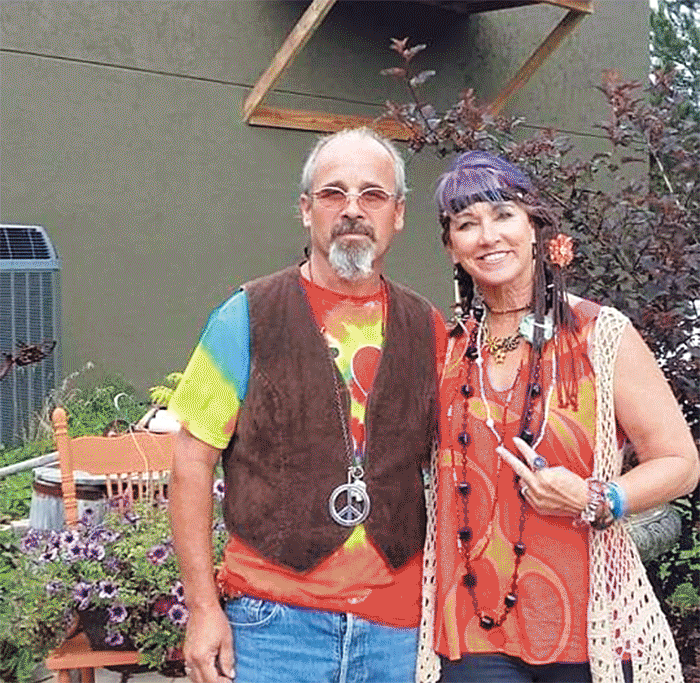 By Barbie Porter
Editor, Frazee-Vergas Forum
or some, sun-soaked beaches of solitude are the things vacations are made of; for Jewel Wacker and her husband Ron, old campers and a bunch of strangers are what makes a vacation great.
The two found what they were looking for at a camping event where attendees offer entertainment, such as games and music.
"Each campsite is different," she said. "One might have chairs set up so people can sit and enjoy music, while another might have a Bible study or yard games."
During the weekend of relaxed fun and visiting, Wacker said many friendships are built. There are also vendors. While Wacker has wares to sell as the owner of Motives – Get the Look, the 1984 New York Mills graduate decided to leave the business at home during her vintage vacations.
After purchasing tickets in January for the event, the Wackers planned on taking their Volkswagen Bus. However, complications arose with fixing the speedometer. They found a 1959 Shasta Camper to take instead.
Wacker said she hit the jackpot when she found the camper, as it had been stored inside when not in use. She is the third owner and the curtains, seats and even the tires looked vintage new.
"I did take it in to Certified Auto to have it looked at," she said. "They said the tires were from 1964. I did replace those."
The Wackers also have a 40-foot motorhome. She said that is her husband's baby, and while they hit the road for adventures with all the comforts of home, she prefers vintage travels. 
"I grew up on a dairy farm and enjoy the outdoors," the 55-year-old said. "When we take his (motorhome), we tend to be inside more because we can have the temp set at what we want it to be. We are comfortable; whereas when we take mine we spend more time sitting outside in chairs and meeting people. It's hot and uncomfortable inside. Because of that I would take my camper over his diesel pusher any day."
Many of the camping events that Wacker has attended separate the vintage campers from the modern ones. Although the people all enjoy each other's company. There are also options between having electricity for the camp site or going primitive.
"We do have a solar power generator to make coffee the lazy way," she said. "A lot of people cook over the campfire the whole weekend. We cheated and bought a gas grill to cook outside."
Regardless of what type of camping outfit one pulls into the festival with, Wacker said there is no judgement passed upon another.
"It really is a loving village of people," Wacker said.
After experiencing the Hippie Living Fair & Travelers Vintage Market, Wacker said she and her husband already purchased tickets for the event in Tennessee.
"The event grew more than anticipated, so it was moved to the fair grounds," she said. "I believe it will accommodate 1,000 campers. Tickets are sold in pairs, so that means 2,000 people will potentially be there."
For Wacker, the opportunity to befriend like-minded people, and enjoy a relaxed atmosphere is a perfect vacation. She has considered starting a similar event in the New York Mills area. After telling others about it, there has been interest. However, she is still looking into cost, potential sponsorships and other logistics.
"Really, all you need is land and porta potties," she said. "Most events are also near a river or a lake. Some bring bands in that play music from the '50s through the '70s."
While she dreams about the possibilities of bringing a fun event to her home area, she plans to continue attending the ones in Indiana, Missouri and Tennessee.