OTC DWI court team honored by MACPO
News | Published on October 8, 2021 at 2:26pm GMT+0000 | Author: Chad Koenen
0
The Otter Tail County DWI Court Team has earned the 2021 "Excellence in Corrections Award" by the Minnesota Association of County Probation Officers (MACPO). The award is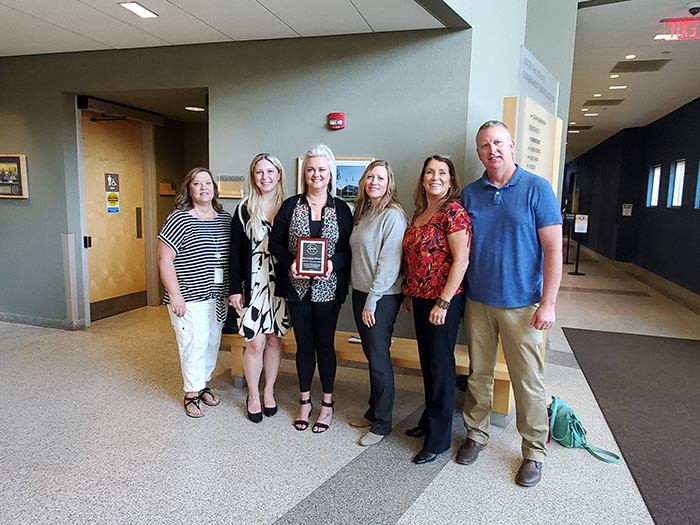 "During a lock-down or stay-at-home order, everyone experiences an increase in anxiety and/or depression at least to some degree," said Michael Schommer, Otter Tail County's Director of Probation. "We also know these are triggers for drug and alcohol relapse. The team wanted to support their clients during these challenging times."
Gift card donations were secured and a wellness challenge was developed. Every Monday all DWI Court participants received a weekly wellness challenge. The wellness challenges varied, from engaging in outdoor scavenger hunts to picture challenges to building birdhouses. Everyone who completed the challenge for that week was entered into a drawing to win a gift card. The challenges were voluntary and Agent Hallie Metcalf reported that the events received full participation.
Alongside the wellness challenges to keep clients' mental health engaged, in-person visits continued with Agent Metcalf and Surveillance Officer Mike Engel, drug and alcohol testing continued, remote court hearings continued, and client meetings through virtual platforms increased.
"Despite a pandemic where we are seeing unparalleled mental health issues across the country, the Otter Tail County DWI Court Program incurred only three known drug or alcohol relapses during the height of the pandemic," said Schommer.
About the Otter Tail County DWI Court Team
The mission of the Probation Department is to enhance public safety and victim reparation by guiding positive behavior change through a holistic approach of innovative services, community support, and effective community supervision.
The innovative wellness challenge provided the foundation for a holistic support model.