Eagles improve to 14-4 on season with two more wins
Sports | Published on October 12, 2021 at 3:15pm GMT+0000 | Author: Chad Koenen
0
NYM to travel to Henning on Thursday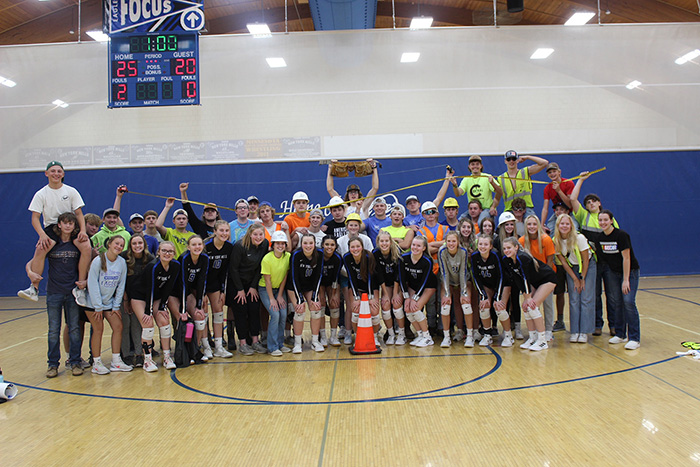 By Chad Koenen
Publisher
New York Mills won for the ninth time in 10 games in games outside of tournaments last week.
After defeating Pelican Rapids by a score of 3-0 on Monday night, the Eagles went on to defeat Wadena-Deer Creek 3-0 in Park Region Conference action on Thursday. The win improves the Eagles to 5-0 in the conference.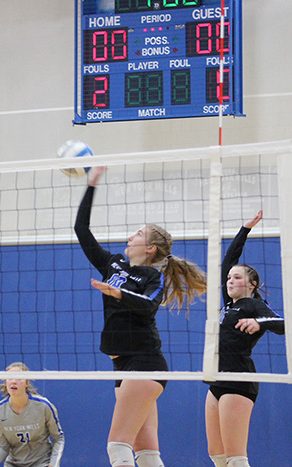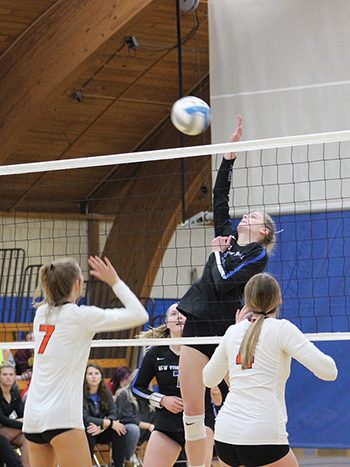 NY Mills is tied with Henning on top of the PRC standings and will take on the Hornets on the road on Thursday. The game will not only be important as far as the conference, but also the section seedings as the Hornets and Eagles are in second and third place according to the QRF in the Section 6A north standings.
NY Mills opened the week with a non-conference game against Parkers Prairie on Monday night. Currently the Eagles are 14-4 overall.
Monday
NY Mills controlled the tempo from the onset as they defeated Pelican Rapids 3-0 last Monday night by scores of 25-17, 25-12, 25-20.
Six Eagles had at least 3 kills in a balanced scoring attack last week. Ayla Olson led the way with 9, while Moriah Geiser had 8, Aliya Gerber 7, Natalie Pederson 4, Megan Riedel 4 and Mairyn Erp rounded out the offensive attack with 3 kills. Gerber also had a solid night at the line as she finished with a team high 4 aces and finished with 17 assists and 14 digs.
Bella Bauck had a good night defensively as she finished with 17 digs.
SERVES- Kailey Keskitalo 3-3, Ayla Olson 4-6, Kaylee Meech 9-10 (1 ace), Bella Bauck 9-9 (2 ace), MacKenzie Gilster 16-16 (3 ace), Moriah Geiser 10-10 (2 ace), Aliya Gerber 17-19 (4 ace)
KILLS- Megan Riedel 4, Ayla Olson 9, Mairyn Erp 3, Natalie Pederson 4, Moriah Geiser 8, Aliya Gerber 7
BLOCKS- Megan Riedel 2, Ayla Olson 1, Mairyn Erp 2, Natalie Pederson 1, Moriah Geiser 1, Aliya Gerber 1
ASSISTS- Kailey Keskitalo 1, Ayla Olson 11, Bella Bauck 2, MacKenzie Gilster 1, Moriah Geiser 1, Aliya Gerber 17
DIGS- Megan Riedel 1, Ayla Olson 2, Kaylee Meech 1, Bella Bauck 17, Natalie Pederson 1, MacKenzie Gilster 4, Moriah Geiser 4, Aliya Gerber 14
Thursday
NY Mills kept its place atop the PRC with a commanding 3-0 win over Wadena-Deer Creek. The Eagles took control of the match with a 25-13 win in the first game, before defeating the Wolverines 25-12 in the second game. The Eagles were able to close out the match with a 25-18 win in the third game to secure the three game sweep.
The Eagles were led offensively by Ayla Olson who had 10 kills, while Natalie Pederson, Moriah Geiser and Aliya Gerber each finished with 6. Mairyn Erp finished with 4 kills, while Megan Riedel rounded out the offensive attack with 3 of her own.
Gerber also finished with 17 assists, while Olson chipped in with 11. Bella Bauck once again led the way with 12 digs.
SERVES- Ayla Olson 11-13 (4 ace), Kaylee Meech 11-11 (3 ace), Bella Bauck 16-17 (3 ace), MacKenzie Gilster 11-13, Moriah Geiser 5-6 (2 ace), Aliya Gerber 9-11 (3 ace)
KILLS- Megan Riedel 3, Ayla Olson 10, Mairyn Erp 4, Natalie Pederson 6, Moriah Geiser 6, Aliya Gerber 6
BLOCKS- Megan Riedel 2, Ayla Olson 1, Mairyn Erp 4, Moriah Geiser 2
ASSISTS- Ayla Olson 11, Mairyn Erp 1, Bella Bauck 1, Natalie Pederson 1, Moriah Geiser 2, Aliya Gerber 17
DIGS- Ayla Olson 5, Kaylee Meech 3, Mairyn Erp 2, Bella Bauck 12, MacKenzie Gilseter 4, Moriah Geiser 5, Aliya Gerber 3, Hayley Hudalla 1