Swimmers set 17 PRs at Moorhead meet
Sports | Published on October 12, 2021 at 3:20pm GMT+0000 | Author: Chad Koenen
0
Yellowjackets have a busy week on tap
By Chad Koenen
Publisher
The Perham/New York Mills swim team set 17 personal records and there were two more section qualifications against Moorhead last week.
Head coach Jensen Grimsley said the Yellowjackets didn't have the depth to pull off a win against a much larger Class AA Moorhead team, but they saw a lot of success in the pool.
Among the highlights of the meet was a first place finish by Irene Mursu, Taylor Ziemke, Elle McDonald and Kaydi Mursu in the 200 medley relay, while junior Josi Minderman and sophomore Molly Meyer set a PR in the 200 freestyle.
In the 200 individual medley, Irene Mursu took first place with a season PR of 2:29.96. Lucie Meyer followed suit with a PR of her own in the 50 freestyle.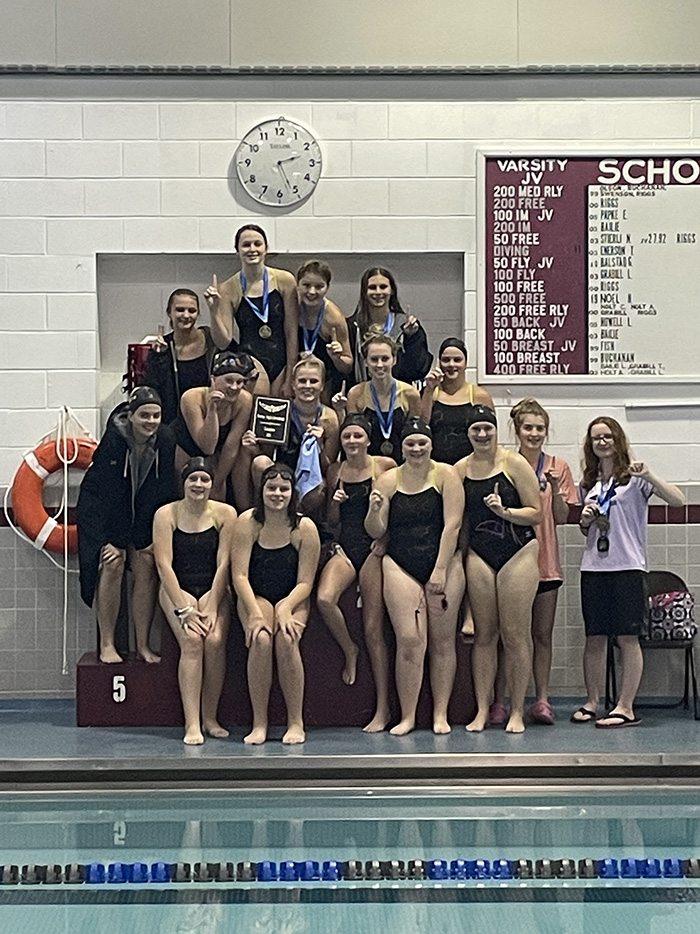 The Yellowjacket divers swept the podium with Brittney Lorentz taking first with a score of 235.5, Avery McAllister posted a PR of 214.75 for second place and Madison Ruther took third with a PR of 175.2.
In the 100 butterfly, McDonald and Rodewald set PR's in the event, while Kratzke and Kaydi Mursu both set season PR's in the 100 freestyle. Lucie Meyer set an all-time PR of 1:07.11 in the event.
In the 500 freestyle seventh grader Megan Galbrecht set an all-time PR of 7:24.41 to finish in second place in JV, while Molly Meyer posted a PR in the varsity meet of 6:55.45, Maggie Vickmark posted a PR of 6:41.70 and Ziemke posted a PR of 6:00.63. Ziemke's mark set a new middle school record by 8.95 seconds, beating the prior record of 6:09.58 that was set by Jackie Hanson in 2009.
In the breast stroke Jasmyn Olson set an all-time PR of 1:40.65.
New section qualifiers were Molly Meyer in the 200 free style and McDonald in the 100 butterfly.
Rodewald also completed the Iron Woman challenge by completing the 200 individual medley and 100 butterfly.
This week the swimmers will compete at Fergus Falls on Tuesday night and Minnewaska Area on Thursday. They will wrap up their final week of the regular season on Saturday morning with a meet in Detroit Lakes.
200 Medley Relay- 1. Irene Mursu, Taylor Ziemke, Elle McDonald, Kaydi Mursu 2:12.10
5. Jasmyn Olson, Megan Galbrecht, Maggie Vickmark, Jaelyn Rodewald 2:36.28
200 Freestyle- 3. Molly Meyer 2:29.21, 5. Josi Mindermann 2:44.34, 6. Madeleine Lamb 3:04.01
200 IM- 1. Irene Mursu 2:29.96, 5. Jasmyn Olson 3:11.42, 6. Jaelyn Rodewald 3:26.73
50 Freestyle- 3. Kaydi Mursu 30:26
400 Freestyle Relay- 1 Irene Mursu, Molly Meyer, Lucie Meyer, Kaydi Mursu 4:31.68 2. Josi Mindermann, Madeleine Lamb, Megan Galbrecht, Maggie Vickmark 5:23.60
2021 FOSSTON INVITATIONAL 10/2/21
200 Medley Relay- 1. Elle McDonald, Irene Mursu, Taylor Ziemke, Lucy Schultz 2:07.07 6. Josi Mindermann, Maggie Vickmark, Kaydi Mursu, Jasmyn Olson 2:34.54
200 Freestyle- 1. Kaydi Mursu 2:25.92, 2. Lucie Meyer 2:28.76, 8. Josi Mindermann 2:52.07
200 IM- 1. Irene Mursu 2:33.14, 5. Molly Meyer 2:59.43, 7. Megan Galbrecht 3:04.41, 8. Jasmyn Olson 3:06.02
50 Freestyle- 1. Taylor Ziemke 26.12, 5. Elle McDonald 30.80, 9. Jaelyn Rodewald 34.14, 12. Madison Lohse 38.93
100 Butterfly- 2. Lucy Schultz 1:18.26, 3. Maggie Vickmark 1:20.43, 9. Madeleine Lamb 1:43.38
100 Freestyle- 1. Taylor Ziemke 58.64, 4. Molly Meyer 1:08.25, 7. Jaelyn Rodewald 1:20.32
500 Freestyle- 1. Kaydi Mursu 6:35.89, 2. Elle McDonald 6:41.38, 9. Josi Mindermann 7:37.49
200 Freestyle Relay- 1. Lucy Schultz, Lucie Meyer, Molly Meyer, Taylor Ziemke 1:56.97 7. Jaelyn Rodewald, Megan Galbrecht, Madeleine Lamb, Maggie Vickmark 2:23.43
100 Backstroke- 1. Irene Mursu 1:09.75, 4. Lucie Meyer 1:18.39, 7. Jasmyn Olson 1:27.08, 8. Madison Lohse 1:36.88
100 Backstroke- 2. Lucy Schultz 1:26.77, Maggie Vickmark 1:33.05, 6. Megan Galbrecht 1:34.46
400 Freestyle Relay- 1. Molly Meyer, Lucie Meyer, Kaydi Mursu, Irene Mursu 4:23.56, 4. Jasmyn Olson, Josi Mindermann, Megan Galbrecht, Elle McDonald 5:07.31