Eagles sweep Panthers for 15th win of season
Sports | Published on October 19, 2021 at 3:15pm GMT+0000 | Author: Chad Koenen
0
NYM falls to Henning in five games
By Chad Koenen
Publisher
With just one week remaining in the regular season, the New York Mills volleyball team continued to find success against some of the top teams in the section and conference last week.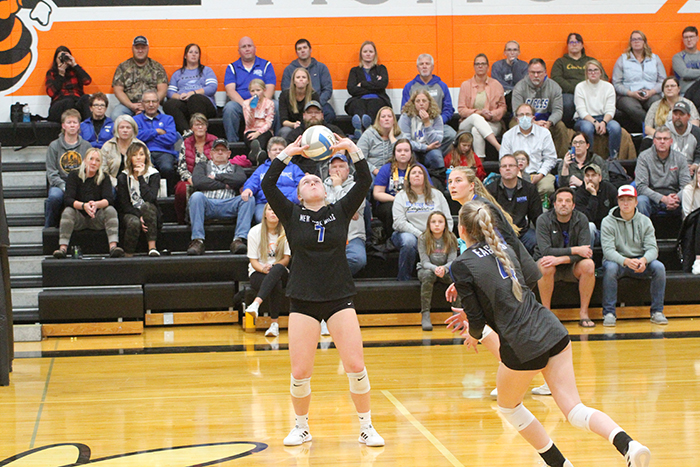 After sweeping Parkers Prairie by a 3-0 score on Monday night, the Eagles fell to Henning in a five game thriller on the road on Thursday night. The loss was the first of the season in the Park Region Conference for the Eagles as they are currently 5-1 in the conference and trail just Henning in the standings.
The Eagles improved to 15-5 overall last week and have just two more games remaining on their schedule. After traveling to Park Rapids Area on Monday, the Eagles will wrap up their regular season on Tuesday night against Bertha-Hewitt. They will then be off until the start of the playoffs next week. The additional time away from the court will help the Eagles get healthy as they have a few injuries to some of their key players. Kali Olson is currently out with a complete tear to her ACL and partial tear to her meniscus, while Aliya Gerber suffered a moderate ankle sprain in NY Mills' game in Henning on Thursday.
According to the QRF standings, the Eagles are currently tied with Underwood for third place in the Section 6A North standings. The two teams trail just Breckenridge and Henning in the standings. The Eagles are ranked 32nd in Class A.
The sub section tournament will kick off on Monday with the second round set for Wednesday. The section seedings will take place later this week.
Monday
NY Mills opened a four game road trip to end the season on fire on Monday night as the Eagles defeated Parkers Prairie 25-16 in the opening game of the night. The Panthers fought back in games two and three, but ultimately the Eagles held off a late Parkers Prairie charge to come away with a 26-24 and 25-22 win to come away with a three game sweep.
Moriah Geiser had a big game offensively as she had 14 kills, while Ayla Olson chipped in with 7 kills. Bella Bauck led the charge with 19 digs, while Geiser had 15 and Aliya Gerber finished with 10.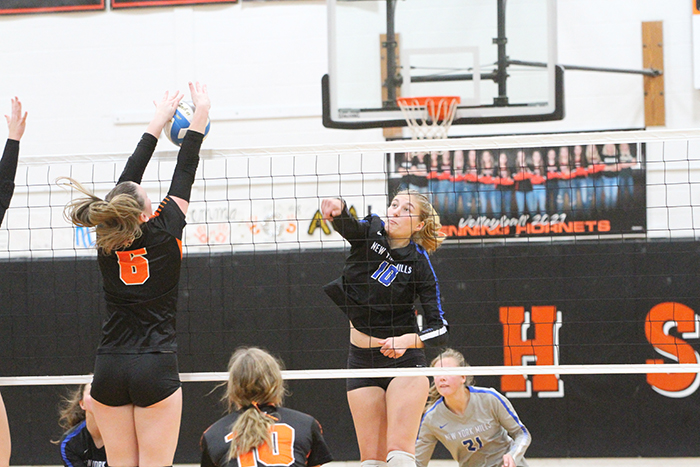 Gerber and Olson led the way with 13 and 12 assists respectively, while Olson had a huge night from the service line as she finished with 7 aces.
SERVING- Ayla Olson 21-23 (7 ace), Kaylee Meech 10-12 (1 ace), Bella Bauck 12-12 (1 ace), MacKenzie Gilster 6-7 (1 ace), Moriah Geiser 6-6, Aliya Gerber 15-15 (1 ace)
KILLS- Megan Riedel 1, Ayla Olson 7, Natalie Pederson 2, Moriah Geiser 14, Aliya Gerber 5
BLOCKS- Ayla Olson 2, Mairyn Erp 3, Natalie Pederson 4, Moriah Geiser 1, Aliya Gerber 2
ASSISTS- Ayla Olson 12, Mairyn Erp 1, Bella Bauck 2, Aliya Gerber 13
DIGS- Ayla Olson 9, Kaylee Meech 6, Bella Bauck 19, MacKenzie Gilster 1, Moriah Geiser 15, Aliya Gerber 10
Thursday
There may have been a few open seats, but they were few and far in-between on Thursday night in Henning. The only two remaining unbeaten teams in the Park Region Conference squared off for control of the conference and chance to win the outright conference title.
The Eagles were able to jump out to a commanding 2-0 lead in a back-and-forth match by winning the first two games by scores of 25-22, 26-24. Henning was able to fight back a bit and won the third and fourth game by scores of 25-19, 25-16 to force a decisive fifth game. It was just the second time all season the Eagles have had to play a five game match.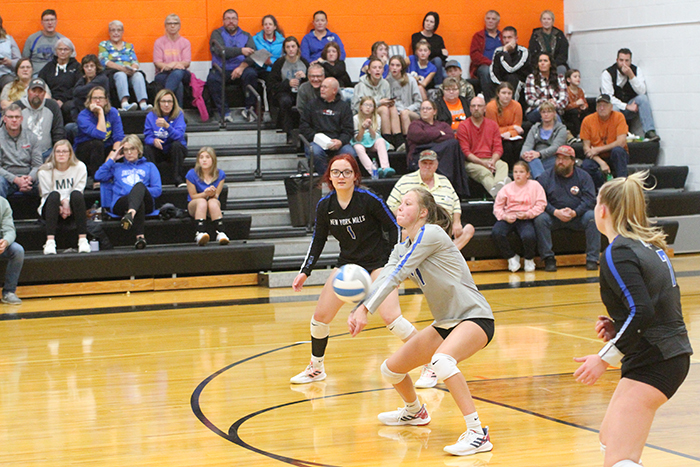 In game five, the Eagles jumped out to a 5-0 lead before the Hornets forced a side out. The game was a nail biter throughout as the two teams were tied at 7, 8, 10 and 11, before the Hornets ultimately won by a score of 15-12.
Six Eagles had at least 7 kills in the 3-2 loss with Ayla Olson leading the way with 13 kills, while Natalie Pederson, Megan Riedel and Aliya Gerber each had 8 and Mairyn Erp and Moriah Geiser each finished with 7.
Geiser also led the team with 19 digs, while Bella Bauck finished with 16 and Olson had 12.
SERVING- Kaylee Meech 12-14, MacKenzie Gilster 15-16, Bella Bauck 13-13-, Hayley Hudalla 0-1, Moriah Geiser 15-16 (2 ace), Ayla Olson 9-12, Aliya Gerber 23-27 (2 ace)
KILLS- Mairyn Erp 7, Moriah Geiser 7, Megan Riedel 8, Ayla Olson 13, Natalie Pederson 8, Aliya Gerber 8
BLOCKS- Mairyn Erp 4, Moriah Geiser 4, Megan Riedel 2, Ayla Olson 2, Matalie Pederson 3, Aliya Gerber 1
ASSISTS- Kaylee Meech 1, Moriah Geiser 2, Megan Riedel 2, Ayla Olson 11, Natalie Pederson 1, Aliya Gerber 31
DIGS- Kaylee Meech 6, MacKenzie Gilster 7, Bella Bauck 16, Hayley Hudalla 1, Moriah Geiser 19, Alayna Baune 1, Megan Riedel 6, Ayla Olson 12, Natalie Pederson 2, Aliya Gerber 5