Making a home in a new country
News | Published on October 19, 2021 at 4:29pm GMT+0000 | Author: Chad Koenen
0
Two students join NYM School as exchange students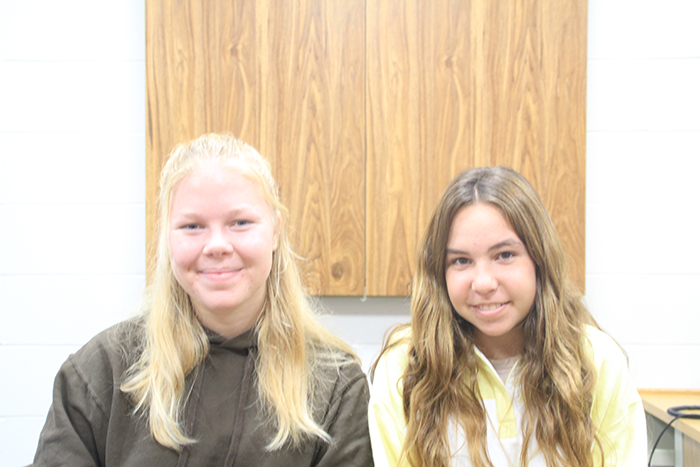 By Tucker Henderson
Reporter
New York Mills High School welcomed two new additions to their student body this year. Foreign exchange students, Charlotte Holmstroem and Maria Garriga Matas, are staying with local families while they experience high school in the United States.
Holmstroem hails from Hoejbjerg, Denmark and is staying with the Mike and Teri Bauck family.
Matas, who comes from Lloret de Mar, Spain, is being hosted by the Randy and Chasity Peterson family.
Since arriving in NY Mills, Holmstroem said the community has been very supportive of its residents.
"The community shows up to games and to church with so much support. That doesn't  really happen in Denmark."

Charlotte Holmstroem
Matas agreed with the support she has seen in the community.
"People like to get together and they get along really well," she said.
Life in the United States can be quite a culture shock to some. Matas was surprised at the abundance of an American grocery selection.
"In Spain there might be three options for potatoes, where here you have 10 or 20," she said.
American society also demonstrated its differences to Holmstroem. Her experience with family life wasn't quite what she expected.
"Parents are more involved in your life. There is lots of follow up—they even know what I have for homework. I'm not complaining either," she said with a smile.
Holmstroem expresses how spread out the United States is compared to Europe.
"Wadena would be considered a long trip," she said.
In Denmark, she lives in a suburb next to a large city, so a "trip to town" wouldn't take very long. Matas said that while NY Mills is not that small, her hometown is larger.
Subtle differences can make quite a bit of difference in a person's life. Matas misses her daily routine most of all.
"Especially the weekends," she said.
Holmstroem misses everyday foods that America doesn't share with Denmark. She explained that she was missing liver pate and her host-mother, Teri Bauck, got ahold of some.
"Her grandfather was Norwegian and he ate it. So she found some for me," she said.
While life in America may seem daunting at first, Holmstroem and Matas were able to take the plunge of foreign exchange. They will be able to take their memories of NY Mills home with them to share with the rest of their families and friends.