Gibb's #10 Sales continues to put customers first
News | Published on October 27, 2021 at 5:38pm GMT+0000 | Author: Chad Koenen
0
Locally owned used car lot has been a part of New York Mills community since 1986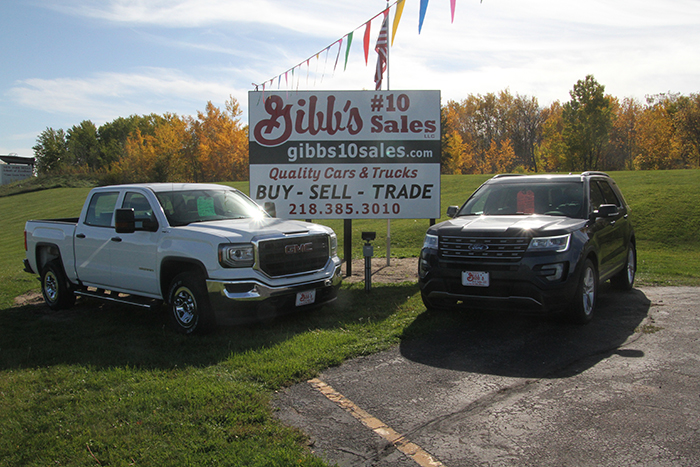 By Chad Koenen
Publisher
Thirty-five years after Gilbert Wegscheid began selling used cars in New York Mills, Gibb's #10 Sales continues to sell quality used vehicles at an affordable price. The business was started in 1986, and even though the industry has changed a bit over the years, one thing has remained the same—their emphasis on customer satisfaction.
In fact, you don't need to look any farther than the amount of returning customers to prove that the staff at Gibb's #10 Sales does everything it can to make sure you purchase the right vehicle for your needs today, as well as in the future. 
Gary Gibbs started with Gibb's in 2002 and has learned over the years that customer satisfaction is their number one goal. Gary and Melissa Gibbs took over Gibb's in 2016 along with Julius Aho in sales and AJ Schmitz in the detailing department.
Gary said one of his favorite parts of the job is working with people to find a quality vehicle.
"I enjoy meeting the people and helping them to find a good used vehicle to meet their need," he said.
Melissa agreed that having the chance to meet customers from across the region are among their favorite parts of being at Gibb's #10 Sales.
"We get a lot of local people, but we get people from afar too," she said.
While their lot features a wide selection of vehicles, if you don't see what you are looking for on the lot, let the staff members go to work for you and help you find that perfect vehicle you have been trying to find.
You can view inventory online at www.gibbsautos.com. They offer financing through local lenders with great rates and they also have extended warranties.
Gibb's #10 Sales is located on US Hwy 10 East in New York Mills and can be reached at (218) 385-3010 or online at www.gibbsautos.com, where inventory is always updated.
Office hours are Monday-Friday 8 a.m.-5 p.m., Saturday 8 a.m.-12 p.m. or by appointment. Make your next vehicle buying experience a great one by stopping in at Gibb's #10 Sales.