Interactive Smart TVs installed in New York Mills School classrooms
News | Published on November 2, 2021 at 4:12pm GMT+0000 | Author: Chad Koenen
0
New TVs to replace SMART Boards, provide new learning opportunities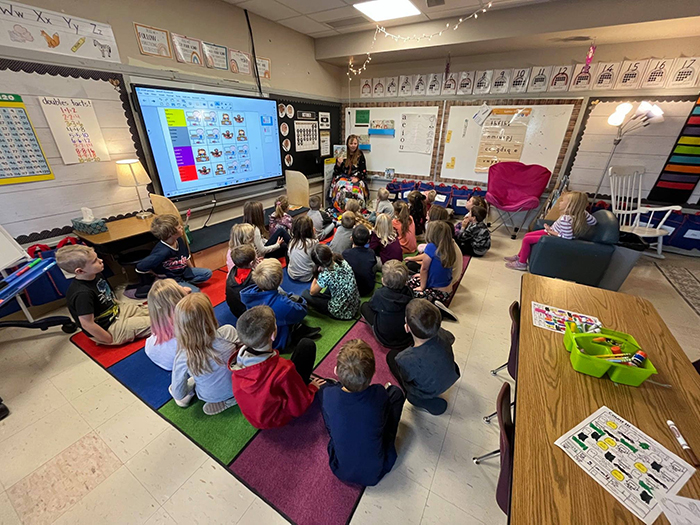 By Tucker Henderson
Reporter
During the week of MEA break, the IT team at New York Mills School updated the former SMART Boards with state-of-the-art ViewSonic IFPs (Interactive Flat Panel). These new screens are a timely upgrade from the former SMART Boards being used throughout the district. The state-of-the-art IFPs have many capabilities that SMART Boards lack.
Teachers no longer need to turn off lights, replace dead bulbs, or worry about visual quality anymore. ViewSonic IFPs don't require costly projectors to utilize their whiteboard feature. Larger groups are now able to interact with the screens together in contrast to one sole teacher with a SMART Board. Updated sound systems and a webcam are included to enable a teacher to teach from home or teach students that are limited to home learning.
Whiteboard notes can now be saved and shared with students, which helps in instances of distance learning, make-up work, and saving class notes.
"The possiblities go far beyond this as the companies keep adding more and more to their software."

New York Mills School Technology Coordinator, Nick DeVillers
The capabilities of each flat panel will increase the more widely they are used. Roughly 50 units were installed in the NY Mills classrooms in the past weeks. There are 10 on mobile cars that will be used for kindergarten and science classes.
Staff training will be held in multiple sessions throughout the coming school year as well as next year. Zoom sessions will cover the basics for all staff, and on-site trainers will be coming in between November and January to teach longer, interactive sessions. Trainers will stay to assist with lessons during the first days of use.
While COVID-19 lingers, the future of distance learning vs. on-site learning is still unknown. The ViewSonic IFPs are a much needed and powerful tool at the disposal of any teacher. Whether distance learning becomes essential for students again or not, the new IFPs will give students and teachers a leg-up on everyday learning.