NY Mills teen bags first 'real buck'
News | Published on November 2, 2021 at 4:39pm GMT+0000 | Author: Chad Koenen
0
Youth hunting season a success for Schmitz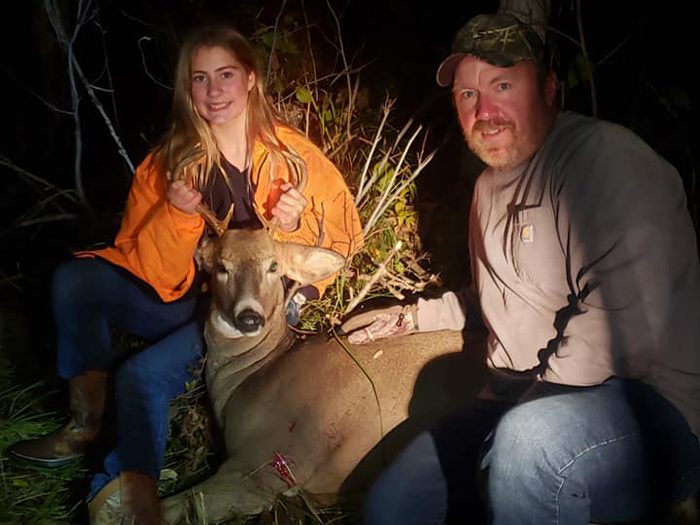 By Barbie Porter
Editor, Frazee-Vergas Forum
Hunting is a family affair for Talli Schmitz. When deer hunting season rolls around the rifles are cleaned, safety checks performed and scopes sighted. And, many family members pack their bags and travel to family-owned property where memories are made annually.
"We have party hunts where all the cousins and family come," she said. "When I was younger, I looked forward to reaching the right age so that I could join them."
The daughter of Angela and Kyle Rienke, and Chad Schmitz, has been hunting four times since those days of anticipation. And, before this youth season concluded, she captured her first "real buck."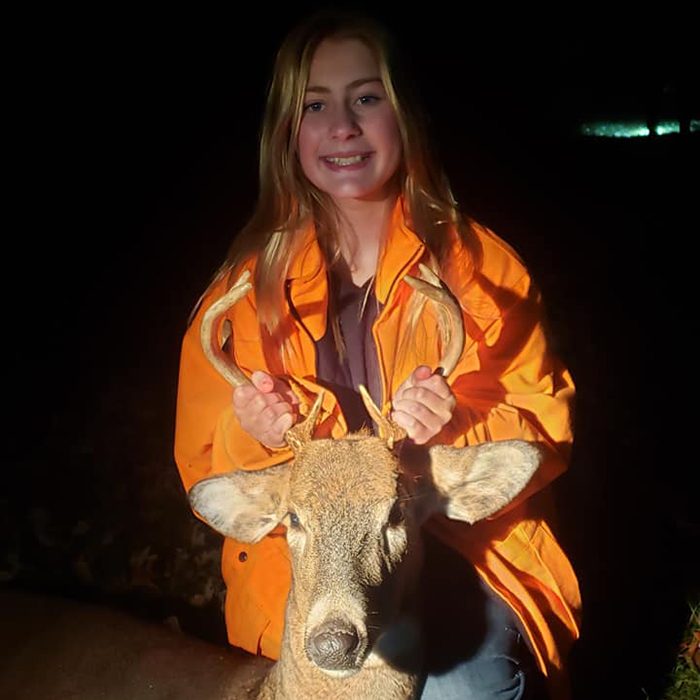 During youth season, those 10-17 years of age, are invited to hunt deer with the guidance of an adult, who need a hunting license. This go around, the seventh grader at New York Mills High School ventured into the woods with her uncle Jeremy Flatau of Perham.
"I just said, 'Hey, the youth hunt is coming up' and he was onboard," she said. "We have stands on my grandparent's land in Perham. There is a good spot in the back."
The two went to the hunting grounds as the weekend rolled in. They walked to the stand as the sun fell from the sky, highlighting the clouds with a heavenly glow. While the temperatures felt like fall, Schmitz said their box stand had a window that was in direct contact with the sun for much of the day.
"When we got in there it was super hot; we didn't need a heater," the rural NY Mills resident said.
The two got comfortable and Flatau shared stories of many bucks cantering across the field on trail cameras leading up to the hunt. Schmitz expressed excitement of capturing her first "real buck."
"I got a button buck in 2019, but that wasn't a real buck," she explained, noting she was aiming for a full rack.
When in a deer stand, time can slip by without much thought of tracking it.
"We were out there a half hour, or maybe it was an hour," Schmitz said. "I'm not sure, but a doe came out."
The doe sat by itself on the edge of the woods and provided a clear shot, but Flatau told his niece to wait for the buck. Schmitz took a seat on the floor.
"I was in a chair, but I needed to sit on the floor so I wouldn't see it. If I didn't see it, I wouldn't shoot it."

Talli Schmitz
The phone came out and time was passed by surfing the internet while eating popcorn. Eventually, her uncle whispered a notification that a buck had approached. Schmitz darted up to look out the window.
"He told me to move slow because there were four under us and three in the field," she said, noting she gave him a look said, "And you're just telling me this now?"
Schmitz decided to give her uncle grief later and focus on the moment. She steadied her gun and viewed the targets. There was a "unicorn with one horn" in the bunch. She took aim.
"Then it looked straight at me, turned its body and ran away with several other deer," she said. "So, I missed that chance."
The missed opportunity was soon followed by two fawns walking into view. Behind them were two bucks.
"They were about 100-yards away, maybe 125," she said. "When I sighted in the gun I was shooting targets 100 yards away, so I had confidence."
While the target was in range, Schmitz couldn't control her breathing. She was nervous she would make a noise or miss the shot and her pumping adrenaline didn't help matters. So, she took a deep breath and held it. With the buck in the cross hairs, she fired.
"By then it wasn't completely dark, but the sun was down," she said. "The buck was a few yards from where I was; my uncle knew right away I hit it."
The two waited. With flashlights on, they followed the blood trail a few yards away to the 9-point buck. With an ATV, the deer was brought back to a nearby shed. The two prepared the deer to extract the meat for processing for steaks, burgers and more.
When the family gathers for the upcoming rifle season in early November, Schmitz plans to punch her doe tag and share the story of capturing her first "real buck."