Phelps Mill foundation repairs set for next year
News | Published on November 2, 2021 at 4:03pm GMT+0000 | Author: Chad Koenen
0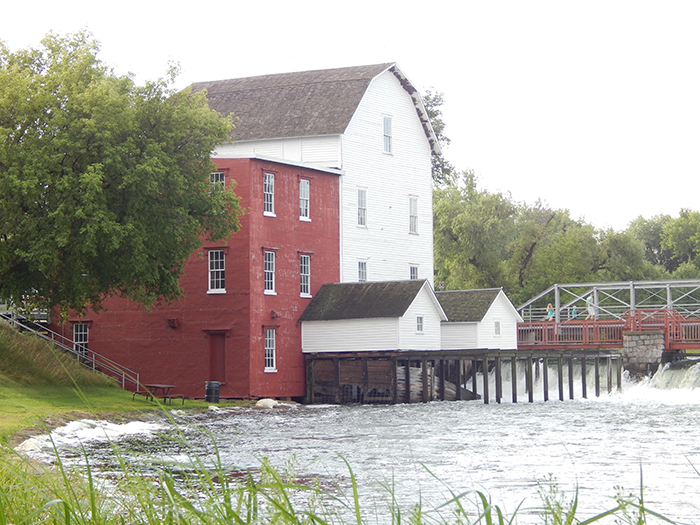 By Tom Hintgen
Otter Tail County Correspondent
The Phelps Mill foundation is in need of repairs, and funding to help Otter Tail County in this endeavor has come from the state of Minnesota.
A grant of $275,500 is coming to the county from the Minnesota State Historical Society.
"There is a required county match," says Deputy County Administrator Nick Leonard. "We anticipate that opening bids for the project will take place on Nov. 2 this year."
Awarding of bids will likely take place later in November, Leonard added.
"If all goes according to plan, we could complete the project of repairs to the Phelps Mill foundation by May 2022," Leonard said.
The historic mill was built in 1889, so the Phelps Mill structure is now 132 years old.
Located in Maine Township of central Otter Tail County, the mill was designed to produce 60 to 75 barrels of flour per day.
At the height of the wheat grinding season, 25 to 35 wagons loaded with stacks of wheat would line up outside the mill. Nearby was a restaurant, general store and blacksmith shop.
Phelps Mill was very successful until 1900, but after that year business gradually declined. William Thomas sold the mill in 1919.
By the 1930s the railway was in place and it became easier for county farmers to ship their grain to Minneapolis. Phelps Mill went out of business in 1939.
In 1965 Otter Tail County purchased the mill and surrounding land as a recreational site.
The nearby picnic grounds, operated by Otter Tail County, is a popular place for family reunions. Each summer the park is also host to the annual Phelps Mill arts festival.
County board members, in 2019, approved the purchase of 71.8 acres of land just north of the current Phelps Mill Park. This more than doubles the park from the original 51.2 acres.
Phelps Mill was listed on the National Register of Historic Places in 1975. Thousands of photos have been taken at the mill site over the years, and painters have also produced artwork of Phelps Mill.