Thanksgiving Eve meal returning to NYM
News | Published on November 2, 2021 at 4:30pm GMT+0000 | Author: Chad Koenen
0
Meal to be prepared by Farmer's Daughter Rustic Bakery, served at Trinity church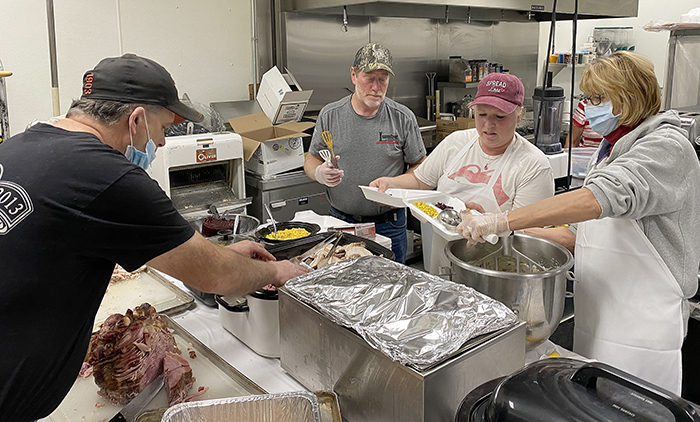 By Tucker Henderson
Reporter
Trinity Church will once again be hosting a community Thanksgiving meal on November 24.
After 10 years of preparing the annual meal, Barb and Gary Schultz of Concept Catering, have passed the baton to Lisa Kopveiler, owner of the Farmer's Daughter Rustic Bakery. The meal was canceled last year due to COVID-related concerns and will feature a few changes this year.
Changes in execution from previous years will include menu items. This year's feast will include turkey or ham, mashed potatoes and gravy, stuffing, glazed carrots, cranberry sauce, dinner roll, and a pumpkin dessert. Dine in at Trinity Lutheran Church will take place on Nov. 24 from 4-6 p.m. Worship will be held at 6:30 p.m. following the meal.
Delivery will be available in a limited capacity by calling Farmer's Daughter Rustic Bakery at 385-3035 for more information. Delivery and pick-up reservations must be ordered by November 19 and will all be delivered by 3:30 p.m. on November 24. Reservations can be made with Karen Brasel at 298-2214 or 385-2772.
Trinity Lutheran Church and Farmer's Daughter Rustic Bakery are requesting people to call ahead, if possible, if they are planning to attend the meal.
Volunteers are also sought out for preparation, set up, deliveries, and clean up. Get in touch with the Bakery if you can help.
The Senior Center, Trinity Lutheran Church and Farmer's Daughter Rustic Bakery are all places that sign-up sheets will be available for the meal. The meal will be free-will offering and any additional donations are well appreciated. All proceeds go to Santa Anonymous similar to prior years.
"Trinity would like to share their blessings and give thanks as a community," said Brasel.
Trinity Lutheran Church has made sure to highlight this in its 10 years of serving meals to the community. Starting at 250 meals its first year, large community involvment has peaked it at over 1,000 meals served during its best year.