All aboard for the final time
News | Published on November 9, 2021 at 3:50pm GMT+0000 | Author: Chad Koenen
0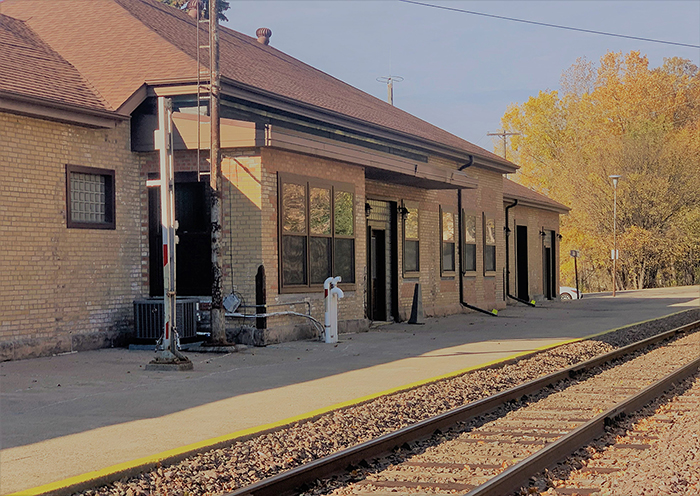 Final passenger trains left OTC in 1971
By Tom Hintgen
Otter Tail County Correspondent
Birds flew overhead on a sunny and still morning in late October, 1971, at the Great Northern Railroad station north of downtown Fergus Falls.
A group of passengers waited outside the station on the platform, next to railroad tracks. They were ready to board the eastbound Red River train at 9:12 a.m.
For many of them, this would be a personal and historic trip to Minneapolis, since 1971 was the final year, 50 years ago, for passenger trains passing through Fergus Falls.
Within a few minutes, the train passed underneath the North Union Avenue bridge, just northwest of the train station.
Finally the passenger train, clanking across the tracks, came to a screeching halt at the train station. People heard the hissing of the air-pump which produced pressure for the brakes on the train.
A train conductor approached the open door to one of the passenger cars. He leaned down and set in position a step stool for passengers to use while getting off the train.
Five minutes later the conductor yelled, "Final call to board the train to Alexandria and points beyond."
Passengers also used the step stool getting onto the train.
After passengers were seated and gave their tickets to a train employee, a conductor entered the passenger car, and said, "Last call for breakfast. Last and final call for breakfast."
Some passengers then headed to the dining car.
The train began its journey at 6:30 a.m. in Grand Forks. After stopping in Hillsboro, the train reached Fargo at 8:01 a.m. After a stop in Barnesville, the next train stop was in Fergus Falls.
Heading eastward, the passenger train passed along the north side of Pebble Lake on its journey to Alexandria, where the arrival time was 10:01 a.m.
There were two more stops, at Sauk Centre and St. Cloud, before the train arrived in Minneapolis at 12:35 p.m. For those departing the train in Minneapolis, it was only a walk of about three blocks to downtown.
The Western Star train, which traveled between Seattle and Chicago, also passed through Fergus Falls until 1971.
Curtailing train passenger service, 50 years ago, coincided with the opening of the interstate highway system. Amtrak, which started in 1971, has a route through Fargo and Detroit Lakes.
Today, the railroad route from Fergus Falls to Alexandria, and then to Osakis, is part of the Central Lakes Trail for hikers and bikers.