Knowledge Bowl Team takes second
Sports | Published on November 16, 2021 at 8:12pm GMT+0000 | Author: Chad Koenen
0
New York Mills team competes in Fergus Falls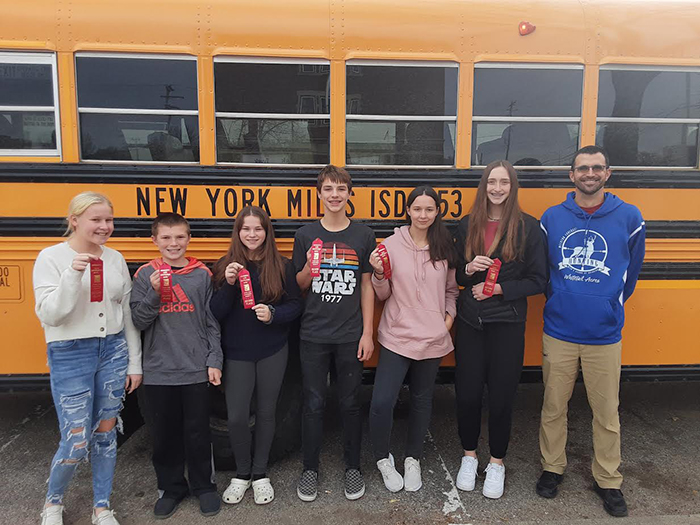 The New York Mills Junior High Knowledge Bowl team went to their second meet of the year in Fergus Falls on Monday, Nov. 8. This round of competition hosted 17 teams from Fergus Falls, Holy Rosary (Detroit Lakes), Morris, Barnesville, and Herman-Norcross. The Eagle Trivia Masters finished their written round in fourth and ninth place respectively. Both teams had hot first rounds putting up scores of 17 and 16 points each.
NY Mills Nickel (Emily Deyong, Ellie Scheidecker, Eli Aho, Alex Mack, Dylan Selander) went up a room and sailed the rest of the day to a tie for fifth place.
"We had a good day, but our other team had a great day," said Dylan Selander.
NY Mills Nutmeg (Aubrey Barthel, Annika Dunrud, Lucy Wallgren, Elijah Geiser, Isaac Geiser, and Brienna Honer) jumped up into the 1-2-3 room for rounds 2, 3 and 4. As they entered the final round, they began in first place. They won the round in the top room with 11 points and were quite giddy for the awards ceremony.
However, Fergus Falls Fuchsia, the team that started the day in first place, dropped to the 4, 5, 6 room in the last round. Their sneaky sandbagging strategy proved effective as they got a whopping total of 21 correct answers. That was enough to overtake NY Mills Nutmeg by points and drop our Eagles team to second place.
"We did so much better than our first meet in the oral rounds, our buzzing was a lot stronger too," said Elijah Geiser.
Aubrey Barthel mentioned, "It's really fun to meet the people from the other teams."
Like the first meet, our teams worked hard, had fun, challenged each other and enjoyed the competition.