Schwartz joins NYM Police Department
News | Published on November 30, 2021 at 7:02pm GMT+0000 | Author: Chad Koenen
0
A ride along in NYM sparked an interest in becoming an officer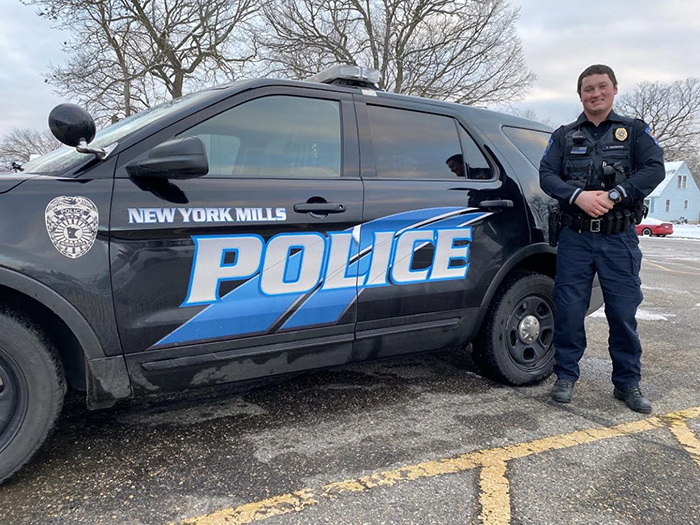 By Tucker Henderson
Reporter
Like many graduates fresh out of high school, Tyler Schwartz wasn't sure what career he was interested in.
After some deliberation, he decided to attend the Minnesota State Community and Technical College in Wadena to pursue an Associate of Arts degree. While taking classes at M-State, he paid his tuition by working at Cenex in New York Mills.
During his time there, he got to know the police officers working around NY Mills fairly well. After learning that he could participate in a ride-along, he thought it would be a fun experience and gave it a try.
"After my first ride along, I decided law enforcement was what I wanted to do," said Schwartz. "I also knew that a desk job wouldn't be for me and the idea of getting to do something different everyday was intriguing."
As an impressionable teen, he said that the officers working in NY Mills at that time became his role models. He went on several more ride-alongs with Ron Smith, who now works as Schwartz's partner at the NY Mills Police Department.
"He is also one of the reasons why I wanted to pursue law enforcement. It's a cool thing to be able to work with someone I look up to," said Schwartz of his partner.
Favorite parts of his job are, "interacting with the public, the adrenline rushes, and being able to help people."
Originally from Pine River, Minn., Schwartz feels at home in NYMills. He has family in the area and likes that he can go hunting in his free time.
"I've always felt Mills is a great place to live and work. I enjoy the opportunity to protect and serve the citizens of this city."
Schwartz started his time at the NY Mills PD during an internship in 2012. He was working part-time in NY Mills and full-time in Henning when the opportunity arose this summer for a full-time position in NY Mills. He jumped at the opportunity to join the local police department on a full-time basis.
Schwartz has been a police officer for six years and a portion of that time was part and full-time employment with the NY Mills Police Department. While the adrenline rushes may be a great part of Schwartz's job, he stressed that the people of NY Mills are his favorite part of town.