This is special month for county K9 unit
News | Published on November 30, 2021 at 6:01pm GMT+0000 | Author: Chad Koenen
0
Mojo, Eifert share a special bond between one another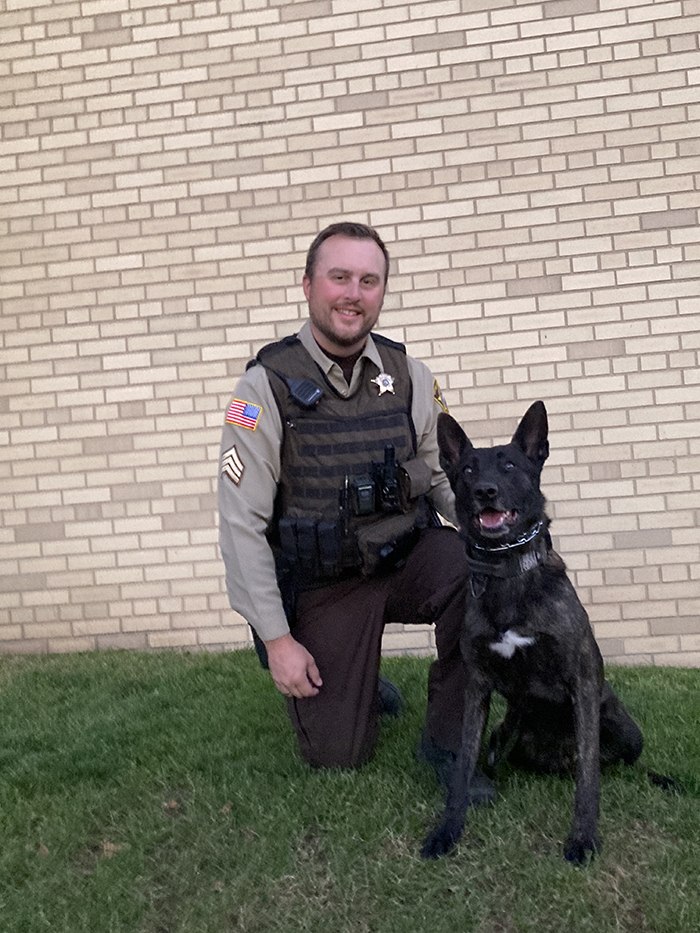 By Tom Hintgen
Otter Tail County Correspondent
Mojo, a Dutch Shepherd, has answered the call, time and again, to assist the Otter Tail County Sheriff Office. This dog is under the direction of County Sheriff K9 Officer Zach Eifert.
"November is the birth month for Mojo," Eifert said. "He's 8 now and in very good physical condition. Mojo is in his prime for getting work done, especially drug work. He's an all-around good boy."
Mojo and other dogs used in law enforcement are chosen for their intelligence, working drive and strong sense of smell. These dogs help when sheriff units pursue fugitives, search for missing people and when they engage in narcotics and evidence detection.
Officers such as Eifert are more than just dog handlers.
They have attended classes with their dogs in order to develop unique relationships and become trusted partners. Eifert and Mojo have national certifications for narcotics detection and patrol functions.
K-9 officers, including Eifert, maintain 24-hour control over their canines.
Eifert and Mojo work in not only Otter Tail County but also assist law enforcement in neighboring counties.
More about the bond
between Mojo and Eifert
In the spring of 2015 Eifert and Mojo, a young Dutch Shepherd dog, took training for six weeks in Iowa. Included was narcotics detection and suspect apprehension.
"We selected Mojo on the recommendation of a trainer who spoke highly of Dutch Shepherds," Eifert said. "We didn't want a hard charging dog, but rather a dog with a good nose to help us in Otter Tail County."
Later, in the summer of 2015, Eifert and Mojo returned to Iowa for training in the tracking of articles tossed away by suspects, and recovering those items. This was a one-week session.
Eifert and Mojo work well together on a weekly basis. It's 24-7 when calls come in for vehicle sniffs, search warrants and narcotics sniffs. Eifert also is a crime scene technician and drug recognition expert.
Mojo is cared for at the home of Eifert, his wife and children.
"I'm the only handler for Mojo," Eifert said, "and we train periodically with other dogs and handlers as part of canine associations, the closest being in West Fargo."
Recertification takes place annually through the U.S. Police Canine Association and the North American Police Work Dog Association.