NYM presents The Play That Goes Wrong
News | Published on December 1, 2021 at 3:37pm GMT+0000 | Author: Chad Koenen
0
Drama department hosts a pair of performances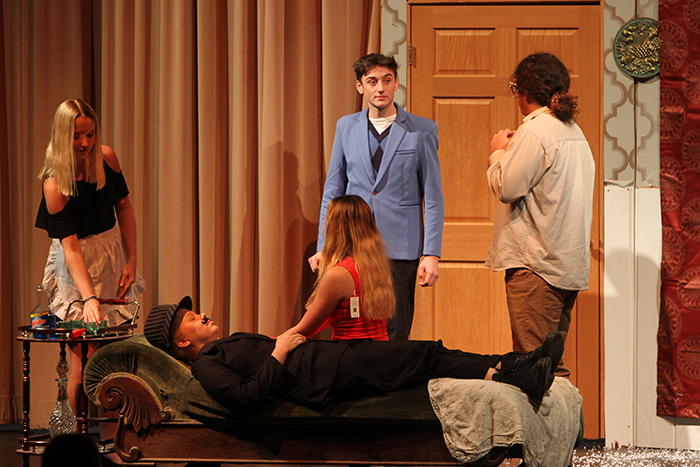 By Tucker Henderson
Reporter
The New York Mills Drama Department's production, "The Play That Goes Wrong," held two showings with great success. This year's play, directed by Leif Ronning, showcased the talents of NY Mills students as they portray actors putting on their own play "Murder at Haversham Manor."
Unfortunate incidents such as a hastily-finished set, prop misplacements, and injuries plague both cast and crew. While these intentional blunders might ruin any other play, they make for a highly amusing performance as the real actors have to emulate mediocre thespians as they unwittingly set themselves up for disaster.
The play opens with the ficticious Cornley Polytechnic Drama Society's stage manager, played by Jessica Lenz, announcing the play "Murder at Haversham Manor" as the projector shows "Fiddler on the Roof." After reprimanding the projectionist, she explains that this year's performance should be exemplary. This, she explains, is in contrast to previous performances where budget and cast issues forced them to have plays such as "James, Where is Your Peach?" and "Ugly and the Beast."
As the lights cut, a stage-hand can be seen and heard trying to attach the mantelpiece and add a prop-picture to the set. The stage-manager tells her to get off the stage and both mantel and picture are taken with her. The lights flash on and Charles Haversham, played by Charlotte Holmstroem, lays still on a velvet settee. Soon, people heard the voice of Tom Colleymoore calling out for his friend Charles, who should be attending his engagement party with his fiance, Florence Colleymoore, played by Jane Gudmundson.
A door malfunction causes Tom, played by Ximon Lucero-Moran, to walk through the stage curtain to find his friend seemingly unconcious. After checking his pulse, Charles is declared dead. The mystery begins with the cliche, yet still iconic, DUN DUN DUUUUN sound effects from the on-stage sound system being controled by a sound engineer, played by Elijah Geiser.
While unbeknownst to the rest of the cast, Charles' brother, Cecil Haversham, played by Elliot Kangas, was having an affair with Tom's sister, Florence Colleymoore. They are unaware of who killed Charles, but they know the would appear suspicious if found out, so they keep it under wraps. Perkins, the butler played by Alexa Graphenteen, pours out a bottle of prop-whiskey while stating that the bottle is empty. In an obvious case of misplaced props, she then fetches the empty bottle to pour them all a drink. Needing something to pour, she quickly asks the stage crew for some kind of liquid.
Being given a bottle of Windex, she pours each of them a drink. The actors reluctantly take their shot of 'Windex' and quickly spits it out following with lines such as "That was the best whiskey I've ever had." As the police have already been notified, Inspector Carter, played by Ariel Arno, soon arrives at the door, despite the setting being cast in the middle of a snowstorm. Carter starts sequestering suspects and questioning them of their motives. She finds the Last Will and Testament of Charles Haversham dated that day giving all of his assets to his butler, Perkins.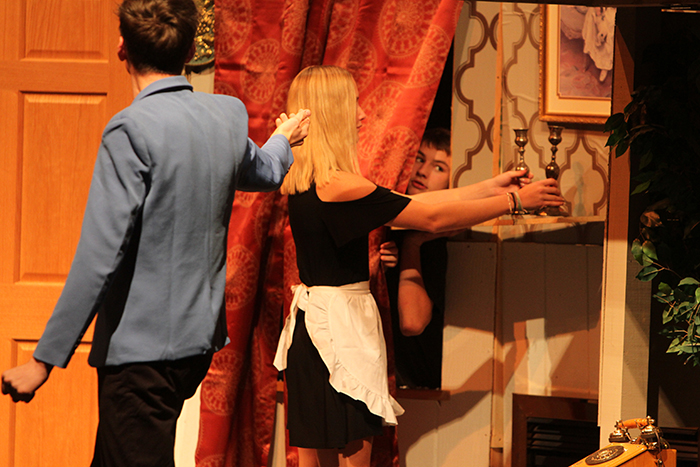 Florence is knocked out by a swinging door as she is leaving the room. The stage crew make an effort to get her off the stage by pulling her through a set window. When the time comes, a formerly unseen crewmember or understudy, played by MacKenzie Gilster, comes on stage wearing Florence's red dress and carrying a script in her hands. She says her lines unsurely and is at one point, a page ahead in the play. Tensions run high while running jokes such as Perkins being unable to pronounce words such as "facade" or "embezzling" and the ever-needed mantelpiece being thrust through the stage window by crewmembers on cue.
With a flurry of repeated lines and scenes, a clock with no hands, midplaced props, and a rivalry between the original actress playing Florence and the interim one, hilarity ensues for the whole audience. Cecil and Florence's affair is found out, Tom is found to be in cahoots with Inspector Carter in a ring of fraud, and Charles Haversham appears surprisingly alive. In a succession of deaths, Charles is the last characters standing on stage when the lights go out, completely flipping the narrative in the last moments of the performance.
Much deserved praise goes to Director, Leif Ronning; actors, Alexa Graphenteen, Ariel Arno, Charlotte Holmstroem, Elliot Kangas, Elijah Geiser, Jane Gudmundson, Jessica Lenz, MacKenzie Gilster, and Ximon Lucero-Moran for their amusing performance. The actual crew did a great job with the lighting, sounds, and set as well.