Brunswick NYM facility receives I-WE recognition
News | Published on December 7, 2021 at 5:12pm GMT+0000 | Author: Chad Koenen
0
Award is given by RWA of Northwest Minnesota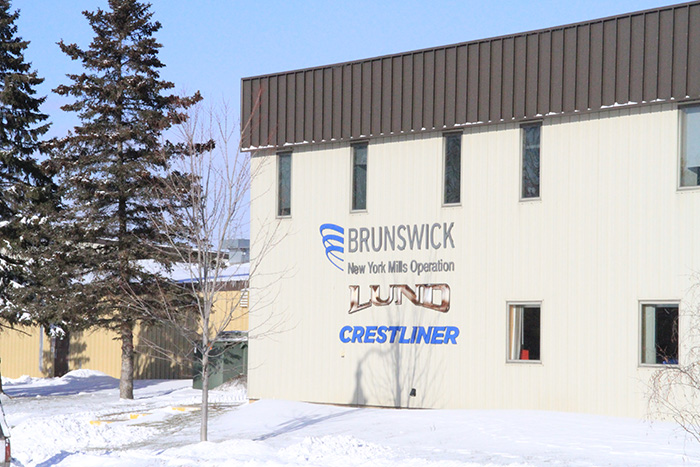 Brunswick Corporation recently announced that its New York Mills manufacturing facility has been honored with the Inclusive Workforce Employer (I-WE) Designation by the Regional Workforce Alliance (RWA) of Northwest Minnesota. This prestigious recognition recognizes Brunswick's commitment to and development of an inclusive and equitable culture within its business and the region.
"We thank the Regional Workforce Alliance for this important designation, and we are honored be recognized as an Inclusive Workforce Employer," said Dirk Hyde, President, Aluminum Boat Group, Brunswick Corporation. "Our commitment to creating an inclusive culture is one of the top priorities within our organization, and we celebrate our champions of diversity, equity and inclusion who are furthering our mission and fostering an inclusive environment where our employees feel empowered to bring their whole selves to work."
The I-WE designation was established to recognize and promote inclusive employers, reduce regional disparities, and bring awareness to the value and methods of increasing workforce diversity. Brunswick's New York Mills facility was one of only two organizations to receive the designation during the fourth quarter of 2021.
To receive the I-WE designation, each participant had to meet a set of criteria set by the Regional Workforce Alliance:
• Express a commitment to an inclusive workplace in their stated values, mission or policies.
• Assess how diversity, equity and inclusion influence their work and culture.
• Provide diversity, equity and inclusion education for staff and leadership.
• Allocate resources to support and sustain an inclusive and equitable workplace.
"We are energized by the momentum of this recognition, and we look forward to continuing our efforts to define the future of recreational boating and increase diversity within the marine industry – both on and off the water," continued Hyde.
To learn more about Brunswick and the career opportunities available, visit: www.brunswick.com/careers