Lake Country Home Care passes on to the next generation
News | Published on December 7, 2021 at 5:34pm GMT+0000 | Author: Chad Koenen
0
Koehler takes over growing home care business in NYM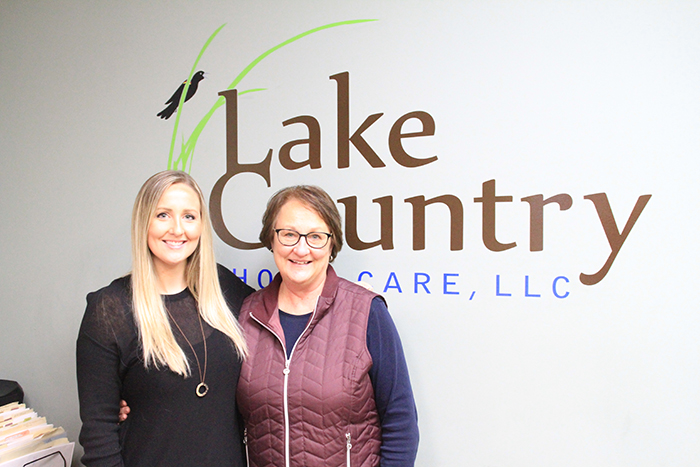 By Tucker Henderson
Reporter
After 12 years of operation, Lake Country Home Care finds itself in the care of a new owner. Micaela Koehler has taken over day-to-day operations of the New York Mills business. Koehler started this past August and lends her talents in management to the company.
After graduating from New York Mills High School in 2011, Koehler attended Minnesota State University-Moorhead and obtained a Business Administration degree. She spent eight years working at Homecrest in Wadena and the last five of those were in management.
Adele Lausten, along with Rhonda Koehler and Linda Moore, started Lake Country Home Care in NY Mills and has been in the company's leadership since it opened its doors on July 1, 2009. Rhonda Koehler and Moore have since retired, but Lausten has stayed on to help with the transition of ownership.
Koehler said the transition has been seamless due to her mother's efforts while she learns the ropes.
"Rhonda is retired, but she has been a great cheerleader for me," said Koehler. "She's always encouraging me."
When the business first started, both Rhonda Koehler and Lausten ​made an agreement that when one retires, they both would retire. Since that time has come for Rhonda Koehler and is quickly approaching for Lausten, they have decided to pass the reins to Lausten's daughter.
"I'm thrilled that my daughter is taking over," said Lausten. "She has the business knowledge as well as the care and compassion for this field."
"I think it's very important for the owner to be local," said Koehler. "A local owner gives a closeness that isn't always found when a change of ownership happens."
This also prevented any break in service while a new owner took over. Core staff continue to take care of the clients while Koehler now manages the business side of things.
"I'm looking forward to our winter training meeting to see some of the employees face-to-face," said Koehler.
Koehler hasn't had a chance to meet everyone on payroll yet, but has been able to get to know them a bit over the telephone and by email. She really enjoys meeting her employees and getting to know some of the clients. She said that the clients have been so grateful for services that the employees ​provide and the employees really care about their clients.
Lake Country Home Care has a roughly 60-mile radius encompassing Otter Tail, Wadena, Todd, Becker, and Hubbard Counties and employs 80 home care workers.
Koehler said that since the COVID-19 pandemic struck, many people have wanted to stay home for their own safety. Services offered by Lake Country Home Care such as PCAs (Personal Care Assistants), housekeeping, respite care, and companionship give clients the ability to do so by helping with laundry, grocery shopping, and personal care. They have a Comprehensive Home Care license for those clients that need additional assistance.
"There seems to be a greater need every year for home care services," said Lausten.
As people want to stay home, services are sought out to help with everyday tasks, which can feel like substantial burdens to some. Home care is not only for the elderly either, as some children are clients of Lake Country for different needs. From cradle to rocking chair, Lake Country Home Care is here to serve your needs.