New trail takes a step forward in Ottertail
News | Published on December 7, 2021 at 5:31pm GMT+0000 | Author: Chad Koenen
0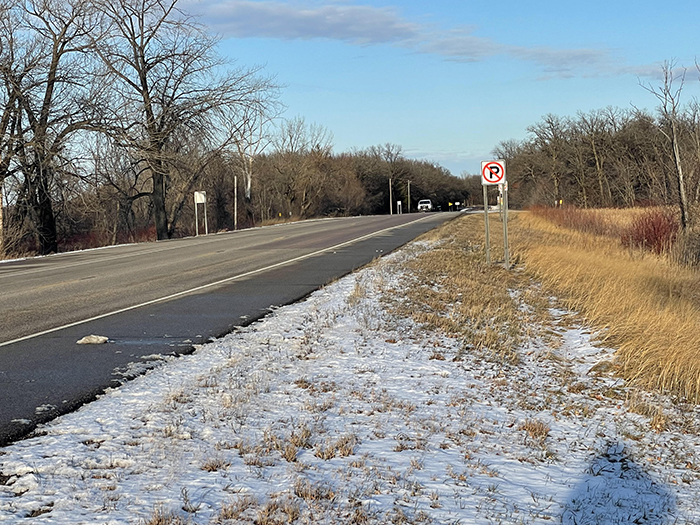 By Chad Koenen
Publisher
A new walking path/trail being developed in the memory of the late Tyler Wohlers has taken a big step forward, thanks to the Ottertail Lions.
The Ottertail Lions Club recently donated $25,000 to the Tyler Wohlers Memorial Trail, which will provide a new walking path/trail along Highway 78 south of Ottertail. Wohlers passed away in July of 2019 when he was struck by a vehicle while walking south of Ottertail. The trail would allow people to safely walk along the busy highway from south of Ottertail to the Pelican Bay Fishing Pier.
The donation from the local Lions Club is by far the largest donation a group of organizers have received to develop the trail, which has been funded largely through private donations.
"I was shocked. I was just so pleased with what the Lions did for this project," said Bernie Steves, who is helping to fundraise and develop the trail. "We are hoping that we can get started here in the spring. Our goal is to get going in the spring of 2022."
Ottertail Mayor Ron Grobeck said the project is being largely funded through private donations and the Ottertail Lions Club, as well as several other non profits in the community, have largely supported to project to provide a safe way to get from Ottertail to the landing.
"The Lions believe in supporting Ottertail area projects and that is a huge destination," said Grobeck of the Pelican Bay fishing pier. "The kids will be able to ride their bike and they will be able to walk. They can catch the trail at Bay View and walk or bike from there."
A group of volunteers has raised approximately $130,000 of the estimated $155,000 needed for the trail. Steves said Wohlers' family is very excited about the prospect of getting the project done in his honor.
"We are really pushing hard to get this project done in this coming year. I think we are going to get there," said Steves. "The family is really excited that we are getting this close."
Wohlers was killed during the Fourth of July weekend in 2019 by a motorist along Highway 78 just south of Ottertail. Had the trail been there as an option for Wohlers and his friends, Steves is confident Wohlers would still be alive today. The group of volunteers and the City of Ottertail has put a lot of work into the project in getting the groundwork laid, and Steves said right now the group is focused on raising the additional money to make the project come to reality.
"If that trail, or pathway would have been there, the fact is Tyler would be living today. They were walking down to the landing because they didn't want to drive their cars," said Steves. "All we have to do now is get the money and go."