Ninth ranked Eagles open season with 81-42 win
Sports | Published on December 7, 2021 at 4:44pm GMT+0000 | Author: Chad Koenen
0
NYM to take on fourth ranked M-W on Saturday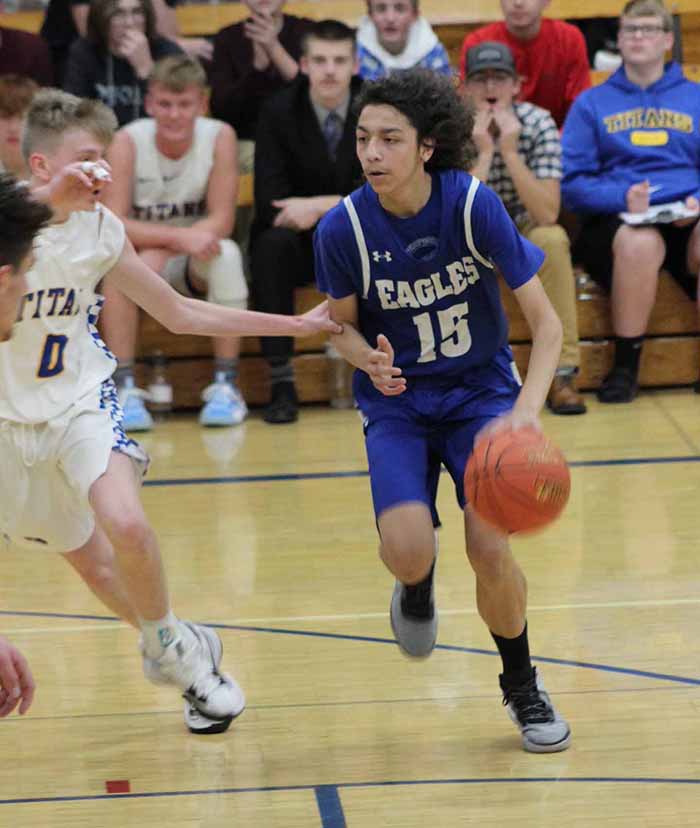 By Chad Koenen
Publisher
The ninth ranked New York Mills Eagles came out the gates on fire last week as they defeated Norman County East/Ulen-Hitterdal by a score of 81-42 on Thursday night. The game came less-than two weeks after the football season ended for a number of the Eagles team members, resulting in a short turn around for the winter sports season.
"We came out and dominated defensively, which led to a lot of easy buckets," said head coach Mike Baune. "Tate Olson came out hot to pace us in scoring.
Olson led the way with a double-double of 39 points, 14 rebounds, 5 assists and 7 steals in the win. Noah Noffsinger also reached double-figures with 11 points, 5 rebounds and 8 assists, while Jonah Johnson added 11 points, 6 rebounds and 3 assists. Jack Peeters came just 1 rebound short of registering a double-double with 10 points, 9 rebounds and 1 assist.
Also scoring for the Eagles was Byran Bohn with 5 points, 6 rebounds and 2 assists; Sam Kopveiler with 2 points and 1 rebound, Breydon Holtti with 2 points and 1 rebound; and Brayden Ehnert rounded out the scoring with 1 point and 1 rebound.
The Eagles, who are 1-0 on the season, will now turn their attention to their Park Region Conference opener against Wadena-Deer Creek on Thursday and chance to take on the team that ended their season in the sub section championship game on Saturday against fourth ranked Mahnomen/Waubun in an early season match up against a pair of top 10 ranked teams.
"Looking forward to a big week against Wadena-Deer Creek and Mahnomen/Waubun," said Baune.
Season preview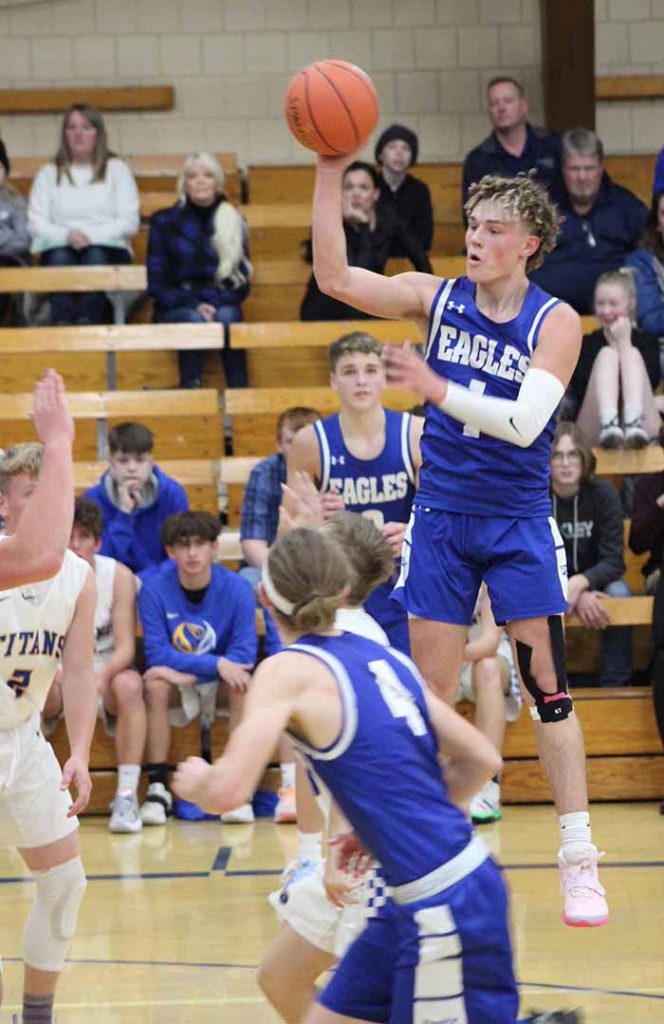 Fresh off a Park Region Conference title and second place finish in the sub section, the New York Mills Eagles are looking to make another deep run in the playoffs this season. The Eagles will return four key letter winners, including 1,000 point scorer Tate Olson to the 2021-22 line up. NY Mills will also return senior letter winners Breck Hensch, Jonah Johnson and Noah Noffsinger this season.
With a large part of their team returning this season, new head coach Mike Baune said the Eagles are focused on improving their communication as they look to take the next step forward.
"Continuing to develop our on-court leadership and communication is our next big step as a group this year," he said. "We're very senior and junior heavy so it's on us as coaches and the players to work together to create that type of environment on the court to help us win big games. We also rely heavily on ball pressure and creating turnovers to fuel our fast scoring attack, but we look forward to being more efficient and productive in the half court on both sides of the ball as well."
While NY Mills will be returning several key players, they will also need to replace four letter winners from last year's team including Derin Gaudette, Isaiah Laudenbach, Jace Rudolph and Cale Rudolph. To do that, they will turn to a bevy of underclassmen including Jack Peeters, Bryan Bohn, Braden Partlow, Hunter Holtti and Sam Kopveiler.
Baune said the Eagles have several goals this season, but their main focus will be to find a way to be special.
"We've decided our main focus this year as a team is to just be special. Be a special team. Good teams can win games, special teams can win titles. We think if we put in the work to chase that goal every single day, we'll feel good about letting the chips fall where they may at the end of the season," he said.
The Park Region Conference and Section 6A will once again be extremely competitive this year as NY Mills, Henning and Verndale will be among the favorite in the conference, while BBE, Henning, Ashby and NY Mills will be among the favorite in the section.
Baune, who will be assisted by Kyle Haberman and Zach Christenson, said he is lucky entering his first season at the helm to have such a dedicated group of people on the team.
"I feel very fortunate to be able to work with such a dedicated group of young men. They want this season to be a success and have put in a lot of time and effort over the past 6 months to help make that become a reality. I'm going to enjoy every second of it," he said.