NYM wrestlers open season with three wins
Sports | Published on December 7, 2021 at 4:52pm GMT+0000 | Author: Chad Koenen
0
NYM defeats Pelican Rapids 51-28 in regular season opener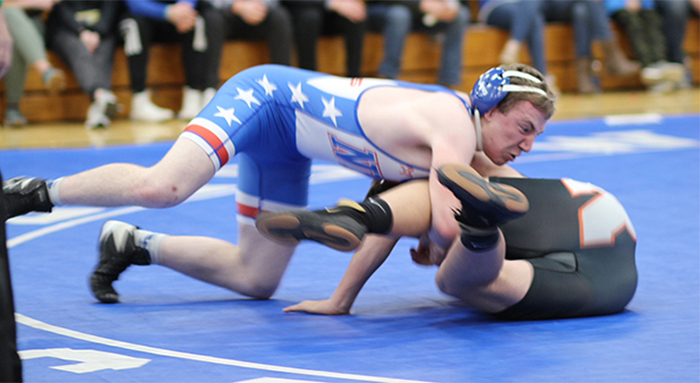 By Chad Koenen
Publisher
The New York Mills Eagles wasted little time in getting into a busy weekend of action on Friday and Saturday night.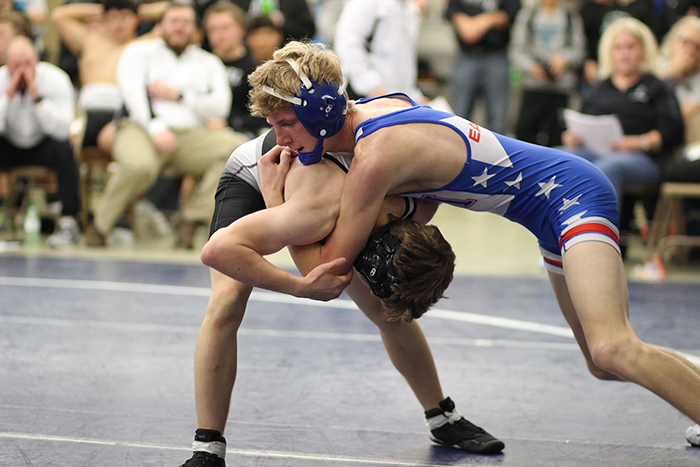 After hosting Pelican Rapids in a dual on Friday night, a match the Eagles won by a score of 51-28, NY Mills traveled to the Hillsboro Duals on Saturday for five more matches. The Eagles went 2-3 in the duals to open their season with a record of 3-3 overall.
The Eagles defeated Central Valley by a score of 49-26, after the Eagles dominated the upper weights with wins in six of the top seven weight classes, all of which came by either pin or forfeit.
It was more of the same for NY Mills against Graffton as the Eagles won seven of the last eight matches of the dual from 138 lbs. to blow past Graffton 57-15. The final match of the dual was a double forfeit, but the Eagles won by either forfeit or fall in seven of the final eight matches to come away with the win.
NY Mills also lost a pair of heart breakers in the tournament by a combined 1 point. The Eagles fell to Central Cass by a score of 40-39. The Eagles trailed by a score of 28-12 heading into the 152 lbs. match, but came away with five straight wins to blow past Central Cass by a score of 39-28 thanks to pins by Dane Niemi, Blake Unger, Hunter Rust and Bren Salo, as well as a 7-2 decision by Bode Roberts. Unfortunately, Central Cass was able to secure a pin at 220 lbs. and the Eagles were open at heavyweight as they fell by a score of 40-39.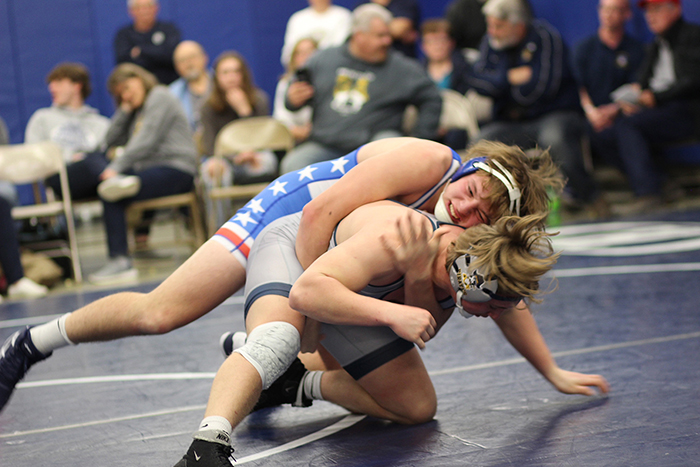 In a match that came down to a tiebreak, the Eagles fell to Crookston by a score of 36-36, with a tiebreaker of the first points going in Crookston's favor. There were four forfeits in the match, all but one going in the Eagles' favor. NY Mills also secured a pin by Elijah Geiser at 126 lbs. to help tie the score. The match also featured a number of 1 point decisions, including a thrilling 1-0 decision by Hunter Rust over Layten Fuentes at 170 lbs.
In a match up against a pair of top 10 ranked wrestlers, Eathan Boll, who is ranked second for Crookston at 195 lbs., defeated seventh ranked at 182 lbs. Bren Salo of NY Mills by a 6-2 decision at 195 lbs.
In addition to the pair of close losses, the Eagles fell to Dilworth-Glyndon-Felton by a score of 45-24.
NY Mills has a pair of top 10 ranked wrestlers to open the season.
Dane Niemi is currently ranked fifth in the state at 152 lbs. and Salo is ranked seventh at 182 lbs.
New York Mills defeated Hillsboro – Central Valley 49-26
106 – Creed Mursu (New York Mills) over Justin Torroll (Hillsboro – Central Valley) Maj 13-2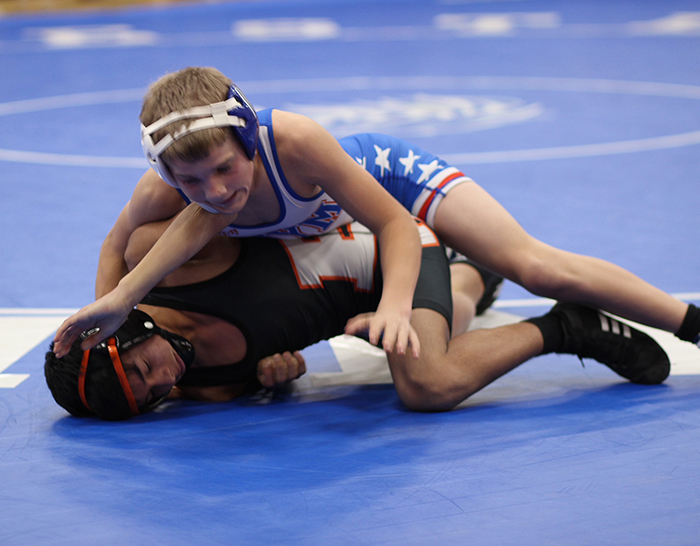 113 – Carson Kozojed (Hillsboro – Central Valley) over Slade Doll (New York Mills) Fall 1:28
120 – Sawyer Owens (Hillsboro – Central Valley) over Austin Geiser (New York Mills) Maj 11-0
126 – Elijah Geiser (New York Mills) over Unknown (Unattached) Forf
132 – Adam Smith (Hillsboro – Central Valley) over Joe Mann (New York Mills) Fall 2:41
138 – Jay Mindermann (New York Mills) over Zander Dovenmuehler (Hillsboro – Central Valley) Dec 5-0
145 – Henry Nelson (Hillsboro – Central Valley) over Jacob Guck (New York Mills) Maj 8-0
152 – Dane Niemi (New York Mills) over Brayden Chenault (Hillsboro – Central Valley) Fall 1:36
160 – John Geray (Hillsboro – Central Valley) over Blake Unger (New York Mills) Fall 5:13
170 – Hunter Rust (New York Mills) over Ben Thompson (Hillsboro – Central Valley) Fall 3:30
182 – Bode Roberts (New York Mills) over Immanuel Suhardi (Hillsboro – Central Valley) Fall 1:15
195 – Mason Unger (New York Mills) over Unknown (Unattached) Forf
220 – Bren Salo (New York Mills) over Unknown (Unattached) Forf
285 – Baeden Peterson (New York Mills) over Unknown (Unattached) Forf
New York Mills defeated Grafton 57-15
120 – Anthony Gonzalez (Grafton) over Austin Geiser (New York Mills) Dec 4-3
126 – Elijah Geiser (New York Mills) over Rico Estrella (Grafton) Fall 1:57
132 – Chance Burns (Grafton) over Jay Mindermann (New York Mills) Fall 2:32
138 – Joe Mann (New York Mills) over Seng Phaengdara (Grafton) Fall 0:38
145 – Alex Ibanez (Grafton) over Jacob Guck (New York Mills) Fall 3:48
152 – Dane Niemi (New York Mills) over Unknown (Unattached) Forf
160 – Blake Unger (New York Mills) over Unknown (Unattached) Forf
170 – Hunter Rust (New York Mills) over Rey Rios (Grafton) Fall 4:00
182 – Bode Roberts (New York Mills) over Unknown (Unattached) Forf
195 – Bren Salo (New York Mills) over Unknown (Unattached) Forf
220 – Baeden Peterson (New York Mills) over Unknown (Unattached) Forf
285 – Double Forfeit
106 – Creed Mursu (New York Mills) over Rodolfo Perez (Grafton) Dec 11-5
113 – Slade Doll (New York Mills) over Unknown (Unattached) Forf
Dilworth-Glyndon-Felton defeated New York Mills 45-24
106 – Kayleb Kosen (Dilworth-Glyndon-Felton) over Creed Mursu (New York Mills) Fall 5:25
113 – Gabe Schmitz (Dilworth-Glyndon-Felton) over Slade Doll (New York Mills) Dec 6-2
120 – TJ Fuller (Dilworth-Glyndon-Felton) over Austin Geiser (New York Mills) Dec 8-2
126 – Jacob Luebke (Dilworth-Glyndon-Felton) over Elijah Geiser (New York Mills) Fall 0:16
132 – Alex Anderson (Dilworth-Glyndon-Felton) over Jay Mindermann (New York Mills) Fall 1:03
138 – Austin Lenhart (Dilworth-Glyndon-Felton) over Joe Mann (New York Mills) Fall 0:00
145 – Jacob Guck (New York Mills) over Camden Mustachia (Dilworth-Glyndon-Felton) Dec 11-5
152 – Dashaun Robinson (New York Mills) over Unknown (Unattached) Forf
160 – Dane Niemi (New York Mills) over Thomas Thureen (Dilworth-Glyndon-Felton) Fall 2:59
170 – Jordan Summers (Dilworth-Glyndon-Felton) over Unknown (Unattached) Forf
182 – Casey Macziewski (Dilworth-Glyndon-Felton) over Hunter Rust (New York Mills) Dec 9-6
195 – Bode Roberts (New York Mills) over Unknown (Unattached) Forf
220 – Bren Salo (New York Mills) over Bryce Fischer (Dilworth-Glyndon-Felton) Dec 10-6
285 – Victor Sosa (Dilworth-Glyndon-Felton) over Baeden Peterson (New York Mills) Fall 3:06
Central Cass defeated New York Mills 40-39
106 – Drew Urbach (Central Cass) over Creed Mursu (New York Mills) Fall 2:18
113 – Slade Doll (New York Mills) over Evan Volk (Central Cass) Fall 3:05
120 – Brady Peterson (Central Cass) over Austin Geiser (New York Mills) Maj 9-0
126 – Josiah Crandall (Central Cass) over Elijah Geiser (New York Mills) Fall 0:46
132 – Joe Mann (New York Mills) over Markus Stafford (Central Cass) Fall 0:23
138 – Cade Olson-Tingelstad (Central Cass) over Unknown (Unattached) Forf
145 – Caden Graber (Central Cass) over Unknown (Unattached) Forf
152 – Dane Niemi (New York Mills) over Stone Thorton (Central Cass) Fall 1:35
160 – Blake Unger (New York Mills) over Jaylen Baumgarten (Central Cass) Fall 2:31
170 – Hunter Rust (New York Mills) over Stone Thorton (Central Cass) Fall 2:45
182 – Bode Roberts (New York Mills) over Marcus Biffert (Central Cass) Dec 7-2
195 – Bren Salo (New York Mills) over Anthony Houle (Central Cass) Fall 0:39
220 – Garrett Haugen (Central Cass) over Baeden Peterson (New York Mills) Fall 2:32
285 – Dylan Sell (Central Cass) over Unknown (Unattached) Forf
Crookston defeated New York Mills 36-36 (Tie Breaker: firstPts: 10.0 vs. 7.0)
106 – Evin Trudeau (Crookston) over Creed Mursu (New York Mills) Fall 0:51
113 – Slade Doll (New York Mills) over Unknown (Unattached) Forf
120 – Gavyn Hlucny (Crookston) over Austin Geiser (New York Mills) Fall 3:17
126 – Elijah Geiser (New York Mills) over Lucas Perala (Crookston) Fall 0:11
132 – Jay Mindermann (New York Mills) over Unknown (Unattached) Forf
138 – Braxton Volker (Crookston) over Joe Mann (New York Mills) Fall 0:54
145 – Carter Coauette (Crookston) over Unknown (Unattached) Forf
152 – Ethan Bowman (Crookston) over Dane Niemi (New York Mills) Dec 4-3
160 – Spencer Ness (Crookston) over Blake Unger (New York Mills) Fall 4:54
170 – Hunter Rust (New York Mills) over Layten Fuentes (Crookston) Dec 1-0
182 – Bode Roberts (New York Mills) over Hunter Knutson (Crookston) Dec 5-0
195 – Ethan Boll (Crookston) over Bren Salo (New York Mills) Dec 6-2
220 – Mason Unger (New York Mills) over Unknown (Unattached) Forf
285 – Baeden Peterson (New York Mills) over Unknown (Unattached) Forf