Waste audits reveal recycling and current disposal trends
News | Published on December 14, 2021 at 5:29pm GMT+0000 | Author: Chad Koenen
0
Average amount of waste generated by each household is 40.5 lbs. per week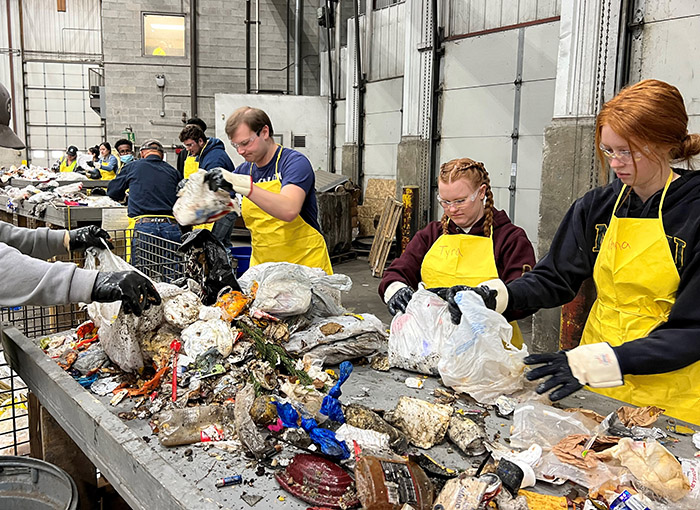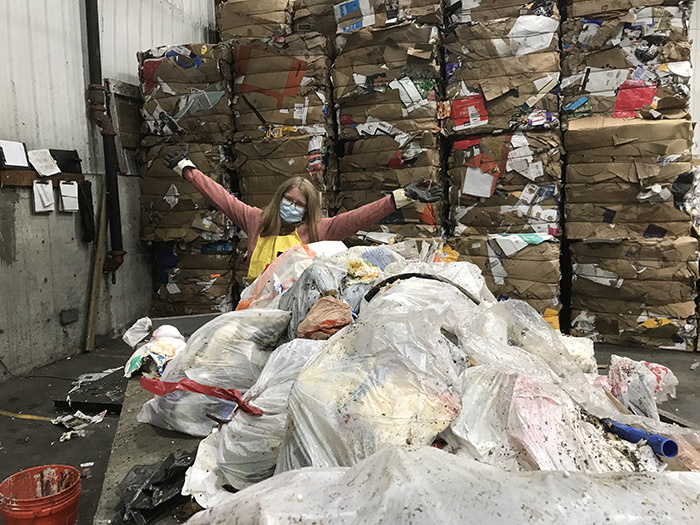 The Otter Tail County Solid Waste Department held its fourth waste audit of Fergus Falls residential garbage last week. Past waste audits were held in 2015 prior to single-sort recycling being implemented, 2017, 2019 and now 2021.
What is a waste audit?
A waste audit is a physical analysis of the waste stream, with waste being sorted into categories to learn about disposal trends. Past audits focused on recycling rates before and after single sort recycling was implemented. Data from repeated waste audits can show trends over time and can be used to inform educational initiatives and programming.
Garbage from 230 households in the same neighborhood was collected for each audit, brought to the Recycling Center and sorted by hand into the following categories: garbage (non-recyclable packaging, bags, pet waste, personal hygiene products), recycling (plastic containers, glass, metal cans, paper, cardboard), organic waste such as food scraps or wasted food, Household Hazardous Waste (paint, cleaners, rechargeable batteries), reusables (items that could have been donated or used in some other way such as toys, books, clothing), electronics, and scrap metal (wire hangers, pots and pans, wire shelving).
Findings:
The average amount of waste generated per household each week was between 31-34.5 lbs for the years 2015, 2017 and 2019. Waste generation was up an astonishing 6 lbs per household per week in 2021 for an average of 40.5 lbs per household, likely due to the holiday weekend preceding the waste audit.
The 2021 audit was the only year the waste audit fell right after Thanksgiving, which although was a deviation from how past audits were done, revealed some concerns about food waste and recycling during the holidays. It is estimated that local residents generate 25 percent more waste during the holidays, which is supported by findings from the 2021 waste audit.
Findings from past waste audits found that the amount of recycling mixed with household garbage decreased significantly after the single-sort recycling program started, from 25 percent in 2015 down to 11 percent in 2019, demonstrating the effectiveness of the program at getting residents to recycle more. However, 2021 was the first year since single-sort recycling started that recycling in the garbage increased, suggesting that recyclables are put in the garbage more often at holiday gatherings than during a normal week. Simply putting out a bin labeled for recycling at holiday gatherings could reduce the amount of recyclables ending up in the garbage.
The 2019 waste audit focused more specifically on food waste and showed that 25 percent of residential garbage is organic matter, half of which was food waste that could have been prevented, much of it in unopened packages.
The 2021 waste audit had similar findings, with 26 percent of the waste being organic matter, and a large portion of that was from food in unopened packages which if stored properly or eaten before it went bad would not have been wasted. This much food waste has an environmental toll and wastes money – the estimated cost of food waste for the average family of four is $1,500 each year from food waste that could have been prevented with proper storage, more careful shopping and other food waste prevention strategies.
Approximately 3 percent of the waste was items that could have been donated or reused in some other way, including clothing, holiday décor, household items still in the original packaging, bedding, and more. Please remember to donate useable items instead of throwing them away.
Very small portions of the waste stream were items that could have gone in a scrap metal bin, to the Household Hazardous Waste program, or demolition landfill material.