Esser Plumbing and Heating keeps customer needs at the forefront
News | Published on December 21, 2021 at 4:26pm GMT+0000 | Author: Chad Koenen
0
Serving the lakes area for over 6 decades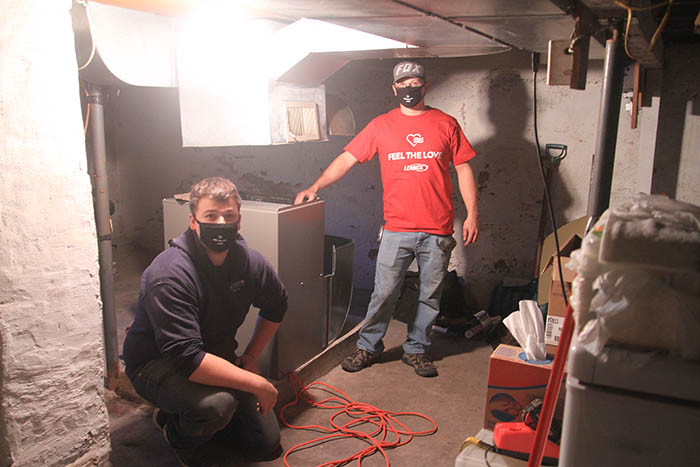 By Chad Koenen
Publisher
For over 65 years, the experts at Esser Plumbing and Heating prided themselves on exceptional service to meet all of the area's plumbing, heating, air conditioning and geothermal needs. The company routinely performs commercial and residential installations and services throughout the lakes area, as well as the Fargo-Moorhead area.
Not only do their employees pride themselves on providing high quality work, but they do so with solid customer service at the forefront of any call.
"We really pride ourselves on being a customer service company first, and for us those services happen to be plumbing, heating, air conditioning, geothermal, indoor air quality, and maintenance of those systems," said Joe Esser Jr. "I say we are a customer service company first, because unlike many large market companies we see our customers outside of work all the time. Whether at the grocery store, out to eat, at church, or at the schools watching our kids play sports, we want to be able to look our friends and neighbors in the eye and know we are doing right by them. To us a smile and a good word are a big reward and motivator to do the job right every time. Because we work in our communities with our friends and neighbors if something just doesn't go as planned we make sure we make it right."
Serving the lakes area since 1955, Esser said the company provides many services like all plumbing services including water softening/conditioning, water quality upgrades, pumps, water heater repair and replacement and plumbing remodeling. They also do all HVAC services including maintenance and repair, indoor air quality equipment, air conditioners, geothermal units and air exchanges.
Due to COVID-19, Esser said taking care of indoor air quality needs has become more important than ever. Since the company uses many of the products they sell and service at their office and at home, Esser Plumbing and Heating doesn't offer items for sale that they wouldn't use themselves.
In addition to maintenance and repairs, Esser Plumbing and Heating has a great group of technicians that work on new custom homes.
"Other than service we also have very good teams of plumbing and heating technicians that do the HVAC and plumbing in new custom houses. We work with great builders locally, and also directly for our customers. What we pride ourselves on is doing things right," said Esser. "We pride ourselves on our work and it shows. Look in one of our mechanical rooms and you will see the piping and duct work is neat and straight, the duct is hard metal and not flexible duct, and the layouts are thoughtful. We also spend extra time to do ASHRAE Heat Loss on a program per code so you know the duct work and the equipment is sized correctly to code and quality was done versus cutting corners."
For those who need commercial and industrial work, Esser Plumbing and Heating has that covered as well.
"We also have a division that only does commercial and industrial work, these skilled plumbing and HVAC technicians do everything from plumbing commercial office buildings, to doing HVAC at factories. Some of these facilities have 1,000's of pieces of equipment and fixtures. Many of the larger commercial projects locally have our involvement in them," said Esser.
While the experts at Esser Plumbing and Heating are happy to help people with all of their maintenance needs, Esser said preventative maintenance can go a long way to sustain the longevity of a heating system.
"Our guys are specialists at both repair and maintenance, and they will tell you that a clean, properly maintained system running clean and checked, will cost much less in repairs and energy efficiency loss than a system that is dirty and ignored. The maintained systems also usually pass that first hard winter test when the needle drops below zero for the first time," he said.
Some of the things to look for are regularly changing filters, listening for new or changing noises, making sure to schedule maintenance check-ups and making sure the equipment is operating as it has before.
Esser Plumbing and Heating is a Lennox and Rheem dealer, which Esser said provide quality, solid and reliable equipment.
Of course, quality equipment is only part of the recipe for success at Esser Plumbing and Heating. The company continues to maintain quality care and service for customers throughout the lakes area and beyond.
"Providing good customer service is one of the key tenants of any local company, and it is our most trained and talked on topic in our company. All of us feel strongly that we want to treat people the way we'd want to be treated. Our Company Code of Values is built around how to take care of people, both our own people, customers, and people we come in contact with," said Esser.
For more information about Esser Plumbing and Heating, contact them by phone at (218) 346-3530, online at www.esserplumbingandheating.com or in Perham at 542 West Main Street.