Mursu family brings the 'M' back to NYM
News | Published on December 21, 2021 at 5:36pm GMT+0000 | Author: Chad Koenen
0
Organic feed supplier to bring mill back to NYM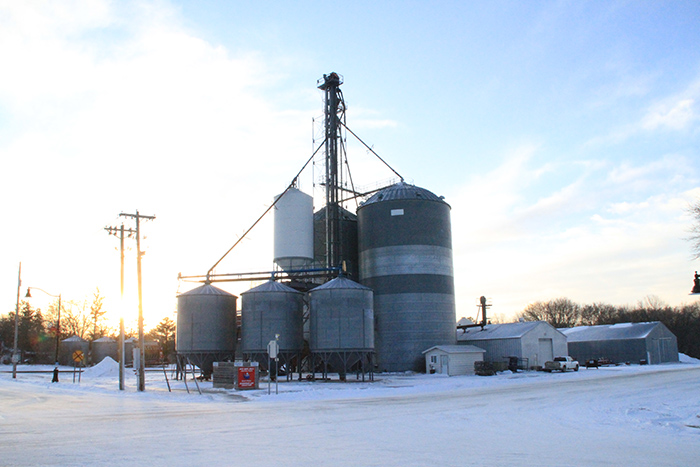 By Tucker Henderson
Reporter
A new type of mill is coming to the city of New York Mills. The city got its name from the lumber mill company that logged this area almost 150 years ago. However, one won't be seeing sawdust or freshly cut timber at this mill.
PAF Mill LLC is an organic feed supplier, which was established in April and is gearing up to start processing and distribution by February 2022.
Peter and Amy Mursu own the up and coming business and come from a well-established background in agriculture.
Mursu is the fifth-generation of his family to farm in the NY Mills area and makes his living on the same farm in Heinola that his great great grandfather started in the late 1800s.
"There's a small number of organic mills in the state," says Laura Pakkala, who helps manage operations for the company. "The demand for it has been outpacing the supply."
The mill will supply organic, non-GMO livestock feeds to local stores. As chicken feed is the most sought-out in this area, it will be their first available product. Different stages of feed including starter, grower, layer and scratch will immediately be available. Other livestock feeds including cattle, goat, swine, turkey, sheep and horse will become available soon after the mill is up and running.
Everything will be sourced as local as possible. NY Mills area farmers will be providing most of the ingredients while a minority will be coming from farms throughout Minnesota. Minimally-processed, local whole grain feed with no addatives is an organic farmer's dream, and it can't be found everywhere. Pakkala said there are about three organic mills within the state, despite the high demand.
"Right now we're looking at about 100 miles out from NY Mills with the potential to go statewide," said Pakkala. "Starting out it will be local."
Pakkala said the mill will bring something new to the area, and by starting up in town, she hopes that a higher demand for organic feed will help provide jobs. She likes that the mill will "be a part of small-town growth, being a part of something that's gonna help NY Mills as a town."
Harold Matthews is also instrumental to the business. While Pakkala manages the office-side of things, Matthews helps out with milling operations.
Pakkala explained that they are acting as a team to get the business up and running. Matthews also has experience in organic farming and utilizes that knowledge when it comes to mill-related decisions.
PAF Mill will sell feed by the ton, but it will also be available in 25 and 50 pound bags. It can also be made in a variety of different ways if specific feed is needed. Recipies are flexible for farmers such as Pakkala who have a specific need or want to leave specific parts of the feed out for their animals.
Mursu's feed mill will bring back the traditional fodder for feeding livestock, back when all ingredients were sourced locally and organic crops abounded.