A FAMILY AFFAIR ON THE COURT
Sports | Published on January 4, 2022 at 7:40pm GMT+0000 | Author: Chad Koenen
0
Four sets of sisters are on the New York Mills varsity, junior varsity teams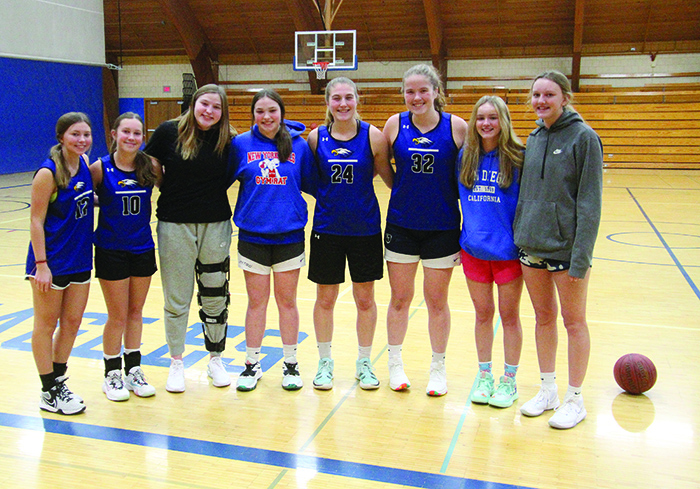 By Chad Koenen
Publisher
The New York Mills basketball team has turned into a family affair—literally.
Four sets of sisters make up parts of the varsity and junior varsity roster this season. While having sisters on the team has been quite common over the years, having more than one or two sets of sisters within the NY Mills basketball program is quite uncommon.
"It has been fairly common to have a set of sisters or two on a JV and varsity team together, but I do not recall having four sets of sisters on any JV and varsity team in my years of coaching," said head coach Bryan Dunrud. "I think this speaks highly of our girls and families because they not only grew up together, but they participated in a lot of the same activities and sports together and practiced together outside of the school setting."
The sisters include Maya and Violet Radniecki, Kali and Ayla Olson, Megan and Abby Riedel, as well as Aidyn and Alayna Baune. Each of the sisters agreed that being on a team with a sibling is a unique and fun opportunity.
"I like it. She is my biggest communicator on the court for me," said Abby Riedel.
While Kali Olson is currently not playing due to a knee injury, she said having a sister on the team has helped to strengthen an already strong family bond.
"I think it's fun. You practice with them your whole life," she said.
The older siblings all seemed to agree that they wanted to help their sister improve overall, but they also wanted to make sure to show their younger sibling that they still had an edge on the court.
Megan Riedel laughed as she said one of the biggest benefits of having a sister on the team was having the opportunity to yell at them a bit as they worked through a play or drill. However, at the end of the day, they are all looking out for one another both on and off the court.
Dunrud said the family bond has only strengthened the team and has not created any challenges, on or off, the court. The proof is in their record as NY Mills wrapped up the 2021 portion of their schedule with a 6-3 record.
"Having siblings on the same team together has not presented any challenges this season, because our girls all get along so well together. The interactions and support for each other has been incredible and they challenge each other daily," said Dunrud. "The girls bring a positive attitude to practice and games and route for one another which has made coaching them enjoyable."
This season Abby Riedel and Violet Radniecki have earned most of their playing time on the junior varsity level, while Abby also participates a bit on the varsity level. All of the other sisters participate on the varsity level.