Debate weighs personal choice against social responsibility
News | Published on January 4, 2022 at 7:07pm GMT+0000 | Author: Chad Koenen
0
National debate scheduled for June 11 in NY Mills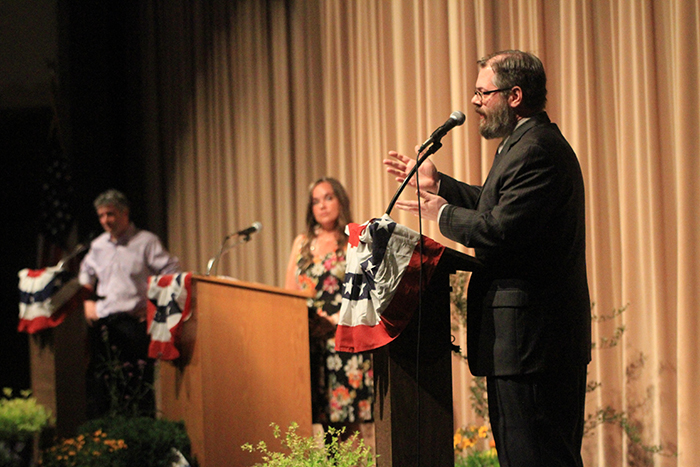 The New York Mills Regional Cultural Center is pleased to announce the 2022 Great American Think-Off question, selected by public vote: Which should be more important: personal choice or social responsibility? All are invited to submit an essay answering this question by April 1, 2022.
When you make an important decision, what do you consider in your assessment of pros and cons? Certainly you think about how that choice will affect you personally…how about its impact on society? Which is more important to you: your personal gain/loss, or a sense of responsibility to the whole?
Everyone has experienced navigating that balance between personal choice and social responsibility…so which do you think should be more important? This is the topic put forth by the Great American Think-Off committee (with assistance by public vote).
The 29th annual Think-Off question is a challenging philosophical dilemma meant to inspire thinkers from all walks of life. Do you feel your personal choice comes first, or should sense of social responsibility take precedence? We want to hear from you!
The Great American Think-Off is a philosophical essay and debate competition held each year in rural New York Mills, MN (population 1,224). The contest is free to enter and open to all, and has received thousands of entries from all 50 states and a number of international countries throughout its nearly three-decade history.
People of all ages and backgrounds are encouraged to submit an essay of no more than 750 words for a chance to win one of four $500 cash prizes and participate in the live debate to ultimately answer the question, determined by audience vote. Entrants should take a strong stand, basing their arguments on personal experience and observations rather than philosophical abstraction. Essays are due April 1, 2022. There is no fee to enter.
The four finalists will be announced on May 1, 2022 and each will receive $500 plus travel expenses, along with a chance to win the title of America's Greatest Thinker at this year's annual debate held on June 11, 2022 in New York Mills, MN.
For additional contest details, visit think-off.org or call the Cultural Center at 218-385-3339.
About the Great
American Think-Off
Now in its 29th year, The Great American Think-Off is an exhibition of civil disagreement between powerful ideas being explored by everyday people. Designed to bring philosophy down from the ivory towers of academia and accessible for all, the contest has received national acclaim including coverage by C-SPAN, the New York Times, and The Today Show.
The New York Mills Regional Cultural Center, located in the rural farm and manufacturing town of New York Mills, Minnesota, sponsors this annual philosophy contest and encourages people of all ages and backgrounds to participate. The Cultural Center is a rural hub for creativity, community vitality, and lifelong learning in the arts. Since our incorporation in 1990, we have been passionate about connecting people to artists and rich cultural experiences in rural Minnesota, celebrating the local and being a window to the world.
To get a better sense of the Think-Off, find details, historical information, and a list of the past 28 years of questions and winners on the event website think-off.org.