Honoring the life of a fallen comrade
News | Published on January 4, 2022 at 5:31pm GMT+0000 | Author: Chad Koenen
0
Over 50 vehicles participate in caravan in honor of the longtime New York Mills Police Officer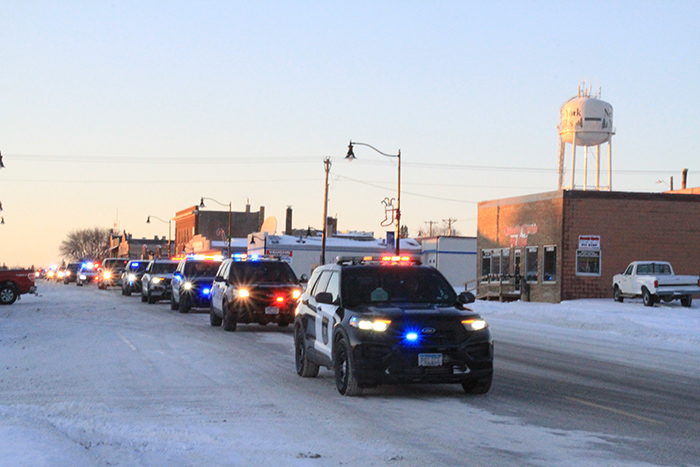 By Tucker Henderson
Reporter
Frigid five-degree weather and slippery road conditions didn't stop the multitudes of people lining Highway 10 and the streets of New York Mills to pay their last respects to their fallen friend, NY Mills Police Officer Ron Smith.
The funeral procession last Tuesday spanned over 50 cars and made its way from Motley through Wadena and Bluffton, and into NY Mills, before returning to Highway 10 to continue on through Perham and Detroit Lakes where Smith served as an officer during his 14-year career.
Police and fire departments from NY Mills, Perham, Henning, Wadena, Fergus Falls, Otter Tail County, Wadena County, Todd County and Mille Lacs County, as well as many others showed up to escort the hearse. Smith's impact on the communities he served in was showcased in the crowds that came to somberly watch as he made his final trip through the city.
"If there is anything I know about my dad, it is that he never met a stranger," wrote Ron's son, AJ Lester. The many cars lined up in the cold, snowy, Minnesota weather was certainly a testament to that.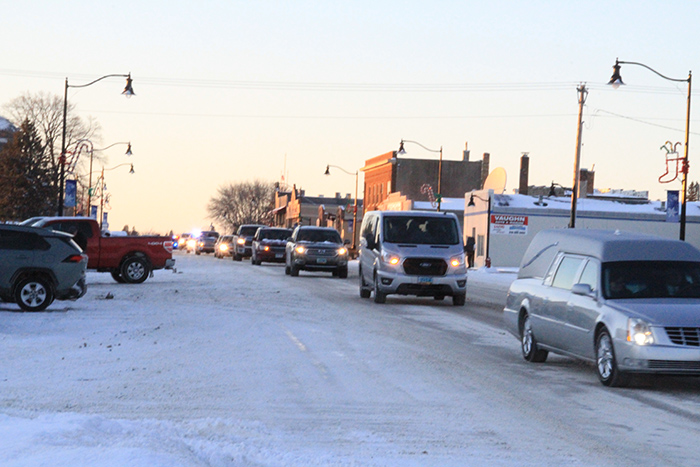 Governor Tim Walz ordered that all Minnesota and United States flags be flown at half-mast at every state building from sunrise to sunset in honor of Officer Smith. He also issued a proclamation to the state telling of Smith's character.
"Officer Smith was a police officer who was respected by his family, friends and colleagues, making a lasting impression on his community. With its deepest gratitude, the State of Minnesota recognizes officer Smith for his dedicated service to and sacrifice for, his fellow Minnesotans, and our thoughts and prayers are with his family, friends, and entire community."
Smith will be sorely missed by his communities, but he left a lasting impressions on the communities he served. An example of this was Smith's most current partner at the New York Mills Police Department, Tyler Schwartz.
Schwartz was inspired by Smith to become a police officer and is now an officer with the NY Mills Police Department. Countless examples of Smith's character are held in memory throughout the state.