Eagles drop a pair of close games in PRC
Sports | Published on January 11, 2022 at 8:57pm GMT+0000 | Author: Chad Koenen
0
New York Mills to host Bertha-Hewitt in PRC action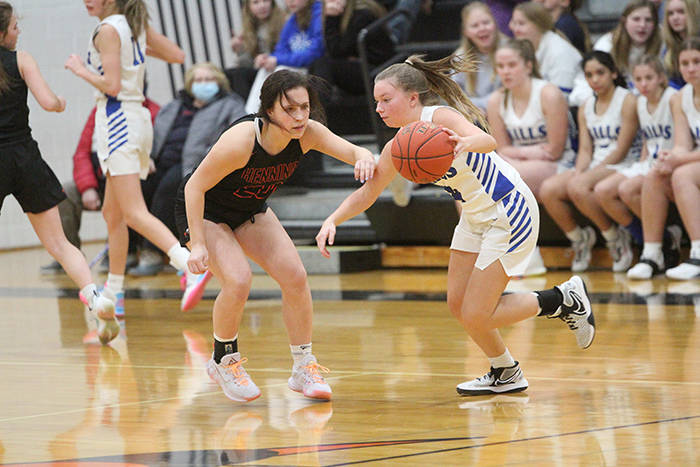 By Chad Koenen
Publisher
New York Mills opened the 2022 portion of their schedule with a pair of Park Region Conference games last week. The Eagles opened the week with a 44-31 loss to Pillager, before falling to Henning by a score of 51-48 on Friday night.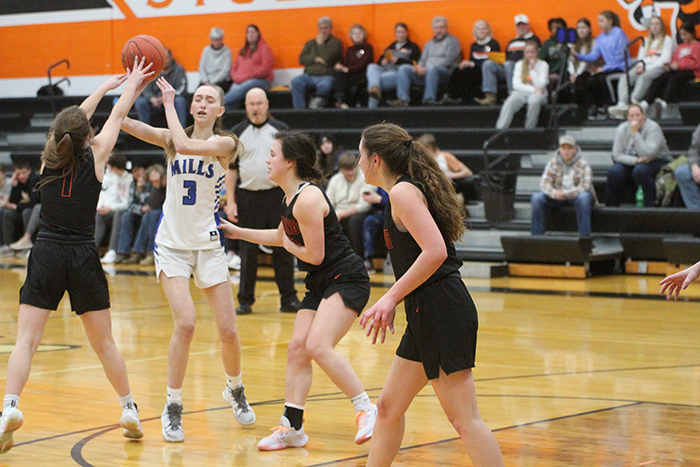 This week the Eagles will travel to Battle Lake on Tuesday, before hosting Bertha-Hewitt in PRC action on Thursday night.
The Eagles are currently 6-5 overall and 1-4 in the PRC.
Tuesday
NY Mills fell to Pillager in a low scoring affair on Tuesday night by a score of 44-31.
The Eagles trailed just 20-17 at the end of the first half, but were unable to overtake the Huskies in the final 18 minutes of action. The Eagles were paced by Bella Bauck and Ayla Olson who combined to score 26 of the Eagles' 31 team points.
The pair scored all of NY Mills' points in the second half with Bauck scoring 9 of her 13 points in the final 18 minutes of action. Olson hit a pair of 3-pointers and finished with 13 points and ended up a perfect 3-3 from the free throw line.
Also scoring for the Eagles was Moriah Geiser who finished with 3 points and Megan Riedel who scored 2 points.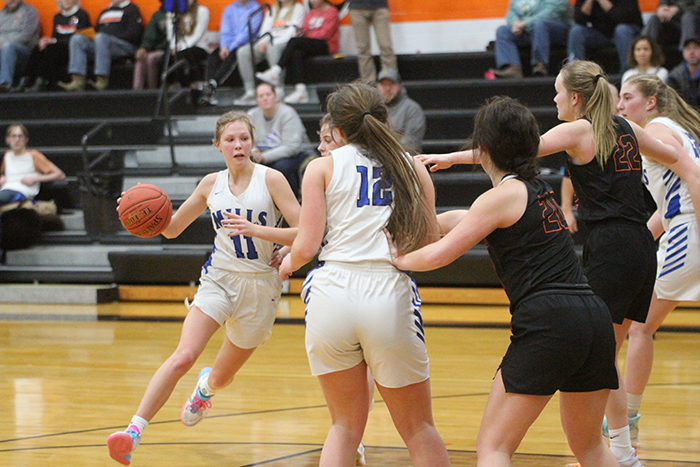 Friday
NY Mills outscored Henning 32-29 in the second half, but even though they cut the score to a single possession late, they couldn't overtake the Hornets on the road on Friday night and fell by a score of 51-48.
The Hornets took a 22-16 lead at halftime, but NY Mills fought back in the final 18 minutes thanks to a solid night from the free throw line The Eagles went 10-13 from the free throw line in the second half and a pair of Bella Bauck 3-pointers gave NY Mills a bit of a spark late in the game.
Unfortunately, Henning did just enough to hang on and hand the Eagles their third straight loss.
Bauck led the way offensively with 16 points, while Ayla Olson scored 12 points and Megan Riedel scored 9 of her 11 points in the second half.
Moria Geiser scored 4 points, while Alayna Baune scored 3 and Mackenzie Gilster rounded out the scoring with 2 points.