Eagles remain unbeaten with 84-69 win over B-H
Sports | Published on January 11, 2022 at 9:08pm GMT+0000 | Author: Chad Koenen
0
Olson breaks boys school scoring record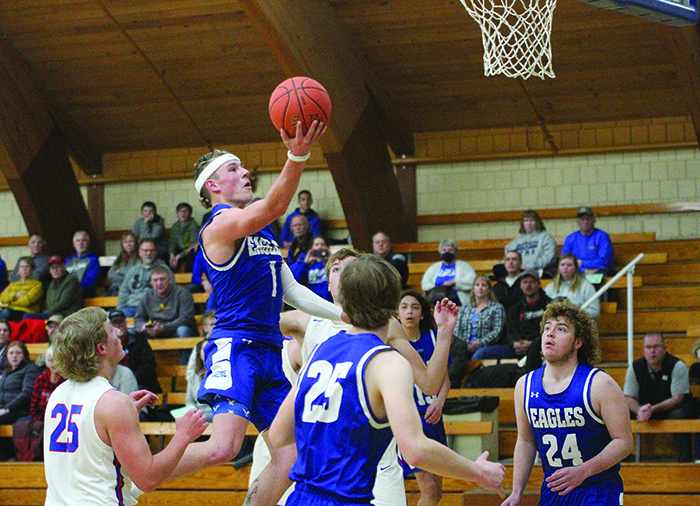 By Chad Koenen
Publisher
On a night in which Tate Olson broke New York Mills' all-time boys basketball scoring record, the NY Mills Eagles jumped all over Bertha-Hewitt for an 84-69 win. The Eagles were up by nearly 30 points at halftime and held that lead until about seven minutes left in the game when the Bears went on a late run against the Eagles JV team.
Head coach Mike Baune said the team did a good job of moving up and down the court throughout the night, but the Eagles will need to do a better job of limiting turnovers in the future.
"We came out and ran up and down the floor throughout, although I am a little disappointed in how much we continue to turn the ball over. That is our Achilles Heel right now and is the biggest emphasis going forward," said Baune.
Olson led the way offensively as the senior registered a triple-double with 34 points, 12 rebounds and 10 assists to go along with 5 steals. He also broke Erik Peeters' school scoring record for the boys team of 1,379 points when he hit a 3-pointer late in the first half.
"Huge congratulations to our point guard Tate Olson on becoming the all-time leading scorer in New York Mills boys basketball history as well," said Baune.
Jonah Johnson also reached double-figures with 14 points and 5 rebounds, while Noah Noffsinger added 11 points, 8 assists and 5 rebounds.
Bryan Bohn scored 9 points, 4 rebounds and 3 assists, while Jack Peeters scored 6 points and 6 rebounds and Sam Kopveiller scored 4 points, 5 rebounds and 3 assists.
This week the 9-0 Eagles will travel to Henning on Tuesday night in a battle of unbeatens in the Park Region Conference. The Hornets are also 9-0 overall and 4-0 in the PRC. They come into the game as the eighth ranked team in the QRF. The Eagles are currently the fourth ranked team in the QRF and are also 9-0 overall and 4-0 in the conference.
Following Tuesday's road game, the Eagles will travel to Verndale on Friday night in another PRC match up, before hosting Battle Lake next Monday.
In addition to being ranked fourth in the QRF, the undefeated Eagles are ranked eighth in the state by the Minnesota Basketball News.