Hassa is first baby of 2022 at TCHC
News | Published on January 11, 2022 at 9:24pm GMT+0000 | Author: Chad Koenen
0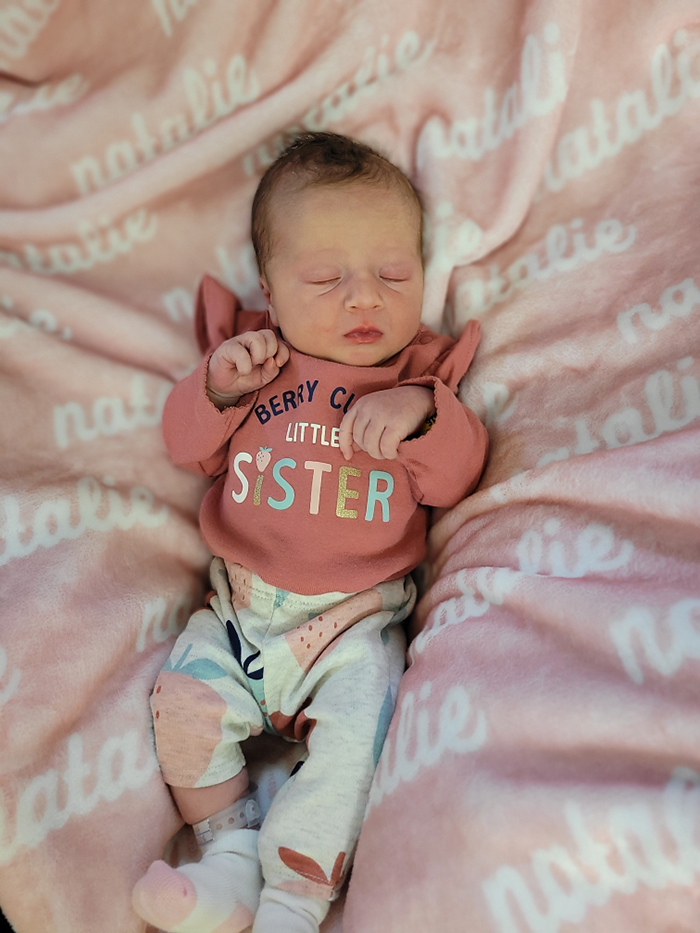 The first baby born at Tri-County Health Care in 2022 is Natalie Josephine Hassa. She was born on Jan. 3, 2022 at 9:11 p.m. She weighed 6 pounds, 11 ounces, and was 19.5 inches long. Her sibling is Braxton Grewe.
"It feels great; she is precious," said Leah Oberg, the mother of the new year's baby.
Oberg complimented the staff of Tri-County Health Care on the birthing process and was very appreciative of her special gifts. It is a new year's tradition for the obstetrics staff of Tri-County Health Care to organize a New Years' basket for the family.
This year the family was awarded with the following:
• Weber's Wadena Hardware $25 gift card
• Basket, puzzle and frame from Hometown Crafts
• Teething ring and wallet from 1776 Clothing Company
• Gnome and picture from Smith Furniture & Carpet
• Coffee mug and popcorn from Owly Coffee
• Uptown $25 gift card
• Picture, socks, lotion, scarf and mittens from The Taste of Colombia
• Hat, jewelry and ornaments from All Around Divas
• Necklace from Brink's Jewelry
• El Mariachi gift card
• BBQ Smokehouse gift card
• Super One Foods gift card
• Pizza Ranch gift card
• The Sleepy Sloth Shop gift card
• Rejuvenating Message shop gift card
• Larry's Family Pizza gift card
• Glamour Salon blanket
Altogether, the family was awarded a gift basket with over a $500 value. All items came from local businesses in the Wadena area.