Learning to live on three legs
News | Published on January 11, 2022 at 8:27pm GMT+0000 | Author: Chad Koenen
0
Rural Perham resident requests trap notification
By Barbie Porter
Editor, Frazee-Vergas Forum
Harley, a wee rascal that resembles a miniture lab, came into Amanda Femling's life unexpectedly. He almost left in the same manner.
The rural Perham dog went for a stroll in the woods to find himself in an animal trap.
"I understand having traps in the country," the 1998 New York Mills High School graduate said. "My husband and I came home one day to find a bobcat eating one of our chickens under the deck. I'm grateful for trappers, but I had no idea there were any out there (on neighboring properties).
Femling wanted to use the sad tale with a happy ending to encourage those with traps to let their neighbors know.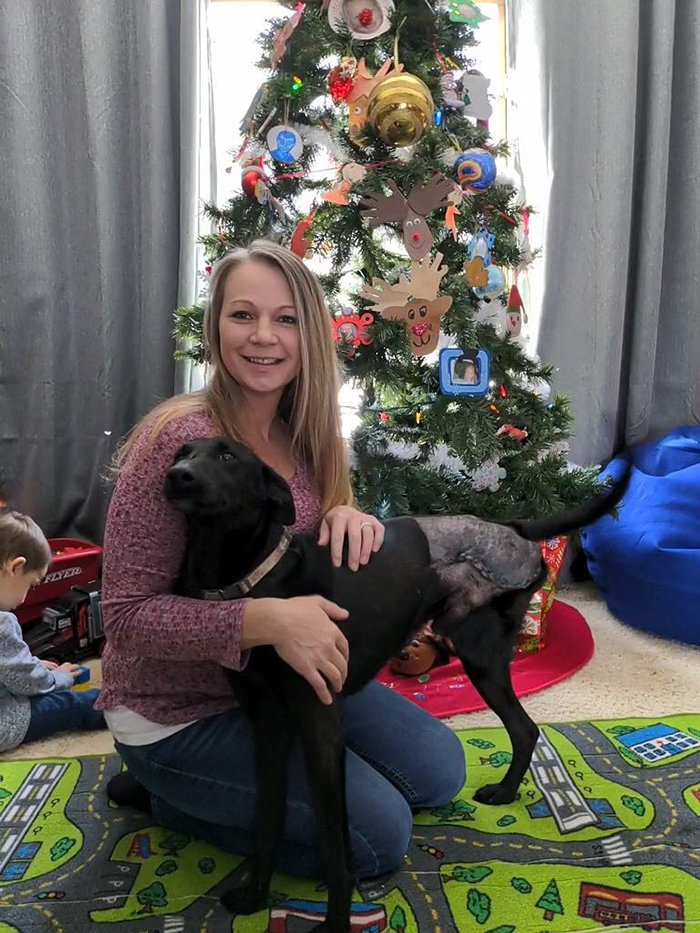 "Kids and dogs sometimes wander in the woods," she said. "When we first moved here, one neighbor told us about an old well to be aware of."
She noted that taking time to share one's knowledge of potential hazards can save a life.
"It's the neighborly thing to do," she said.
Femling's daughter worked at an assisted living, and a resident there needed extended physical therapy. If no foster family could be found for his dog, Harley, the option remaining was to euthanize.
Harley was originally estimated to be nine years old, but after a vet check up, his pearly whites indicated he was closer to six.
"Harley came into our family when the Superior National Forest was on fire, I think that was in August," Femling said. 
Harley's owner was not able to fully recover to leave assisted living and the few months of dog care began looking like the bustling family of seven kids and two parents had another addition.
The transition was far from seamless. The rambunctious pup was not potty trained and had a penchant for chewing what doesn't belong in a dog's mouth. Harley became an outside dog with plenty of opportunity for warmth and water.
"Being in the country, I never chained up a dog before—ever," Femling said.
After a neighbor requested she keep the dog on her property, Femling obliged. But, the sneaky scamp figured out a way to slip out of his collar.
"He ran off, but came back," Femling said. "Then he slipped out again awhile later, but didn't come back."
The Femlings searched and called for Harley for a solid three days. The fourth day Harley was placed on their porch. A neighbor explained he found the dog in a spring loaded trap.
The skin separated and the bone showed on his foot, but he was still using it. The veterinarian explained to Femling that Harley had no idea about the damaged limb, as all the nerves were cut.
"Honestly, when I brought him in I thought I'd have to put him down," she said. "We're a family with seven kids, all are in school, and paying for an amputation and aftercare would be tough."
As she discussed the options with the veterinarian, her eyes locked on Harley's.
"He looked like he was begging me, and I couldn't do it. I called my husband and we agreed we would try to save him," she said.
The major surgery set the family back $1,500, not including the many future visits. (A GoFundMe is set up for the medical bills at Helping Hearts for Harley.)
Harley underwent an amputation procedure and returned home. The wily dog seemed to instantaneously improve in behavior – no accidents or no chewed items since returning home. But, he retained his spunk, as he was quick to learn how to walk on three legs.
"He was up and walking immediately," she said. "It was amazing."
The pup still has a long way to go for recovery, but Femling said she and her family have taken the dog into their home and hearts.