Salo captures first place at Central Cass
Sports | Published on January 11, 2022 at 8:47pm GMT+0000 | Author: Chad Koenen
0
Eagles take fourth place at 26-team tournament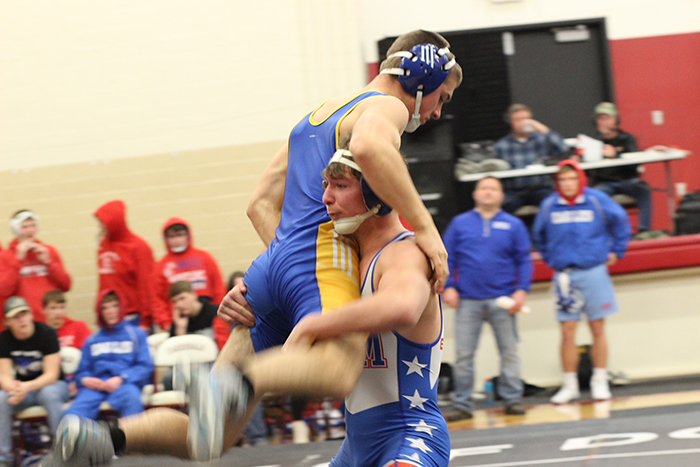 By Chad Koenen
Publisher
Bren Salo captured first place and Dane Niemi took second at the 26 team Central Cass Lettermen's Tournament over the weekend.
Salo captured first place at 195 lbs. with a tough 5-2 decision over Barrett Willison of Hillsboro-Central Cass in the championship match. The win improved Salo to 16-2 on the season and was just the second loss of the season for Willison.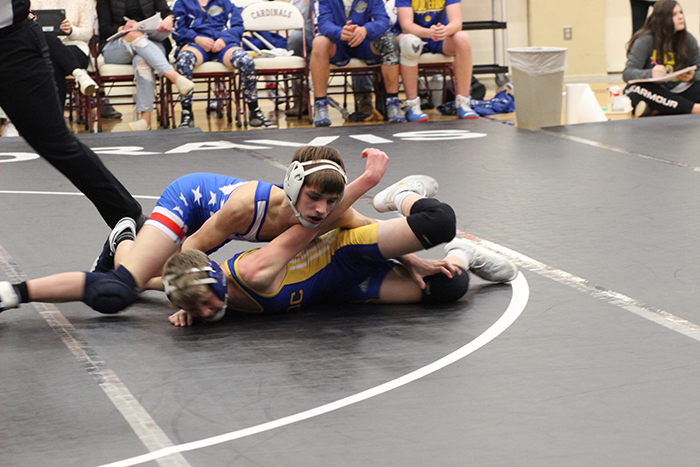 Niemi fell in overtime in his championship match at 152 lbs. to Cale Ibach of Deslacs-Burlington. Ibach picked up a take down in overtime to come away with the championship, while Niemi captured second place in an extremely competitive 152 lbs. bracket.
Simon Snyder captured third place at 145 lbs. after he advanced to the semi-finals, before falling by a 7-0 decision. In the consolation bracket, Snyder won a 5-0 decision to advance to the third place match. He went on to win by a 9-2 decision over Seth Lavalier of Fertile-Beltrami.
Hunter Rust finished in fourth place at 160 lbs. after he fell to Baxter Sand of South Border by an 8-6 decision in the third place match.
Also placing for the Eagles was Jacob Guck, who took sixth place at 138 lbs., Blake Unger, who took sixth place at 160 lbs. and Bode Roberts, who took sixth place at 170 lbs.
As a team the Eagles took fourth place in the 26 team tournament. NY Mills finished with 150.5 points, behind just Pembina County North with 152 points, South Border at 226.5 points and champion Lisbon with 238 points.
In addition to the Central Cass Lettermen's Tournament, the Eagles swept a triangular at Staples-Motley on Tuesday night. The Eagles defeated Staples-Motley by a score of 56-21, before cruising to a 66-10 win over Wadena-Deer Creek. As a team, the Eagles are 7-5 in duals so far this season.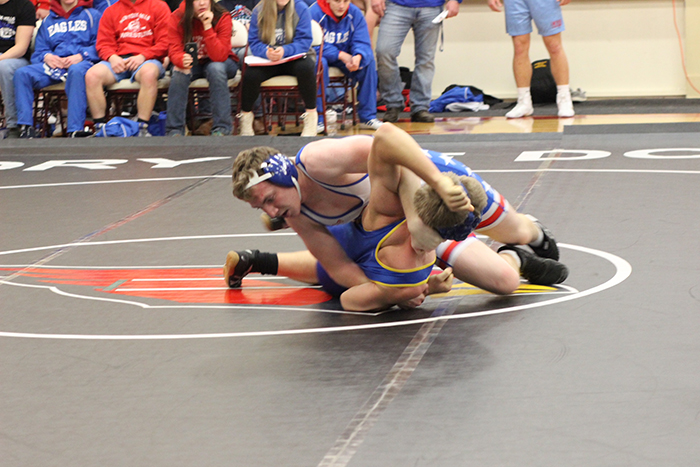 This week the Eagles will travel to Barnesville on Thursday night for a triangular against the Trojans and Badger-Greenbush-Middle River, before participating in the Big Ole Invite on Saturday in Alexandria.
106- Champ. Round 1 – Creed Mursu (New York Mills) 8-11 won by major decision over BRODY FOSS (Oakes) 9-9 (MD 11-0); Champ. Round 2 – Brock Johnson (Kindred) 16-4 won by fall over Creed Mursu (New York Mills) 8-11 (Fall 3:53); Cons. Round 3 – Joseph Keller (South Border) 10-8 won by fall over Creed Mursu (New York Mills) 8-11 (Fall 2:03)
113- Champ. Round 1 – Jace Duffy (LaMoure) 12-10 won by fall over Slade Doll (New York Mills) 4-7 (Fall 3:08); Cons. Round 1 – Brody Michaelsohn (South Border) 8-8 won by medical forfeit over Slade Doll (New York Mills) 4-7 (M. For.); 113- Champ. Round 1 – Myles Thielges (Kindred) 12-7 won by decision over Austin Geiser (New York Mills) 2-12 (Dec 6-2); Cons. Round 1 – Austin Geiser (New York Mills) 2-12 won by tech fall over Keith Moore (Pembina County North) 4-9 (TF-1.5 3:31 (17-2)); Cons. Round 2 – Brady Peterson (Central Cass) 16-4 won by decision over Austin Geiser (New York Mills) 2-12 (Dec 8-3)
132- Champ. Round 2 – Trevor Hinkle (Pembina County North) 21-2 won by fall over Joe Mann (New York Mills) 3-7 (Fall 0:31); Cons. Round 2 – Ben Suther (Britton-Hecla) 6-9 won by decision over Joe Mann (New York Mills) 3-7 (Dec 3-0)
138- 6th place- Champ. Round 2 – Jacob Guck (New York Mills) 7-5 won by fall over Drew Thorpe (Ellendale-Edgeley-Kulm) 7-8 (Fall 1:03); Quarterfinal – Jacob Guck (New York Mills) 7-5 won by decision over Carson Brown (Pembina County North) 22-5 (Dec 5-0); Semifinal – Cael Larson (Webster Area) 21-0 won by fall over Jacob Guck (New York Mills) 7-5 (Fall 1:23); Cons. Semi – BLAINE WALD (Oakes) 11-5 won by medical forfeit over Jacob Guck (New York Mills) 7-5 (M. For.); 5th Place Match – Carson Brown (Pembina County North) 22-5 won by medical forfeit over Jacob Guck (New York Mills) 7-5 (M. For.)
145- 3rd place- Champ. Round 2 – Simon Snyder (New York Mills) 20-4 won by fall over Wesley Ramberg (Fertile-Beltrami) 2-2 (Fall 3:35); Quarterfinal – Simon Snyder (New York Mills) 20-4 won by major decision over Carter Wallner (Lisbon) 10-9 (MD 12-1); Semifinal – Henry Nelson (Hillsboro-Central Valley) 20-2 won by decision over Simon Snyder (New York Mills) 20-4 (Dec 7-0); Cons. Semi – Simon Snyder (New York Mills) 20-4 won by decision over Alex Ibanez (Grafton) 20-8 (Dec 5-0); 3rd Place Match – Simon Snyder (New York Mills) 20-4 won by decision over Seth Lavalier (Fertile-Beltrami) 11-3 (Dec 9-2)
152- 2nd place- Champ. Round 2 – Dane Niemi (New York Mills) 21-4 won by tech fall over Ashton Vaugh (Pembina County North) 9-10 (TF-1.5 5:05 (15-0); Quarterfinal – Dane Niemi (New York Mills) 21-4 won by fall over Carl Tjernlund (Ellendale-Edgeley-Kulm) 9-7 (Fall 1:50); Semifinal – Dane Niemi (New York Mills) 21-4 won by fall over Wesley Harvey (Bishop Ryan) 19-6 (Fall 3:35); 1st Place Match – Cale Ibach (Deslacs-Burlington) 19-0 won in sudden victory – 1 over Dane Niemi (New York Mills) 21-4 (SV-1 2-0)
152- Champ. Round 2 – John Geray (Hillsboro-Central Valley) 16-7 won by decision over Dashuan Robinson (New York Mills) 1-6 (Dec 6-3); Cons. Round 2 – Cameron Halverson (Barnesville) 6-9 won by decision over Dashuan Robinson (New York Mills) 1-6 (Dec 6-1)
160- 6th place- Champ. Round 2 – Blake Unger (New York Mills) 9-9 won by decision over TATE THORPE (Oakes) 3-10 (Dec 8-4); Quarterfinal – Boeden Greenley (Lisbon) 20-0 won by fall over Blake Unger (New York Mills) 9-9 (Fall 1:02); Cons. Round 4 – Blake Unger (New York Mills) 9-9 won by fall over Carter Iverson (Hillsboro-Central Valley) 7-7 (Fall 1:45); Cons. Round 5 – Blake Unger (New York Mills) 9-9 won by fall over Matthew Keena (Pembina County North) 11-4 (Fall 2:08); Cons. Semi – Baxter Sand (South Border) 15-3 won by tech fall over Blake Unger (New York Mills) 9-9 (TF-1.5 4:21 (15-0); 5th Place Match – Eric Hoffmann (Larimore) 9-5 won in sudden victory – 1 over Blake Unger (New York Mills) 9-9 (SV-1 5-3)
160- 4th place- Champ. Round 2 – Hunter Rust (New York Mills) 18-7 won by fall over Tucker Jones (LaMoure) 2-6 (Fall 0:39); Quarterfinal – Hunter Rust (New York Mills) 18-7 won by decision over Matthew Keena (Pembina County North) 11-4 (Dec 2-1); Semifinal – Boeden Greenley (Lisbon) 20-0 won by fall over Hunter Rust (New York Mills) 18-7 (Fall 4:35); Cons. Semi – Hunter Rust (New York Mills) 18-7 won by fall over Eric Hoffmann (Larimore) 9-5 (Fall 2:31); 3rd Place Match – Baxter Sand (South Border) 15-3 won by decision over Hunter Rust (New York Mills) 18-7 (Dec 8-6)
170- 6th place- -Champ. Round 2 – Bode Roberts (New York Mills) 20-7 won by fall over Johnathan Smith (Deslacs-Burlington) 5-2 (Fall 1:30); Quarterfinal – Bode Roberts (New York Mills) 20-7 won by decision over Nickolas Dossenko (Harvey-Wells County) 17-8 (Dec 11-8); Semifinal – Garrett Hebl (LaMoure) 20-1 won by decision over Bode Roberts (New York Mills) 20-7 (Dec 3-2); Cons. Semi – Levi Sveum (Lisbon) 17-6 won by fall over Bode Roberts (New York Mills) 20-7 (Fall 3:20); 5th Place Match – Casey Macziewski (Dilworth-Glyndon-Felton) 13-3 won in sudden victory – 1 over Bode Roberts (New York Mills) 20-7 (SV-1 8-6)
182- Champ. Round 1 – Anthony Houle (Central Cass) 11-11 won by decision over Grady Roberts (New York Mills) 0-2 (Dec 10-4); Cons. Round 1 – Jameson Krosbakken (Harvey-Wells County) 4-9 won in the ultimate tie breaker over Grady Roberts (New York Mills) 0-2 (UTB 9-8); 182- Champ. Round 1 – Mason Unger (New York Mills) 8-4 won by fall over Jacob Schneider (Central Cass) 0-3 (Fall 0:55); Quarterfinal – Isaac Herbel (Northern Lights) 24-7 won by fall over Mason Unger (New York Mills) 8-4 (Fall 1:59); Cons. Round 2 – Mason Unger (New York Mills) 8-4 won by fall over Jameson Krosbakken (Harvey-Wells County) 4-9 (Fall 3:36); Cons. Round 3 – Brock Wendel (LaMoure) 16-5 won by fall over Mason Unger (New York Mills) 8-4 (Fall 1:52)
195- 1st place- Champ. Round 1 – Bren Salo (New York Mills) 16-2 won by tech fall over Dunlop Wyatt (Northern Lights) 10-11 (TF-1.5 2:47 (15-0); Quarterfinal – Bren Salo (New York Mills) 16-2 won by decision over Daniel Schumacher (South Border) 17-2 (Dec 6-3); Semifinal – Bren Salo (New York Mills) 16-2 won by medical forfeit over Carsen Mertz (Harvey-Wells County) 16-3 (M. For.); 1st Place Match – Bren Salo (New York Mills) 16-2 won by decision over Barrett Willison (Hillsboro-Central Valley) 14-2 (Dec 5-2)
220- Champ. Round 2 – Caleb McGregor (Webster Area) 13-2 won by fall over Baeden Peterson (New York Mills) 9-6 (Fall 0:57); Cons. Round 3 – Baeden Peterson (New York Mills) 9-6 won by fall over John Gille (Lisbon) 8-7 (Fall 0:44); Cons. Round 4 – Jordan Kroll (Barnesville) 12-7 won by fall over Baeden Peterson (New York Mills) 9-6 (Fall 2:40);
285- Champ. Round 1 – Grant Lyons (Lisbon) 19-3 won by fall over Sawyer Wedde (New York Mills) 8-6 (Fall 3:04); Cons. Round 2 – Sawyer Wedde (New York Mills) 8-6 won by fall over Aiden Edeen (Dilworth-Glyndon-Felton) 2-4 (Fall 2:18); Cons. Round 3 – Sawyer Wedde (New York Mills) 8-6 won by fall over Jayden Vlaminck (Harvey-Wells County) 8-6 (Fall 1:46); Cons. Round 4 – Sawyer Wedde (New York Mills) 8-6 won by fall over JAYDEN HANKEL (Oakes) 7-9 (Fall 1:45); Cons. Round 5 – Grant Lyons (Lisbon) 19-3 won by fall over Sawyer Wedde (New York Mills) 8-6 (Fall 2:25)