Dresser named NYM Teacher of the Year
News | Published on January 12, 2022 at 3:25pm GMT+0000 | Author: Chad Koenen
0
Longtime teacher is grateful for the honor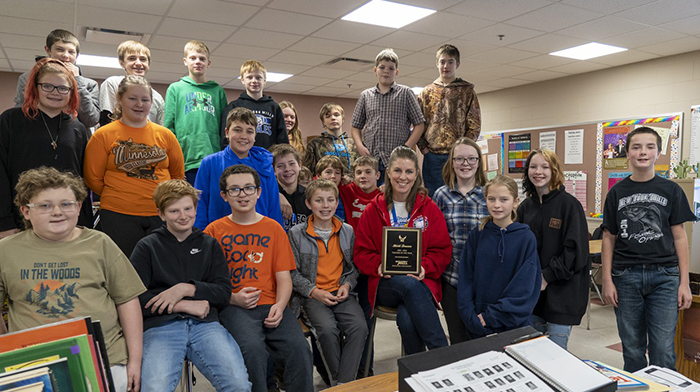 Tucker Henderson
Reporter
"So many people are deserving of this, and so (I) feel grateful to be nominated for something like this," said Heidi Dresser of her recent award as the New York Mills School Teacher of the Year. "It's good to feel appreciated."
This is the second time Dresser has received this award, having been nominated during the 2013-14 school year.
"My family has several teachers in it." Heidi explains that teaching is "in her blood."
Her grandmother was a Spanish teacher and her mother taught English before becoming a principal. Her father, Rev. John Krueger, pastored at St. Peter's Lutheran Church.
"It was a natural thing," Dresser notes on how her educational heritage brought about her love of teaching. "I really enjoyed school as a kid. I was one of those that liked going to school, I liked seeing my friends, I thought the structure was great."
The Perham graduate decided early on that she wanted to teach. After obtaining an Associate of Arts degree at Fergus Falls Community College, she continued on to Moorhead State and then completed her Bachelor of Science degree in English at Bemidji State University.
"My first year I taught in Wadena at the high school there and then I came here the next year," she said.
As Dresser enters her 23rd school year, she notes that all but that first year have been in NY Mills. After a couple of years working with District 553, Dresser started her Masters program through Hamline University and earned a Master of Arts degree in Education.
"A few years ago there was a need for an ESL (English as a Second Language) teacher, so I decided to get my Masters Certificate in TESL (Teaching English as a Second Language)," said Dresser.
Her latest formal education consisted of eighteen credits of Masters classes in English through M-State's 18 Online program.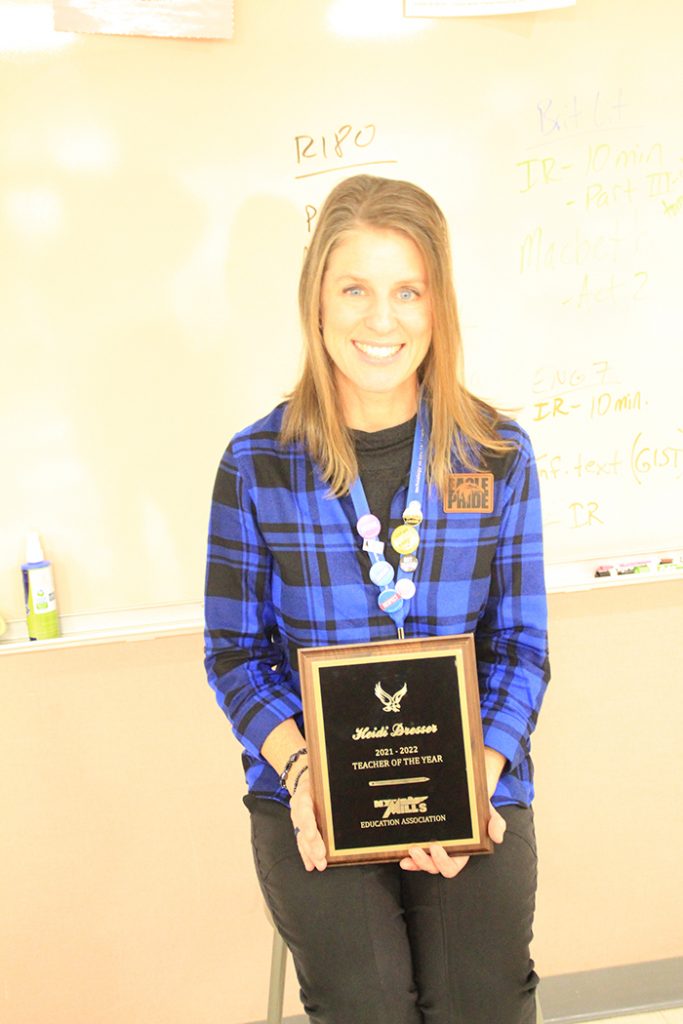 "I think I might be done now," she jokes wryly. "I like to learn. It keeps me up with the things I need to know."
Dresser puts her extensive education to use as an English instructor. This year she is teaching English, Study Skills, Film Studies, and three concurrent enrollment courses through M-State. These include two writing classes and one communications-speech class.
"There's a built in need for flexibility in the job. Every year we may be teaching different things. That's a good thing in a small school. It keeps things interesting. It's always an exciting job," she said. "You never know what the day will bring you."
There are many parts of teaching that fulfills Dresser's passion each day.
"I enjoy seeing kids light up with understanding. I enjoy getting to interact everyday with all kinds of people. I love literature, so obviously it's fun for me to be able to teach the thing that I love."

Heidi Dresser on what she enjoys about teaching at New York Mills School
She goes on to say that other than loving "everything" about teaching, she also finds the interactions with the kids on a daily basis to be a lot of fun.
"Especially when I get to see them from seventh-grade through 12th-grade. You see their progression, it's just cool," she said.
Though the best parts of her job far outshadow the harder aspects, success isn't always guaranteed.
"Hands down, the most difficult part of my job is when I am unable to connect with a student. I work so hard to give my students positive and useful experiences in my classes, and when I can feel that I haven't reached someone, I struggle with that knowledge," said Dresser. "The flip side of that, though, is that there are many different personalities among the staff here, and students are typically able to find an adult or two they can truly connect with!"
Dresser was honored to be selected for the teacher of the year award for the second time.
"It's very humbling," said Dresser of the award. "You realize how many good people there are after working with them. It means that this profession is being noticed. I'm glad that people get to hear what it is to be a teacher and what a wonderful set of opportunities this job provides. It really is one of the great professions, to be able to work with young people."
Dresser lives on Big Pine Lake where she and her husband Tom raised their three children. Their daughter Ashley and husband Colby bring grandson Cashton for visits to the lake. Caleb, is a recent NY Mills graduate and is in his first year of college, and their youngest, Sean, is a sixth-grader in NY Mills.
"We love the community. There are warm, good-hearted people around here. It's a place we have been happy to raise our family," said Dresser.
Reflecting back fondly over her career, Dresser has just one thing to say.
"I can't imagine what else I would have done with my life. I really can't."