NYM School honored for yearbook
News | Published on January 12, 2022 at 3:21pm GMT+0000 | Author: chadkoenen
0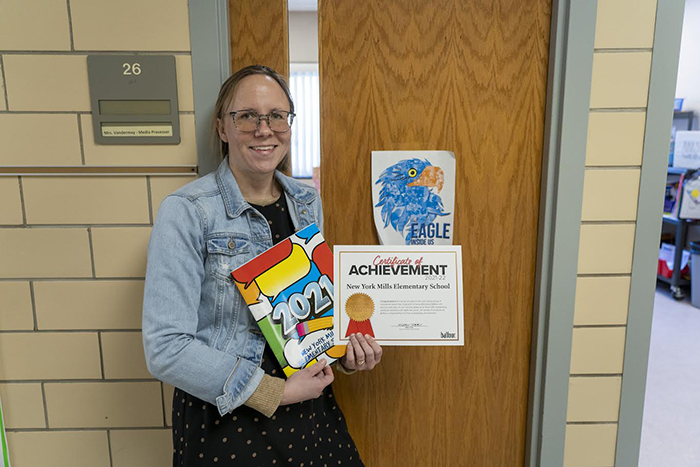 Tucker Henderson
Reporter
The 2021-22 New York Mills Elementary yearbook has received national recognition from its printer, Balfour (formerly Jostens). The yearbook, designed and compiled by Media Processor Connie Vandermay, makes up less than three percent of Balfour publications that have been selected as an example copy to be used in training sessions this summer and fall.
"Your book is a national sample, thus it will be distributed nationwide to reps and schools as an example of a how-to and excellent elementary yearbook," wrote Kerry Nelson, Balfour representative, in an email to Vandermay.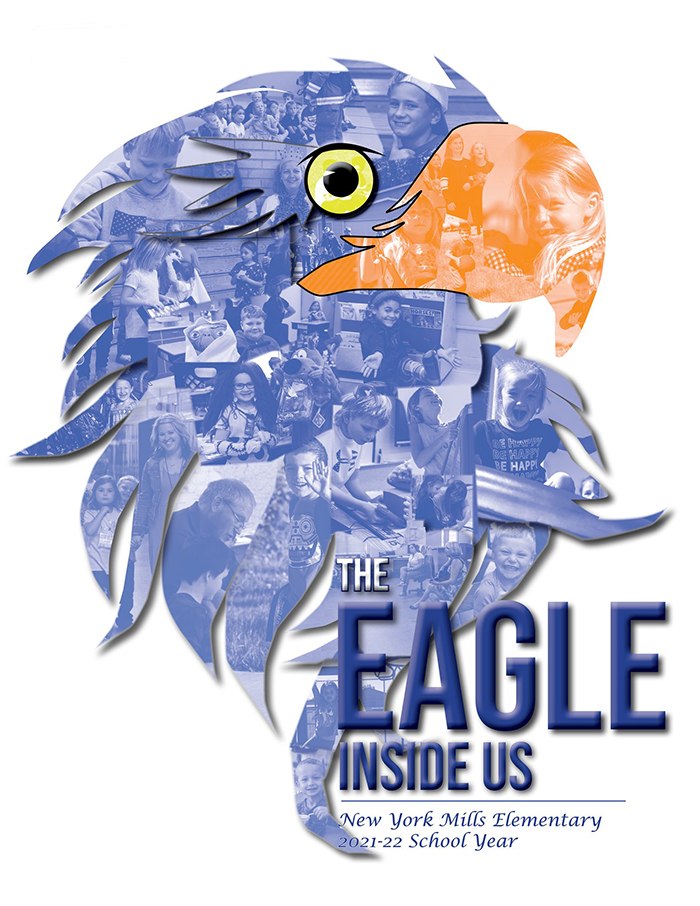 The yearbook's theme is "The Eagle Inside Us" and its cover showcases an eagle-shaped photo collage of NY Mills students.
Vandermay says that she was the one who sketched the eagle and matched blue- and orange-toned photos for the head and the beak, but wants to recognize her fellow staff members who provided their feedback before it was finalized.
Creating the yearbook is a natural fit for Vandermay as she has experience with layout and design during her time as editor of the NY Mills Dispatch and even as far back as helping design the yearbook when she was in high school. This will be the third yearbook she has worked on since she started her position as Media Processor. Currently, she is the main creative mind behind its development, although she welcomes the input of others.
"If we can figure out a way to make students involved, I think that would be awesome. My favorite part about being the school's Media Processor is connecting with kids. I love my job because it allows me to tell stories. I love being able to showcase all the amazing happenings here inside the building–whether it's through Facebook posts or the yearbook."

Connie Vandermay
Inspiration comes from a variety of sources. For Vandermay, inspiration presents itself on summer mornings as she browses Balfour idea books, as well as online boards on Pinterest. After saving her favorite ideas, she will reach for her folder of inspiration when fall comes to think up possible covers and themes.
Although, she is a one-woman team when it comes to the yearbook, she appreciates all the help from her coworkers.
"This year I leaned on Judith Brockway, Mary Hendrickx and Nick DeVillers (who has some background on design) and Jason Hoaby. So even though I put the cover together, all the credit goes to all the inspirational people around me," she said.