Olson breaks boys school scoring record
Sports | Published on January 12, 2022 at 3:32pm GMT+0000 | Author: Chad Koenen
0
New York Mills senior breaks boys basketball school scoring record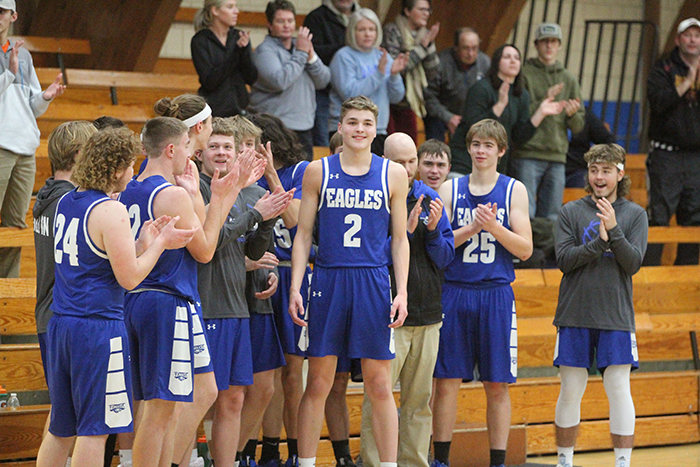 By Chad Koenen
Publisher
With a 3-pointer in the corner late in the first half on Thursday night, Tate Olson became the all-time leading scorer in New York Mills boys basketball history. It capped off a tremendous first half for the NY Mills senior, who needed 18 points to break Erik Peeters' school record of 1,379 points.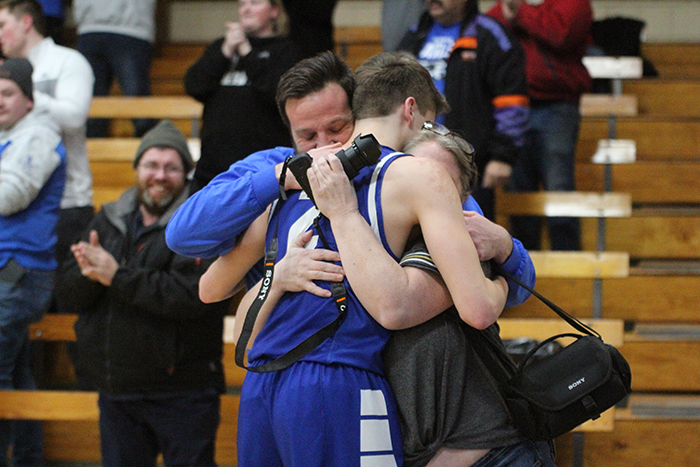 While breaking the school scoring record was a special accomplishment, Olson has been concentrating on putting the Eagles in the best possible position to get a win.
"It just came up. It was never something I said I have to get," he said. "(The season) has been great. It has been a lot of fun."
Olson didn't just stop at 18 points on Thursday night as he registered a triple-double with 34 points, 12 rebounds and 10 assists. He has helped to lead the Eagles to be ranked eighth in the state by Minnesota Basketball News, and a fourth ranking by the state QRF.
NY Mills is currently 9-0 on the season and has the highest scoring offense in Section 6A.
First year head coach Mike Baune said Olson is a big part of that success on offense as he helps to set the tone on both ends of the court.
"Tate is a hooper through and through. He just loves basketball and is a lot of fun for his teammates to play with, because he loves sharing the ball," said Baune. "This record is even more incredible knowing how Tate plays the game. He's a passer and floor general at heart and sometimes I have to beg him to score more because it comes so easy to him. To know that, and then see him do this, is truly special."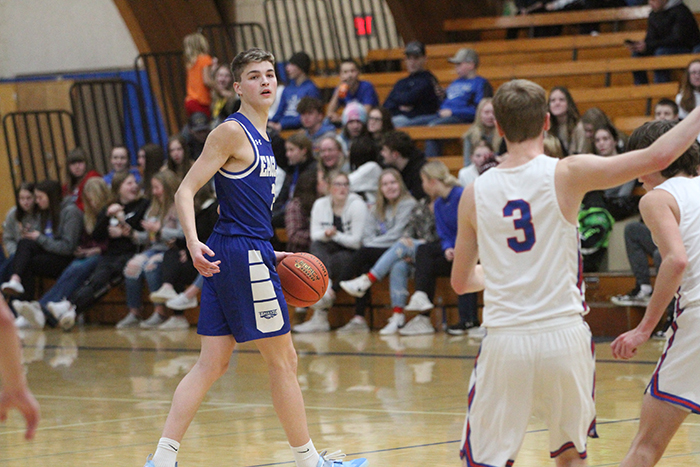 Being able to break the boys school scoring record on his home court made the accomplishment even more memorable, as countless Eagle fans and family members were able to attend the game. Shortly after he broke the school record Olson gave his parents a hug near the sideline of the NY Mills gym.
Baune said the record is the culmination of years of hard work and is a testament to the hard work the entire NY Mills team have put in throughout the years.
"This record is a culmination of years of hard work and dedication to the game for Tate. For our team it's special to witness because he is our leader and we all know how much he deserves it. We enjoy seeing each other's accomplishments," said Baune.
Olson won't have to wait long to attempt to add to his career points record. The Eagles are scheduled to take on Henning on Tuesday night in a match up between the last two remaining undefeated teams in the Park Region Conference. With almost an entire season remaining on their schedule, Olson will have plenty of opportunities to add to his new school record.