Sixth ranked Eagles edge seventh ranked Hornets in overtime
Sports | Published on January 18, 2022 at 4:09pm GMT+0000 | Author: Chad Koenen
0
NYM improves to 11-0 overall, 6-0 in PRC action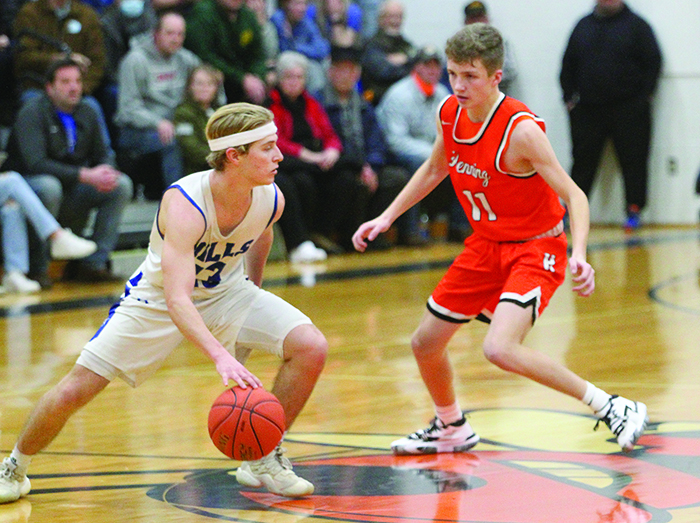 By Chad Koenen
Publisher
In a battle between two unbeaten teams on Tuesday night, the New York Mills Eagles were able to hold off a comeback attempt by the Henning Hornets to remain atop the Park Region Conference standings. After leading by as many as 24 points in the second half, the sixth ranked Eagles and seventh ranked Hornets found themselves in overtime in a packed Henning High School gym.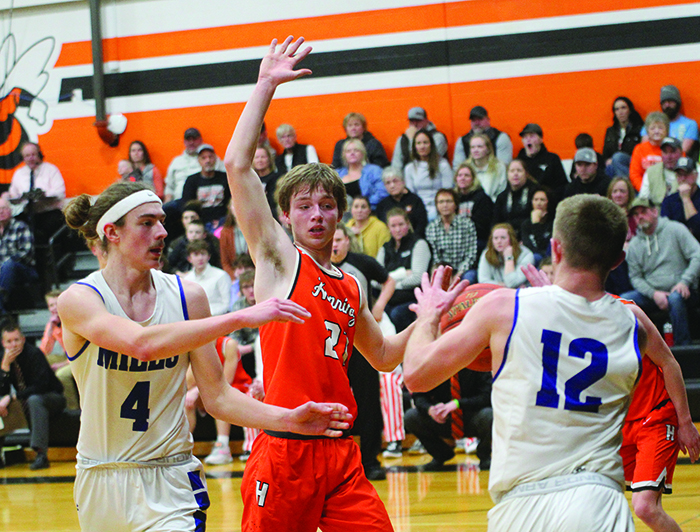 The Eagles ultimately were able to come away with a hard fought 58-56 win in overtime to stay unbeaten in the conference and on the season.
NY Mills went on to defeat Verndale by a score of 74-57 on Friday night to improve to 11-0 overall and 6-0 in the conference.
This week the Eagles will take on Battle Lake on Monday night, before traveling to the Hancock on Saturday for an important Section 6A contest against the Owls.
Tuesday
Sixth ranked NY Mills traveled to seventh ranked Henning on Tuesday night for a shot at supremacy in the PRC. Both teams came into the game with a perfect 9-0 record and were tied atop the conference standings.
With a packed gym in Henning, the Eagles took what looked to be a commanding lead in the second half, before the Hornets fought back in the game and hit several shots late to force overtime. The Hornets trailed by as many as 24 points at one point midway through the final 18 minutes of action.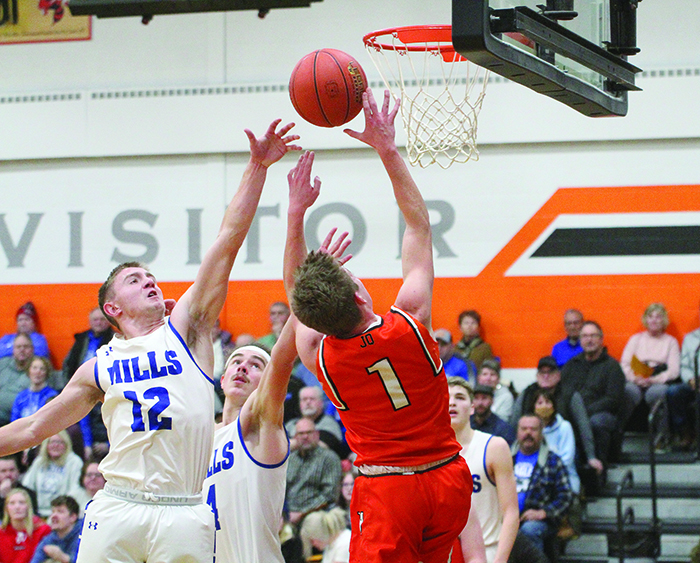 "It was an incredibly intense game with a lot of energy and emotion from everyone involved. We raced to a massive 24 point lead midway through the second half, but faced some lock down defense and a relentless effort which saw Henning claw all the way back to tie it and send it to overtime," said head coach Mike Baune.
Ultimately, the Eagles' experience proved to be the difference as they were able to force a turnover with less than 10 seconds left in the game to come away with a 58-56 win on the road.
Tate Olson had a big game as the senior registered a double-double with 27 points, 15 rebounds and 3 assists.
Jack Peeters had a solid night on the boards as he finished with 8 points to go along with a team-high 13 rebounds. Jonah Johnson scored 7 points and came away with 8 rebounds, while Noah Noffsinger had 6 points and 3 rebounds, Bryan Bohn had 5 points and Breck Hensch scored 3 points, 6 rebounds and 4 steals.
Friday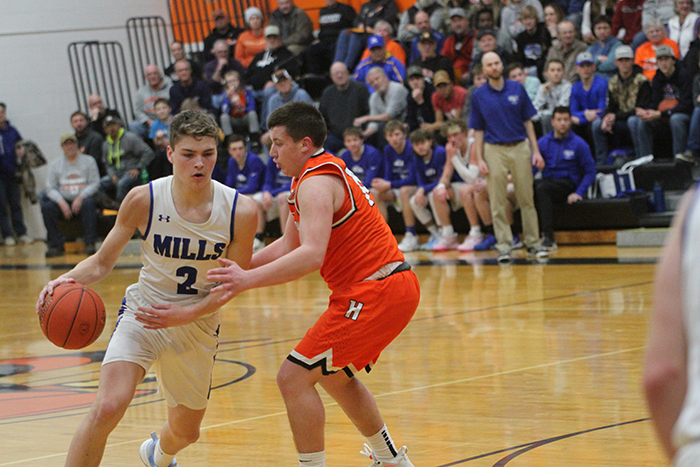 The Eagles improved to 6-0 in PRC action on Friday night as they defeated Verndale 74-57.
Head coach Mike Baune said it was one of NY Mills' best, most complete games of the season, as they competed against the Pirates' 2-3 zone defense.
Tate Olson recorded his second double-double of the week as he scored 24 points to go along with 12 rebounds and 6 assists. Jack Peeters scored 14 points to go along with 7 rebounds and Jonah Johnson also reached double figures with 14 points 5 rebounds and 6 assists.
Noah Noffsinger just missed joining them in double figures as he scored 9 points to go along with 8 assists and Sam Kopveiller added 5 points to round out the scoring.