Snyder, Niemi take first place at Big Ole Invitational in Alexandria
Sports | Published on January 18, 2022 at 4:00pm GMT+0000 | Author: Chad Koenen
0
Eight wrestlers place, NYM takes fourth as a team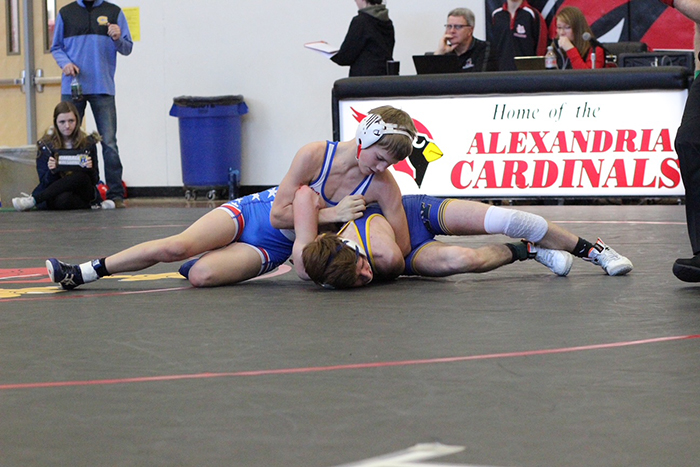 By Chad Koenen
Publisher
Simon Snyder and Dane Niemi captured first place and eight Eagles placed at the annual Big Ole Invitation in Alexandria on Saturday. The Eagles placed fourth as a team as some of the top teams in the state converged on Alexandria High School.
In addition to the Big Ole tournament, the Eagles picked up an important Section 6A win over Barnesville on Thursday night by a score of 39-33.
This week the Eagles will host eighth ranked United North Central and sixth ranked West Central Area on Tuesday, before hosting Frazee and United Clay Becker in another triangular on Thursday.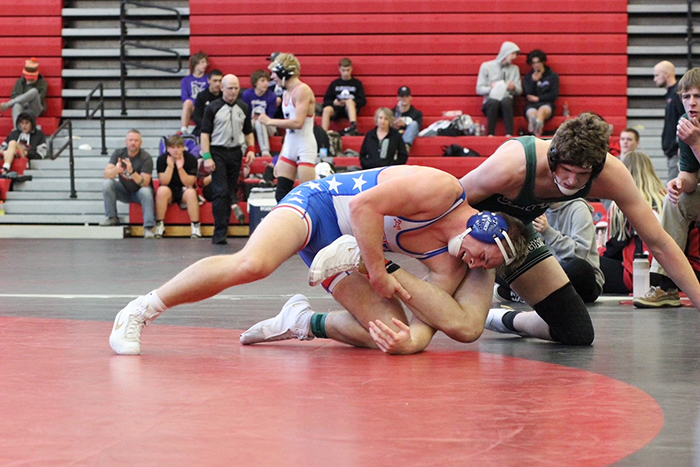 Thursday
NY Mills won seven straight weight classes to blow past Barnesville in a dual on Thursday night.
Creed Mursu won the opening match of the night when he pinned Wesley Rotz of Barnesville at the 1:26 mark of their 106 lbs. match.
Following the early Eagles lead, Barnesville won the next four matches by either pin or forfeit to take a 24-6 lead. Following a Trojan decision at 138 lbs., the Eagles went on a run of seven straight wins, which started with a Braeden Malone decision over William Rotz by a score of 11-9 at 145 lbs.
Fifth ranked Dane Niemi secured an 11-7 win over Dawson Gregg of Barnesville to make the score 27-12 in favor of the Trojans.
Hunter Rust followed with NY Mills' third straight decision when he secured a 7-4 win over Cameron Halverson of Barnesville.
The Eagles put the match out of reach when Blake Unger and Bode Roberts picked up wins by forfeit, and Mason Unger and Bren Salo secured pins to make the score 39-27 in favor of the Eagles.
The Trojans secured a win by fall at heavyweight, but it wasn't enough as the Eagles secured a 39-33 win to improve to 8-5 on the season.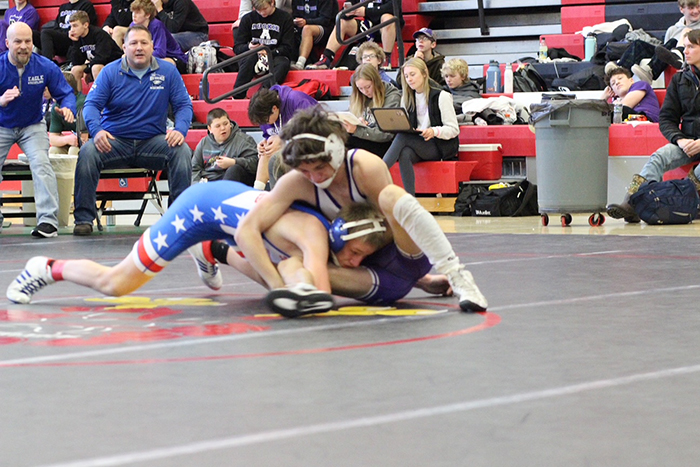 New York Mills 39 Barnesville 33
106: Creed Mursu (NYM) over Wesley Rotz (BARN) (Fall 1:26)
113: Asher O'Brien (BARN) over Austin Geiser (NYM) (Fall 2:47)
120: Quincy Morey (BARN) over Elijah Geiser (NYM) (Fall 0:36)
126: Elias Cox (BARN) over (NYM) (For.)
132: Ayden Hauck (BARN) over (NYM) (For.)
138: Hunter Blilie (BARN) over Jay Mindermann (NYM) (Dec 9-4)
145: Braeden Malone (NYM) over William Rotz (BARN) (Dec 11-9)
152: Dane Niemi (NYM) over Dawson Gregg (BARN) (Dec 11-7)
160: Hunter Rust (NYM) over Cameron Halverson (BARN) (Dec 7-4)
170: Blake Unger (NYM) over (BARN) (For.)
182: Bode Roberts (NYM) over (BARN) (For.)
195: Mason Unger (NYM) over Gavin Grommesh (BARN) (Fall 0:51)
220: Bren Salo (NYM) over Jordan Kroll (BARN) (Fall 5:30)
285: Tim Wells (BARN) over Sawyer Wedde (NYM) (Fall 2:51)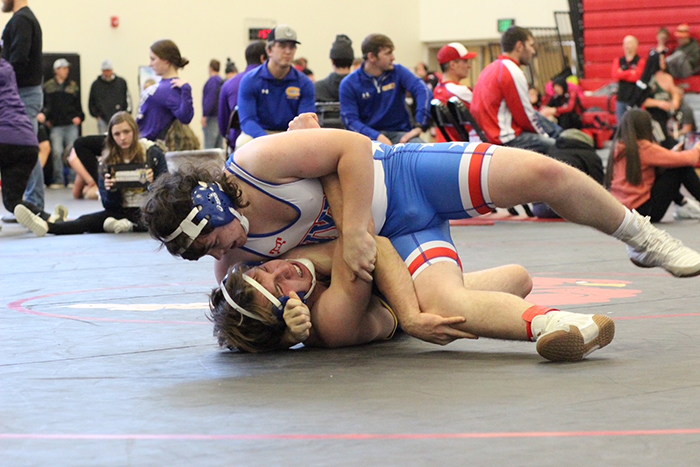 Saturday
Wrestling teams from across the state converged on Alexandria on Saturday for the annual Big Ole Invitational. The Eagles took fourth place as a team, just behind Kerkhoven-Mudock-Sunburg who took first place with 128 points, Kimball Area with 123 points and Albany with 109 points. The Eagles finished with 100 points and just ahead of Alexandria with 99.5 points for fourth place.
Eight Eagles placed in the tournament, including Creed Mursu who took third place at 106 lbs., Austin Geiser who took fourth place at 113 lbs., Simon Snyder who took first place at 145 lbs., Dane Niemi who took first place at 152 lbs., Bode Roberts who took fourth place at 170 lbs., Bren Salo who took third place at 182 lbs., Mason Unger who took fifth place at 195 lbs. and Braeden Peterson who took fifth place at 220 lbs.
Snyder captured first place as he secured an ultimate tiebreaker win over Logan Schleske of Otter Tail Central 4-2 in the opening round of the tournament. From there, he secured a pin and a decision. He also picked up a 16-2 major decision, before defeating Jett Olson of KMS by a fall to capture first place.
Niemi dropped his opening round match to Logan Kuseske of Kimball Area by a 6-4 decision in overtime, before winning his next four matches of the tournament. He defeated Cameron Halverson of Barnesville and Tommy Ehlert of Otter Tail Central with a pair of opening period pins, before securing a 7-0 decision over Ely Johnson of KMS and defeating Kelly Johnson of Alexandria by a 5-3 decision to secure first place.
Mursu took third place by defeating Connor Carlson of Kimball Area for the second time in the tournament as he secured a pin at the 1:52 mark of his third place match. Earlier in the tournament, Mursu pinned Carlson at the 5:35 mark of the match to advance to the semi-finals.
Also taking third place was Salo who fell to Caleb Vacura of BGMR by a 6-0 decision in the semi-finals, before securing a pin over Branden Johnson in the consolation semi-finals and winning a 7-0 decision in the third place match over Masyn Olson of KMS.
106- 3rd place- Quarterfinal – Creed Mursu (New York Mills) 12-12 won by fall over Connor Carlson (Kimball Area) 6-9 (Fall 5:35); Semifinal – Nolan Fettig (Alexandria Area) 18-8 won by decision over Creed Mursu (New York Mills) 12-12 (Dec 5-3); Cons. Semi – Creed Mursu (New York Mills) 12-12 won by fall over Emmitt Isane (Badger-GB-MR) 6-8 (Fall 3:18); 3rd Place Match – Creed Mursu (New York Mills) 12-12 won by fall over Connor Carlson (Kimball Area) 6-9 (Fall 1:52)
113- 4th place- – Round 1 – Austin Geiser (New York Mills) 5-15 won by fall over Ean Hansen (Albany) 6-14 (Fall 3:06); Round 2 – Mason Mcgrane (Alexandria Area) 21-3 won by fall over Austin Geiser (New York Mills) 5-15 (Fall 2:00); Round 3 – Austin Geiser (New York Mills) 5-15 won by fall over Tayden Soma (Otter Tail Central) 6-21 (Fall 2:37); Round 4 – Austin Geiser (New York Mills) 5-15 won by decision over Asher O`Brien (Barnesville) 13-11 (Dec 12-8); Round 5 – Elliott Isane (Badger-GB-MR) 9-12 won in sudden victory – 1 over Austin Geiser (New York Mills) 5-15 (SV-1 6-4)
145-1st place- Round 1 – Simon Snyder (New York Mills) 24-4 won in the ultimate tie breaker over Logan Schleske (Otter Tail Central) 16-10 (UTB 4-2); Round 2 – Simon Snyder (New York Mills) 24-4 won by fall over Will Rotz (Barnesville) 5-17 (Fall 2:16); Round 3 – Simon Snyder (New York Mills) 24-4 won by decision over Cole Vatnsdal (Alexandria Area) 1-5 (Dec 7-2); Round 4 – Simon Snyder (New York Mills) 24-4 won by major decision over Spencer Kollmann (Albany) 9-10 (MD 16-2); Round 5 – Simon Snyder (New York Mills) 24-4 won by fall over Jett Olson (Kerkhoven-Murdock-Sunburg) 21-10 (Fall 2:51)
152- 1st place Round 1 – Logan Kuseske (Kimball Area) 17-8 won in sudden victory – 1 over Dane Niemi (New York Mills) 25-5 (SV-1 6-4); Round 2 – Dane Niemi (New York Mills) 25-5 won by fall over Cameron Halverson (Barnesville) 8-14 (Fall 0:43); Round 3 – Dane Niemi (New York Mills) 25-5 won by fall over Tommy Ehlert (Otter Tail Central) 2-19 (Fall 1:10); Round 4 – Dane Niemi (New York Mills) 25-5 won by decision over Ely Johnson (Kerkhoven-Murdock-Sunburg) 15-15 (Dec 7-0); Round 5 – Dane Niemi (New York Mills) 25-5 won by decision over Kelly Johnson (Alexandria Area) 20-6 (Dec 5-3)
160- Quarterfinal – Jaxon Rich (Otter Tail Central) 17-9 won by fall over Blake Unger (New York Mills) 9-10 (Fall 3:05); Cons. Round 1 – Blake Unger (New York Mills) 9-10 received a bye () (Bye); Cons. Semi – Hank Meyer (Kimball Area) 14-8 won by tech fall over Blake Unger (New York Mills) 9-10 (TF-1.5 5:01 (17-2))
170- 4th place- Round 1 – Jonah Gruenes (Minneota) 21-0 won by injury default over Bode Roberts (New York Mills) 20-10 (Inj. 0:00); Round 2 – Mason Teaser (Alexandria Area) 16-8 won by injury default over Bode Roberts (New York Mills) 20-10 (Inj. 4:06); Round 3 – Hunter Tate (Albany) 8-4 won by injury default over Bode Roberts (New York Mills) 20-10 (Inj. 0:00)
1823rd place- Quarterfinal – Bren Salo (New York Mills) 19-3 won by fall over Gavin Grommesh (Barnesville) 2-10 (Fall 0:17); Semifinal – Caleb Vacura (Badger-GB-MR) 16-2 won by decision over Bren Salo (New York Mills) 19-3 (Dec 6-0); Cons. Semi – Bren Salo (New York Mills) 19-3 won by fall over Branden Johnson (Minneota) 5-10 (Fall 0:53); 3rd Place Match – Bren Salo (New York Mills) 19-3 won by decision over Masyn Olson (Kerkhoven-Murdock-Sunburg) 19-11 (Dec 7-0)
195- 5th place- Round 1 – Damien Tuura (Badger-GB-MR) 6-3 won by fall over Mason Unger (New York Mills) 10-7 (Fall 1:09); Round 2 – Owen Kidrowski (Kerkhoven-Murdock-Sunburg) 9-16 won by fall over Mason Unger (New York Mills) 10-7 (Fall 4:43); Round 3 – Mason Unger (New York Mills) 10-7 won by fall over Jonny Fielding (Otter Tail Central) 3-12 (Fall 0:52); Round 4 – Nicholas Bowen (Kimball Area) 8-6 won by injury default over Mason Unger (New York Mills) 10-7 (Inj. 3:01); Round 5 – Declan Crumley (Albany) 20-8 won by injury default over Mason Unger (New York Mills) 10-7 (Inj. 0:00)
220- 5th place- Round 1 – Jordan Kroll (Barnesville) 19-8 won by fall over Baeden Peterson (New York Mills) 9-10 (Fall 1:26); Round 2 – Collin Johnson (Kerkhoven-Murdock-Sunburg) 9-13 won by fall over Baeden Peterson (New York Mills) 9-10 (Fall 3:37); Round 3 – Kale Rich (Otter Tail Central) 12-13 won by fall over Baeden Peterson (New York Mills) 9-10 (Fall 1:37); Round 4 – Baeden Peterson (New York Mills) 9-10 won by fall over Luke Maanum (Alexandria Area) 9-12 (Fall 2:16); Round 5 – Hudson Scholten (Minneota) 16-8 won by fall over Baeden Peterson (New York Mills) 9-10 (Fall 1:33)
285- Quarterfinal – Ace Meyer (Kimball Area) 15-7 won by fall over Sawyer Wedde (New York Mills) 7-9 (Fall 5:21); Cons. Round 1 – Sawyer Wedde (New York Mills) 7-9 received a bye () (Bye); Cons. Semi – Jason Jones (Kerkhoven-Murdock-Sunburg) 17-13 won by fall over Sawyer Wedde (New York Mills) 7-9 (Fall 1:33)