Eagles host UCB, Frazee in home triangular
Sports | Published on January 25, 2022 at 4:02pm GMT+0000 | Author: Chad Koenen
0
NYM to travel to BHVPP for triangular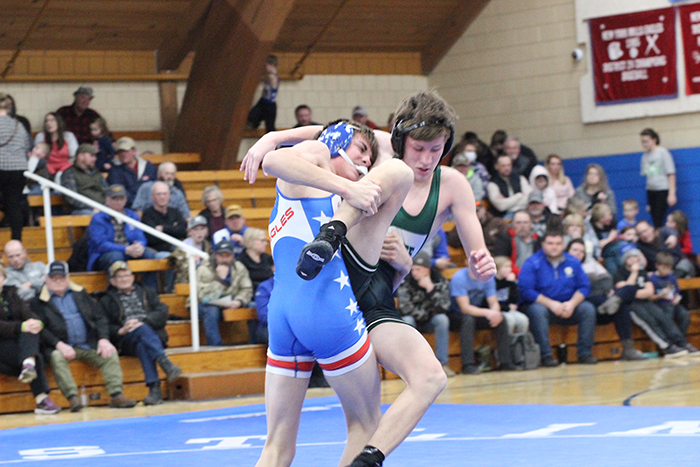 By Chad Koenen
Publisher
New York Mills got a bit of home cooking last week as the Eagles hosted eighth ranked United North Central on Tuesday night and United Clay Becker and Frazee in a triangular on Thursday.
This week the Eagles will travel to Bertha-Hewitt-Verndale-Parkers Prairie for a triangular against the Raiders and Long Prairie-Grey Eagle-Browerville in their only action on the mat for the week.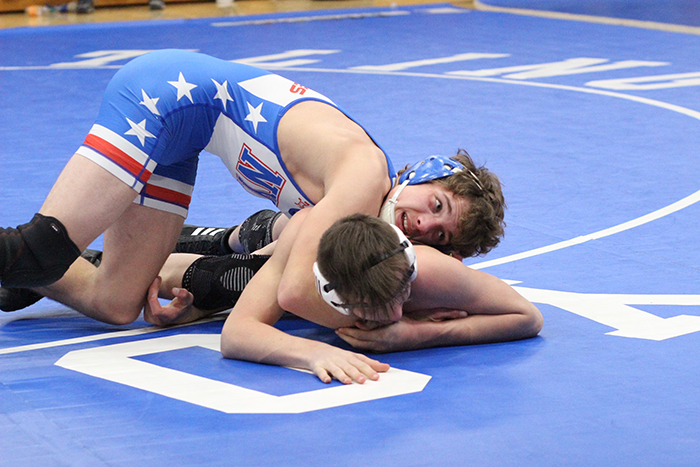 Tuesday
NY Mills hosted eighth ranked United North Central in a dual on Tuesday night. The match was originally scheduled as a triangular, but sixth ranked West Central Area canceled due to inclement weather.
The Eagles ultimately fell to the Warriors by a score of 57-6.
The Warriors won the opening nine matches of the night, due in large part to three open weights from 120 to 132 lbs. for NY Mills.
Blake Unger got the Eagles on the scoreboard as he secured a 10-4 win at 170 lbs. Bren Salo followed with a 7-1 decision over Shawn Hendrickson at 182 lbs. to give the Eagles their only two decisions of the night.
In a match up between two of the top ranked wrestlers in the state, Ethan Hendrickson bumped up a weight class to take on Dane Niemi at 152 lbs. Hendrickson is the third ranked wrestler at 145 lbs. and Niemi is the fifth ranked wrestler at 152 lbs. Unfortunately, Hendrickson was able to secure a 5-0 decision over Niemi to give the Warriors 3 team points in the tightly contested match up.
Simon Snyder also dropped a close match up at 145 lbs. when he fell to Hank Tellers in overtime by a 7-5 decision.
United North Central 57 New York Mills 6
106 Koll, Conrad (UNC) over Mursu, Creed (NYM) 7-5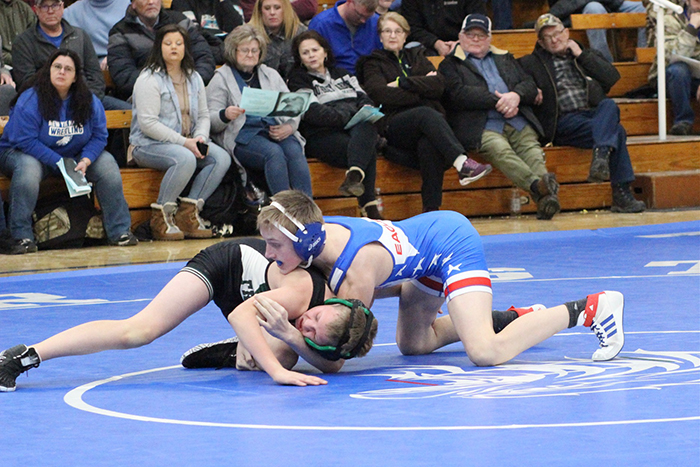 113 Davidson, Zack (UNC) over Geiser, Austin (NYM) 9-2
120 Hendrickson, Zach (UNC) win by Forfeit
126 Lake, Aaron (UNC) win by Forfeit
132 Erickson, Spencer (UNC) win by Forfeit
138 Olson, Wyatt (UNC) over Malone, Brayden (NYM) 8-4
145 Tellers, Hank (UNC) over Snyder, Simon (NYM) 7-5 OT
152 Hendrickson, Ethan (UNC) over Niemi, Dane (NYM) 5-0
160 Ness, Eion (UNC) over Rust, Hunter (NYM) Fall 4:57
170 Unger, Blake (NYM) over Plautz, Mason (UNC) 10-4
182 Salo, Bren (NYM) over Hendrickson, Shawn (UNC) 7-1
195 Carlson, Torrey (UNC) over Peterson, Braeden (NYM) Fall 3:14
220 Hasbargen, Cooper (UNC) over Doe, John (NYM) Forfeit
285 Peterson, Marcus (UNC) over Wedde, Sawyer (NYM) Fall 2:51
Thursday
NY Mills hosted United Clay Becker and Frazee in a triangular on Thursday night. The night took on an extra special meaning as the team honored its senior wrestlers and cheerleaders for senior night.
In a dual that came down to the final match of the night, the Eagles fell to Frazee by a score of 32-25. The Hornets led 26-25 heading into the heavyweight match when Xander Kohler was able to secure a first period pin over Sawyer Wedde to give Frazee the win on the scoreboard.
Austin Geiser and Slade Doll got the Eagles on the scoreboard when they secured a 7-0 decision at 113 lbs. and an 18-4 major decision at 120 lbs. The Hornets tied the match at 7-7 with a major decision at 126 lbs., before Jay Mindermann put the Eagles back in front with a hard-fought 2-0 decision over Brady Borah of Frazee at 132 lbs.
The two teams continued to trade decisions with Frazee securing a 3-0 decision at 138 lbs. and Simon Snyder picking up a tough 3-1 decision over Tyler Moe at 145 lbs.
The Hornets went on a bit of a run from there as they won the next four matches by pin, two decisions and a major decision to take a 26-13 lead heading into the 195 lbs. weight class. That's when Braeden Peterson and Bren Salo picked up back-to-back pins, each in the second period, to make the score 26-25 heading into the heavyweight match. Unfortunately, the Hornets did just enough to come out on top and hand the Eagles a loss.
In their other match, NY Mills defeated United Clay Becker by a score of 46-24.
Frazee 32 New York Mills 25
106 Osterman, Cash (Frazee) over Mursu, Creed (New York Mills) 7-1
113 Geiser, Austin (New York Mills) over Hamm, Liam (Frazee) 7-0
120 Doll, Slade (New York Mills) over Heisler, Joey (Frazee) 18-4
126 Sonnenberg, Sebastian (Frazee) over Geiser, Elijah (New York Mills) 11-1
132 Mindermann, Jay (New York Mills) over Borah, Brady (Frazee) 2-0
138 Peichel, Bailey (Frazee) over Malone, Brandt (New York Mills) 3-0
145 Snyder, Simon (New York Mills) over Moe, Tyler (Frazee) 3-1
152 Nagel, Jake (Frazee) over Niemi, Dane (New York Mills) Fall 0:57
160 Rue, Max (Frazee) over Rust, Hunter (New York Mills) 11-7
170 Graham, Jack (Frazee) over Unger, Blake (New York Mills) 1-0
182 Graham, Daniel (Frazee) over Roberts, Grady (New York Mills) 11-2
195 Peterson, Braeden (New York Mills) over Rodelo, Erick (Frazee) Fall 3:18
220 Salo, Bren (New York Mills) over Kropuenske, Byron (Frazee) Fall 2:56
285 Kohler, Xander (Frazee) over Wedde, Sawyer (New York Mills) Fall 1:22