Making a difference, one stitch at a time
News | Published on February 1, 2022 at 7:42pm GMT+0000 | Author: Chad Koenen
0
NYM High School alum teaches life lessons in the classroom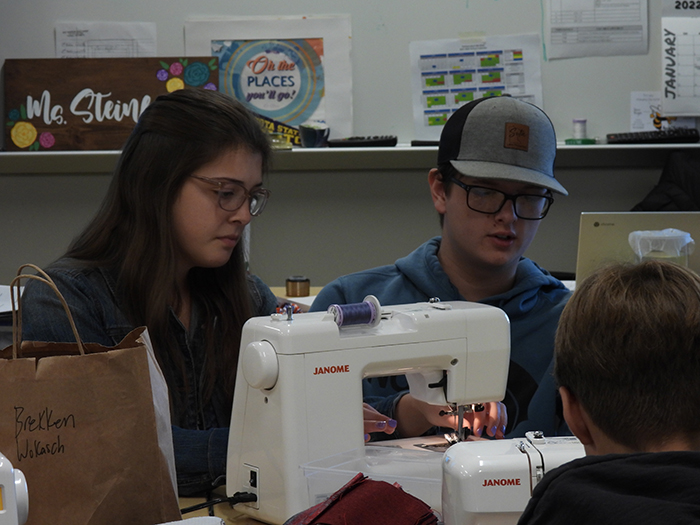 By Tucker Henderson
Reporter
W
hile sewing machines hum as they join pieces of fabric, students rib one another about their hand-stitching. Two quilting machines also buzz along at their quick pace, as a new face at Perham High School oversees the family and consumer science classroom.  ¶  Kassidy Steinbach recently filled the newly-vacated role after Mary Karkela retired from 27 years of teaching in the district. After high school, the 2018 New York Mills graduate enrolled at Minnesota State University in Mankato and graduated in May of 2021 with a Bachelor's Degree in family-consumer science education with a minor in health science. She explains that she pursued this pathway because it consisted of the fun parts of life.
"Cooking, sewing, families, child development—it's all the fun stuff," smiles Steinbach.
Memories from her childhood are filled with these activities.
"My grandma taught me how to sew, how to cook and bake," she said, explaining her love of these subjects.
Steinbach's high school teachers also played a unique part in her journey of becoming a teacher.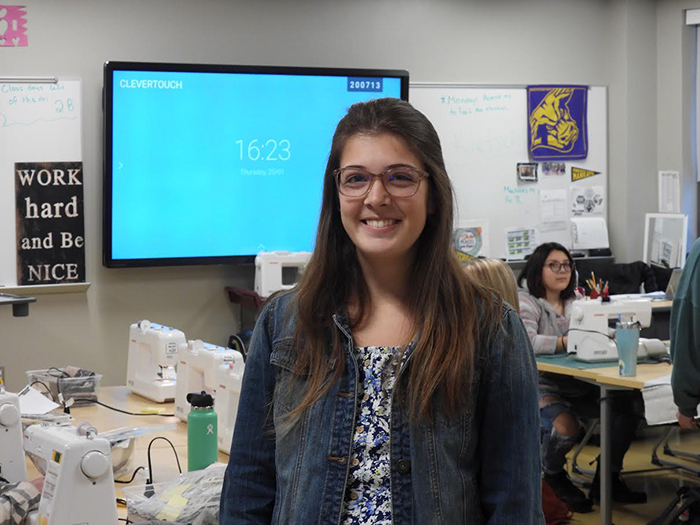 "It's always been in the back of my mind growing up," said Steinbach. "I loved Mills and I loved the teachers. They had a big impact."
Staying well-connected not only helped her get to know her classmates better, but also her teachers.
"In Mills everybody knows each other," she remembers of her time at school.
Her love of teaching goes back to some of her earliest memories as a young child. With the assistance of her sisters and some dolls, Steinbach would oftentimes play school and share some life lessons with her students.
"My sisters were making fun of me because we used to play school. I would set them and my stuffed animals and Barbies out and teach them using old vocab and math books," said Steinbach.
Now that she's an adult, she has swapped her Barbies for real students and the old math curriculum for child development textbooks.
In Perham, Steinbach puts her degree to use teaching classes in quilting, culinary arts, creative cookery, child development, and family living.
"I have lot's of quilting classes," said Steinbach.
She also notes that the two quilting machines outfitted to her classroom give her occasional trouble.
"Mrs. Karkela comes in just about every time I have to use those and helps me get them going. They just don't want to work," said Steinbach.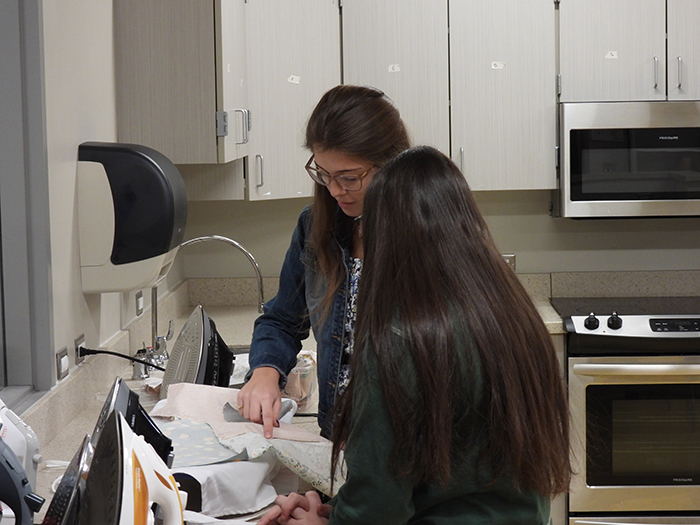 Some parts of teaching surprised Steinbach as her purview changed from student to teacher.
"I didn't realize how hard we were on our teachers. Everything is way different from the teacher point of view when dealing with behaviors," she said. "It may seem funny and harmless as a student, but it's way different (as a teacher)."
Despite the hiccups, Steinbach knows that not everything will always work out perfectly.
"Sometimes it's going to be hard, but the good times make it worth it," she said.
One of the most widely-appreciated experience is shared by many educators, Steinbach included.
"Working with the kids. Getting to see their excitement when they figure out something or do really well. When they're making quilts and something really works and they get it laid out, they get so excited," Steinbach describes her favorite part of her job.
Family and consumer science is the successor to home economics education which, although, nowadays might have an old-fashioned connotation surrounding it, has been keeping up with the modern need for career-based specialization.
"Something that they've really tried to do, even in the years leading up to my time here, is trying to get away from the personal aspect and make it career-based," said Steinbach.
Along with the new faces from Perham, Steinbach is always happy to see Karkela when she decides to pay her classroom a visit.
"She stops in every once and a while and checks in on us. She's great," she says of her predecessor.