Two NY Mills students advance to state BPA
News | Published on February 1, 2022 at 7:20pm GMT+0000 | Author: Chad Koenen
0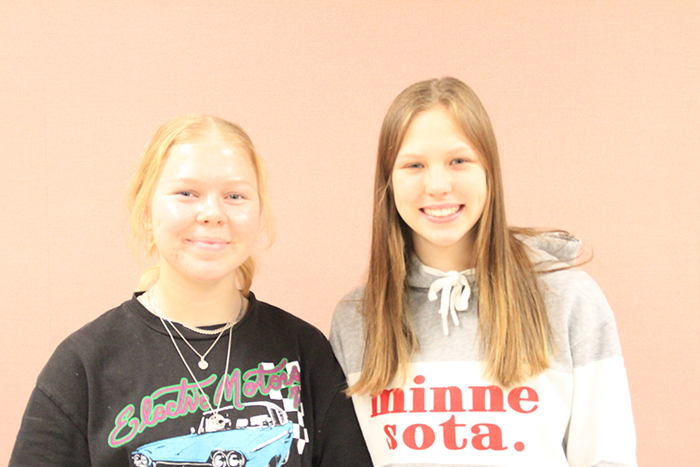 By Tucker Henderson
Reporter
This year, the New York Mills High School Business Professionals of America (BPA) team will be competing at the state conference this year.
Bella Bauck and Charlotte Holmstroem make up the two-person team and are excited to travel to Minneapolis, Minn., on March 10 to showcase their talents at the Spring Leadership Conference.
Bauck is the daughter of Mike and Teri Bauck of NY Mills and is following in the footsteps of her brothers who participated in BPA in the past.
"I joined BPA because it's always been a part of my family," she says.
Holmstroem comes from Denmark and is a foreign exchange student staying with the Mike and Teri Bauck family, while she learns about American culture. Her host family's tradition has seemingly rubbed off on her.
"I wanted to do a lot of stuff while I was over here, being involved in different things. I didn't know what BPA was, but my host dad told me about it," said Holmstroem.
In BPA, projects are completed both individually and in collaboration with team members. Bauck and Holmstroem, who are the sole members of BPA this year, completed a project on their own and another together with each other's help.
Holmstroem created a logo and flyer for the state organization to use next year.
"If I go to nationals and win, that will be the logo they use next year," she said.
Holmstroem won first place in Graphic Design Promotions at the Regional Conference.
Bauck utilized her interpersonal skills for her project. Her task was to create a cover letter and resume. She won first place in Interview Skills.
Together, they worked on a video-project about ESports. ESports is competitive video-gaming and is a growing activity around the world. Their project clinched first place once again, this time for Video Productions Team.
Despite being a small team, the two young women find fulfillment in their chosen extracurricular and their recent first-place victories. Their first place awards are another feather in their caps and another credential on their resumes.
"It shows that we put dedication towards our projects," said Bauck. "Just the idea of making it to state is crazy."
"I think it's really cool," said Holmstroem. "I don't really know that much about going to state and what that means, but I'm excited."
Bauck said she enjoys the opportunity to get to utilize their knowledge in a real life situation.
"I like meeting new people and getting ready for real-life events," said Bauck. "My interview skills will help me to get a job."
Both agree that what they have learned in BPA will be very beneficial after high school.
"I like being able to explore the things I like," said Holmstroem. "In the future I might want to do something with video production or graphic design, definitely marketing, so I think that having the opportunity to get those things evaluated on a professional level helps me moving forward."
As the two look forward to March, they're not entirely sure what to expect.
"Meeting the new people and making connections" is what Bauck is most looking forward to.
Holmstroem on the other hand, said that traveling to Minneapolis will be one highlight of the trip.
"Both girls did a great job in preparation and knowledge of their events was clearly noted within the completion," said advisor Suzann Everson. "The judges provided very positive feedback and praise on each event."