Salo captures first place at PRC tournament
Sports | Published on February 8, 2022 at 9:01pm GMT+0000 | Author: Chad Koenen
0
NYM edges OTC 46-23 in triangular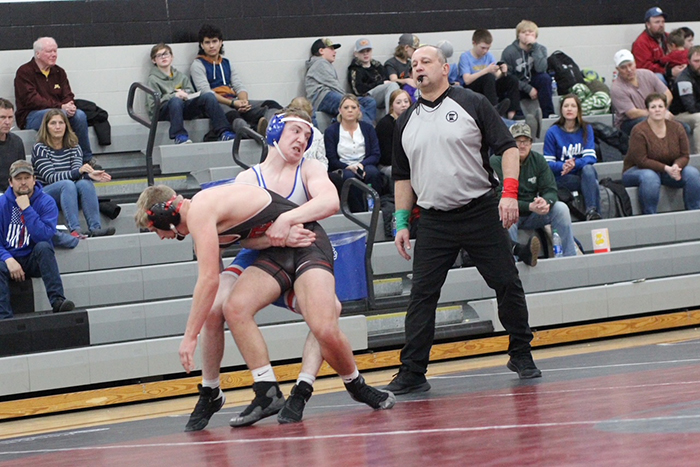 By Chad Koenen
Publisher
With state ranked teams and wrestlers around just about every corner, the New York Mills Eagles competed in the Park Region Conference wrestling tournament on Saturday. The Eagles came away with 10 place winners, including a champion in senior Bren Salo at 182 lbs.
The tournament wrapped up a busy week for the Eagles that included a triangular against Mahnomen/Waubun and Otter Tail Central on Thursday.
This week the Eagles will hit the practice room as they do not have any matches scheduled. The section team tournament will kick off next week.
Thursday
New York Mills defeated Otter Tail Central by a score of 46-23 in a triangular on Thursday night. The Eagles also took on Mahnomen/Waubun as part of the triangular in Underwood.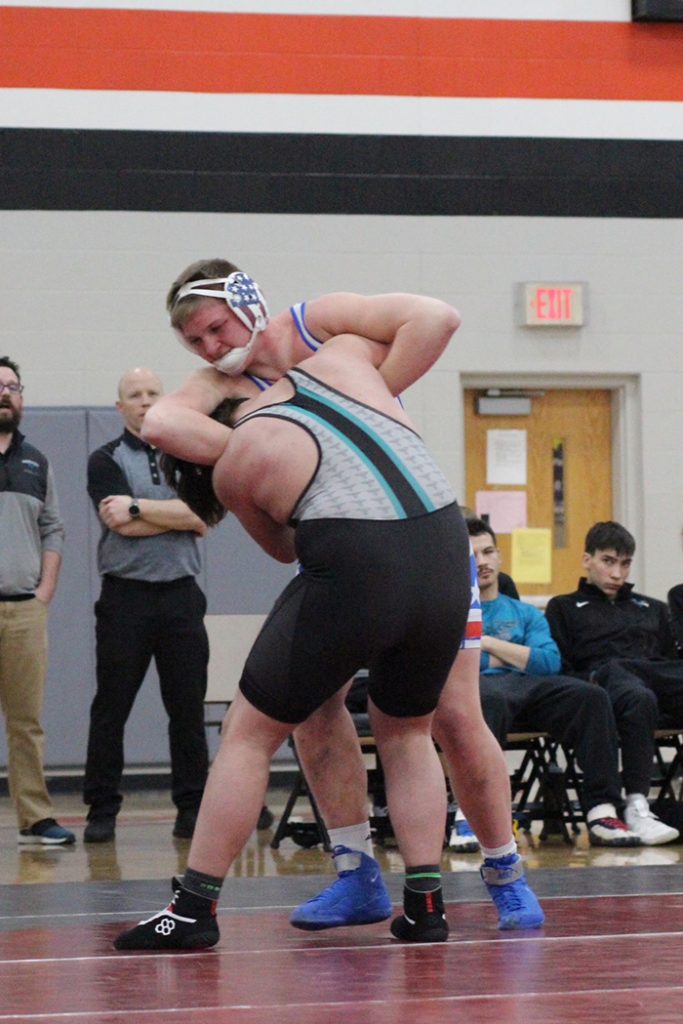 In their match against the Bulldogs, the Eagles dominated the early and middle weights as they lost just four matches that were wrestled to come away with a commanding win over the Bulldogs.
Austin Gesier put the Eagles on the scoreboard at 113 lbs. as he secured a 7-3 decision over Tayden Soma. Slade Doll followed with a pin over Juilian Umlauf at 120 lbs., before Elijah Geiser secured a pin over Anthony Rousu at 126 lbs. to give the Eagles a 15-3 lead.
Jay Mindermann made it four straight wins for the Eagles as he secured a 9-2 decision over Connor Nelson at 132 lbs.
Following a tech fall at 138 lbs. for the Bulldogs, Simon Snyder gave the Eagles another big win as he secured a major decision over Logan Schleske by a score of 10-2. Dane Niemi needed just 34 seconds to secure a pin at 152 lbs., before Jaxon Rich of OTC secured a close 6-4 decision over Hunter Rust at 160 lbs.
Blake Unger fought right back as he secured a pin over Gabe Hanson at 170 lbs., while Bren Salo and Sawyer Wedde picked up the final two wins of the night for the Eagles by forfeit at 182 lbs. and 285 lbs.
New York Mills 46 Otter Tail Central Bulldogs 23
106: Mason Christianson (OCB) over Creed Mursu (NYM) (Dec 8-2)
113: Austin Geiser (NYM) over Tayden Soma (OCB) (Dec 7-3)
120: Slade Doll (NYM) over Julian Umlauf (OCB) (Fall 5:32)
126: Elijah Geiser (NYM) over Anthony Rousu (OCB) (Fall 1:24)
132: Jay Mindermann (NYM) over Connor Nelson (OCB) (Dec 9-2)
138: Brien Poser (OCB) over Brandt Malone (NYM) (TF 21-4 0:00)
145: Simon Snyder (NYM) over Logan Schleske (OCB) (MD 10-2)
152: Dane Niemi (NYM) over Tommy Ehlert (OCB) (Fall 0:34)
160: Jaxon Rich (OCB) over Hunter Rust (NYM) (Dec 6-4)
170: Blake Unger (NYM) over Gabe Hanson (OCB) (Fall 1:47)
182: Bren Salo (NYM) over (OCB) (For.)
195: Tristan Evavold (OCB) over (NYM) (For.)
220: Kale Rich (OCB) over Braeden Peterson (NYM) (Fall 3:38)
285: Sawyer Wedde (NYM) over (OCB) (For.)
Saturday
Bren Salo captured first place and 10 wrestlers placed in the top six overall at the Park Region Conference tournament on Saturday.
Salo took first place after defeating Shawn Hendrickson of United North Central by a major decision in the semi-finals, before defeating Beau Robinson of West Central Area by a 2-0 decision at 182 lbs. in the championship match.
Austin Geiser captured third place after falling in the semi-finals of his 113 lbs. match against Connor Flane of LPGEB by tech fall. He went on to secure a pin in the consolation semi-finals and defeated Preston Captain by a 9-4 decision to secure third place.
At 145 lbs., Simon Snyder captured third place after he fell to Hank Tellers of UNC by a 9-4 decision in the semi-finals. He went on to win a 7-1 decision over Logan Schleske and picked up a 13-3 major decision over Gaven Cimbura of Osakis in the third place match.
Dane Niemi also secured third place after falling to Ethan Hendrickson of UNC in the semi-finals by a pin. He went on to pin Eli Benning of Wadena-Deer Creek in the consolation semi-finals and then secured a 9-1 major decision over Kale Drevlow of Osakis to come away with third place.
Braeden Peterson also placed third at 195 lbs. Peterson was pinned in the semi-finals by Will Rustan of West Central, before pinning Shawn Houdek of LPGEB in the third place match.
Also placing for the Eagles was Jay Mindermann, who took fifth place at 132 lbs.; Brandt Malone, who took sixth place at 138 lbs.; Hunter Rust, who took fifth place at 160 lbs.; Blake Unger, who took fifth place at 170 lbs. and Sawyer Wedde, who took fourth place at 285 lbs.
As a team, the Eagles finished in fifth place with 116 points. West Central Area took first place with 225 points, while Long Prairie-Grey Eagle/Browerville took second place with 207.5 points. United North Central took third place, Bertha-Hewitt/Verndale/Parkers Prairie finished in fourth, Osakis and Otter Tail Central tied for sixth place and Wadena Deer Creek finished in eighth place.
106- Quarterfinal – Conrad Koll (United North Central Warriors) 15-7 won by fall over Creed Mursu (New York Mills) 14-19 (Fall 3:17), Cons. Round 1 – Tayden Soma (Ottertail Central Bulldogs) 9-27 won by fall over Creed Mursu (New York Mills) 14-19 (Fall 4:17)
113- 3rd place- Quarterfinal – Austin Geiser (New York Mills) 11-20 won by decision over Preston Captain (Bertha-Hewitt- Verndale -Parkers Prairie) 14-21 (Dec 6-3), Semifinal – Connor Flan (LPGE-Browerville Wolves) 27-5 won by tech fall over Austin Geiser (New York Mills) 11-20 (TF-1.5 5:24 (19-3)), Cons. Semi – Austin Geiser (New York Mills) 11-20 won by fall over Julian Umlauf (Ottertail Central Bulldogs) 2-15 (Fall 2:31), 3rd Place Match – Austin Geiser (New York Mills) 11-20 won by decision over Preston Captain (Bertha-Hewitt- Verndale -Parkers Prairie) 14-21 (Dec 9-4)
132- 5th place- Quarterfinal – Spencer Erickson (United North Central Warriors) 13-16 won by major decision over Jay Mindermann (New York Mills) 9-9 (MD 9-0), Cons. Round 1 – Jay Mindermann (New York Mills) 9-9 received a bye () (Bye), Cons. Semi – Deagen Captain (Bertha-Hewitt- Verndale -Parkers Prairie) 29-10 won by major decision over Jay Mindermann (New York Mills) 9-9 (MD 13-1), 5th Place Match – Jay Mindermann (New York Mills) 9-9 received a bye () (Bye)
138- 6th place- Quarterfinal – Solomon Wales (West Central Area-Ashby-Brandon-Evansville) 26-8 won by fall over Brandt Malone (New York Mills) 3-6 (Fall 3:39), Cons. Round 1 – Brandt Malone (New York Mills) 3-6 received a bye () (Bye), Cons. Semi – Omar Zamora (LPGE-Browerville Wolves) 24-13 won by major decision over Brandt Malone (New York Mills) 3-6 (MD 13-1), 5th Place Match – Dylan Rasmussen (United North Central Warriors) 4-9 won by tech fall over Brandt Malone (New York Mills) 3-6 (TF-1.5 4:49 (15-0))
145- 3rd place- Quarterfinal – Simon Snyder (New York Mills) 33-6 won by fall over Paul Stacey (LPGE-Browerville Wolves) 15-19 (Fall 2:55), Semifinal – Hank Tellers (United North Central Warriors) 26-7 won by decision over Simon Snyder (New York Mills) 33-6 (Dec 9-4), Cons. Semi – Simon Snyder (New York Mills) 33-6 won by decision over Logan Schleske (Ottertail Central Bulldogs) 21-14 (Dec 7-1), 3rd Place Match – Simon Snyder (New York Mills) 33-6 won by major decision over Gaven Cimbura (Osakis) 22-18 (MD 13-3)
152- 3rd place- Quarterfinal – Dane Niemi (New York Mills) 32-9 won by fall over Tommy Ehlert (Ottertail Central Bulldogs) 2-26 (Fall 1:05), Semifinal – Ethan Hendrickson (United North Central Warriors) 37-1 won by fall over Dane Niemi (New York Mills) 32-9 (Fall 3:47) Cons. Semi – Dane Niemi (New York Mills) 32-9 won by fall over Eli Benning (Wadena-Deer Creek) 6-22 (Fall 1:14), 3rd Place Match – Dane Niemi (New York Mills) 32-9 won by major decision over Kale Drevlow (Osakis) 29-11 (MD 9-1)
160- 5th place- Quarterfinal – Hunter Rust (New York Mills) 21-14 won by decision over Jeremy Blascyk (West Central Area-Ashby-Brandon-Evansville) 14-15 (Dec 4-1), Semifinal – Jaxon Rich (Ottertail Central Bulldogs) 21-12 won by fall over Hunter Rust (New York Mills) 21-14 (Fall 1:03), Cons. Semi – Tucker Zigan (LPGE-Browerville Wolves) 20-19 won by decision over Hunter Rust (New York Mills) 21-14 (Dec 5-0), 5th Place Match – Hunter Rust (New York Mills) 21-14 won by decision over Jeremy Blascyk (West Central Area-Ashby-Brandon-Evansville) 14-15 (Dec 6-4)
170- 5th place- Quarterfinal – Blake Unger (New York Mills) 16-14 won by fall over Justin Koehn (Bertha-Hewitt- Verndale -Parkers Prairie) 12-25 (Fall 3:49), Semifinal – Koby Endres (Wadena-Deer Creek) 22-5 won by fall over Blake Unger (New York Mills) 16-14 (Fall 1:11), Cons. Semi – Mason Plautz (United North Central Warriors) 10-12 won by decision over Blake Unger (New York Mills) 16-14 (Dec 11-10), 5th Place Match – Blake Unger (New York Mills) 16-14 won by fall over Justin Koehn (Bertha-Hewitt- Verndale -Parkers Prairie) 12-25 (Fall 1:49)
182- 1st place- Quarterfinal – Bren Salo (New York Mills) 28-3 received a bye () (Bye), Semifinal – Bren Salo (New York Mills) 28-3 won by major decision over Shawn Hendrickson (United North Central Warriors) 10-16 (MD 9-0), 1st Place Match – Bren Salo (New York Mills) 28-3 won by decision over Beau Robinson (West Central Area-Ashby-Brandon-Evansville) 22-10 (Dec 2-0)
195- 3rd place- Quarterfinal – Braeden Peterson (New York Mills) 14-14 received a bye () (Bye), Semifinal – Will Rustan (West Central Area-Ashby-Brandon-Evansville) 22-12 won by fall over Braeden Peterson (New York Mills) 14-14 (Fall 4:45); Cons. Semi – Braeden Peterson (New York Mills) 14-14 received a bye () (Bye), 3rd Place Match – Braeden Peterson (New York Mills) 14-14 won by fall over Shawn Houdek (LPGE-Browerville Wolves) 18-23 (Fall 1:14)
285- 4th place- Quarterfinal – Justin Blascyk (West Central Area-Ashby-Brandon-Evansville) 20-13 won by major decision over Sawyer Wedde (New York Mills) 10-15 (MD 12-4), Cons. Round 1 – Sawyer Wedde (New York Mills) 10-15 received a bye () (Bye), Cons. Semi – Sawyer Wedde (New York Mills) 10-15 won by fall over Kale Rich (Ottertail Central Bulldogs) 18-16 (Fall 4:52), 3rd Place Match – Justin Blascyk (West Central Area-Ashby-Brandon-Evansville) 20-13 won by fall over Sawyer Wedde (New York Mills) 10-15 (Fall 2:24)