Eagles edge Hornets in battle between state ranked teams
Sports | Published on February 15, 2022 at 5:00pm GMT+0000 | Author: Chad Koenen
0
Second ranked Eagles are now 18-1 overall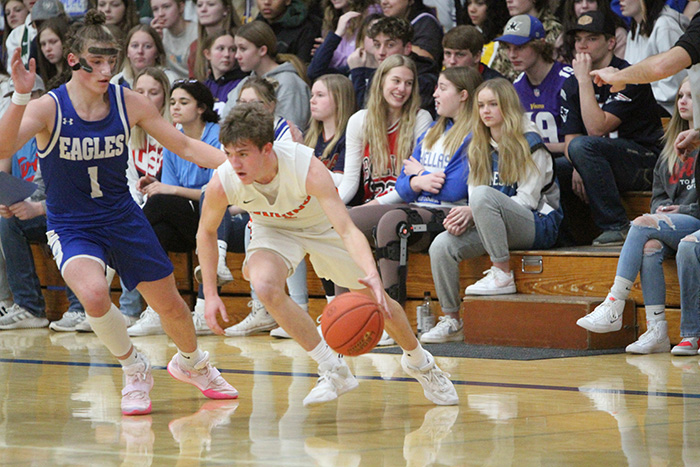 By Chad Koenen
Publisher
In a game that could have just as easily been played at Target Center, rather than a Park Region Conference regular season game in New York Mills, the Henning Hornets traveled to NY Mills on Tuesday night in a battle against a pair of top ranked teams.
The Eagles, who are currently ranked second in the state, defeated the fourth ranked Hornets by a score of 58-56 in overtime earlier in the season. This time around, the Eagles didn't need overtime to upend the Hornets as they defeated Henning by a score of 77-66 in front of a packed crowd in NY Mills.
NY Mills led by a score of 38-33 after a late charge and 3-pointer at the buzzer cut the lead to just single digits. The Eagles continued to be able to get layups and transition points in the second half to come away with an important sub section and conference win over the Hornets.
Head coach Mike Baune said the Eagles were able to take control of the game early on and never looked back. NY Mills pushed the pace of the game throughout the contest as they came away with the 77-66 win.
Tate Olson had a big game for the Eagles as he finished with a double-double with 32 points, 13 rebounds and 8 assists. Jonah Johnson scored 20 points to go along with 3 rebounds and 3 assists, while Jack Peeters joined them in double figures with 13 points and 7 rebounds.
Breck Hensch chipped in with 7 points to go along with 3 rebounds, while Bryan Bohn scored 4 points and Noah Noffsinger finished with 3 points and 5 assists.
The win was the sixth in a row for the Eagles as they will have a busy slate of games this week. The Eagles hosted Pillager on Monday and traveled to Bertha-Hewitt on Tuesday for a pair of conference games. On Thursday the Eagles will host Verndale in another conference match up, before hitting the road on Friday for a non-conference game against the Barnesville Trojans.
The Eagles are currently 18-1 overall and 10-0 in the Park Region Conference.