Mitlyng retires from the highway department
News | Published on February 15, 2022 at 4:07pm GMT+0000 | Author: Chad Koenen
0
Admin assistant has been with OTC for 35 years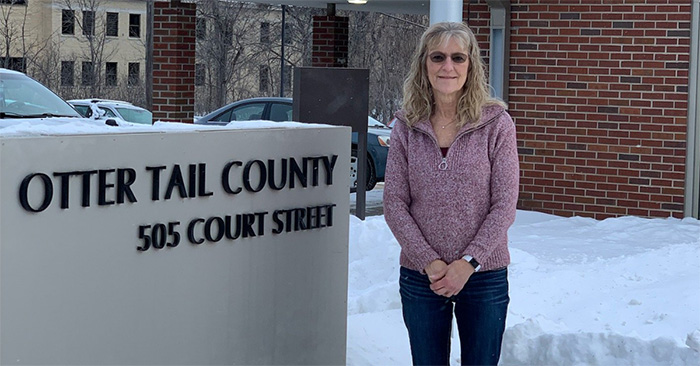 Mary Kay Mitlyng has retired from the Otter Tail County Highway Department after serving as an administrative assistant for 35 years. She began her career as a temporary employee in 1986 and was hired for permanent employment in 1987. In her career she has been instrumental in many of the innovative services of the department.
"People ask me, why have you stayed in the same position for all these years, and I say my co-workers," said Mitlyng. "I enjoyed my job. It has been a great pleasure working with them and the County Board, the township officials, other Otter Tail County Offices, various state agencies and many road and bridge contractors. I have met a lot of interesting people over the years."
Mitlyng said the roles of her position, like many administrative assistants in Otter Tail County, were very diverse. Yes, she answered phone calls and prepared documents, but she also participated in building efficiency and innovating processes to grow the department.
Over her 35 years, among many other projects, she was responsible for maintaining the highway construction filing system, helping to establish Otter Tail County's Adopt-A-Highway program, and assisted the GIS Department in forming Otter Tail County's new 911 addressing system, and the installation of all the new E-911 street and address signs in the County.
"Mary Kay has been such a pleasure to work with because of her caring and upbeat attitude. If you want to know where something is, ask Mary Kay because she is the hub of the Highway Department. Her willingness to help wherever needed is great-she even helped pound survey stakes for a day. She will be greatly missed by all of us," said Connie Oliphant, highway accounting analyst.
Now that she is retiring, Mitlyng said she is planning to spend more time with her family and travel. Through her years in the highway department, Mitlyng said she enjoyed the variation in the day-to-day job duties.
"No two days are the same, so you need to be flexible, organized, focused and a multitasker," she said.