Wrestlers edge Osakis, fall to WCA in section meet
Sports | Published on February 23, 2022 at 4:54pm GMT+0000 | Author: Chad Koenen
0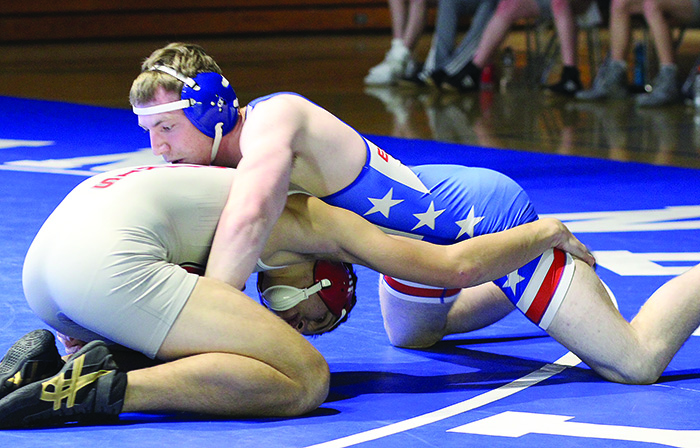 NYM to compete in section individual tournament
By Chad Koenen
Publisher
The New York Mills Eagles had their season come to an end on Saturday as the wrestlers fell to top seeded West Central Area.
The Eagles opened the week with a 42-25 win over Osakis in the quarterfinals, before falling to the Knights by a score of 66-12 in the Section 6A semi-finals. The Knights went on to defeat Bertha-Hewitt/Verndale/Parkers Prairie in the Section 6A championship match to advance to state.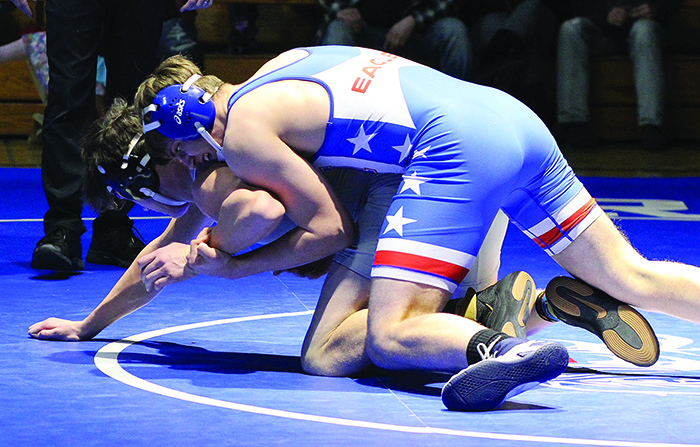 This week the Eagles will compete in the Section 6A individual tournament. The individual tournament will be held at Wadena-Deer Creek on Saturday. The top two place finishers at each weight class will advance to the state individual wrestling tournament at Xcel Energy Center in St. Paul, Minn., next week.
Tuesday
NY Mills secured five wins by forfeit as the Eagles defeated Osakis by a score of 42-25 on Tuesday night.
In addition to the five forfeits, the Eagles won four decisions to come away with the Section 6A opening round win over the Silverstreaks.
Among the wins for the Eagles was a close 2-1 decision by Austin Geiser over Simon Jacobson at 113 lbs. At 132 lbs., Jay Mindermann defeated Lukas Duchene by a score of 7-2, Simon Snyder won a 4-2 decision over Gaven Cimbura at 145 lbs. and Hunter Rust secured a 7-1 decision at 160 lbs.
New York Mills 42 Osakis 25
106: Reggie George (OSAK) over (NYM) (For.)
113: Austin Geiser (NYM) over Simon Jacobson (OSAK) (Dec 2-1)
120: Jacob Taplin (OSAK) over Slade Doll (NYM) (Fall 3:00)
126: Christian Nathe (OSAK) over Elijah Geiser (NYM) (MD 11-1)
132: Jay Mindermann (NYM) over Lukas Duchene (OSAK) (Dec 7-2)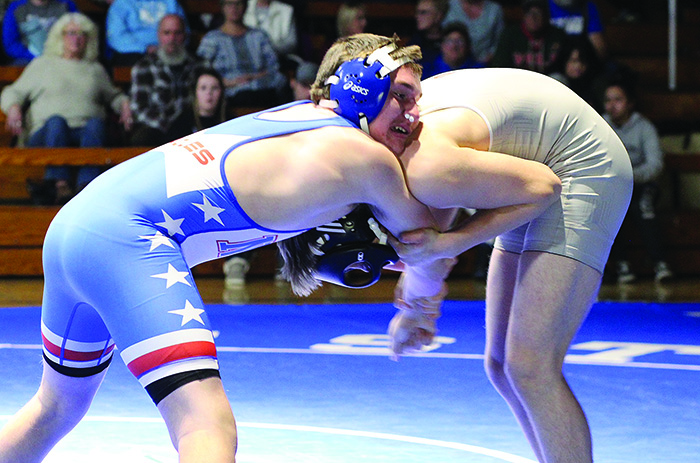 138: Joe Mann (NYM) over (OSAK) (For.)
145: Simon Snyder (NYM) over Gaven Cimbura (OSAK) (Dec 4-2)
152: Dane Niemi (NYM) over (OSAK) (For.)
160: Hunter Rust (NYM) over Kale Drevlow (OSAK) (Dec 7-1)
170: Tyson Hagedon (OSAK) over Blake Unger (NYM) (Dec 7-1)
182: Kaleb Helberg (OSAK) over Jonah Ruther (NYM) (Fall 2:01)
195: Grady Roberts (NYM) over (OSAK) (For.)
220: Braeden Peterson (NYM) over (OSAK) (For.)
285: Sawyer Wedde (NYM) over (OSAK) (For.)
Saturday
NY Mills fell to the eventual section champions and seventh ranked West Central Area by a score of 66-12 on Saturday.
The Knights won the opening six matches of the day, before Simon Snyder picked up a pin at 145 lbs. over Shad Swanson in just 23 seconds.
Dane Niemi followed with a pin of his own at 152 lbs. when he defeated Ezekiel Sieckert at the 1:52 minute mark of their match.
West Central Area went on to win the final six matches of the day to come away with a 66-12 win.
The Knights went on to defeat Bertha-Hewitt/Verndale/Parkers Prairie by a score of 51-21 to advance to the state wrestling tournament.
West Central Area/Ashby/Brandon-Evansville 66 New York Mills 12
106: Owen Gruchow (WCAA) over (NYM) (For.)
113: Carter Lohse (WCAA) over Austin Geiser (NYM) (Dec 7-6)
120: Adam Lohse (WCAA) over Slade Doll (NYM) (Fall 1:00)
126: Mason Richter (WCAA) over Elijah Geiser (NYM) (Fall 0:18)
132: Hunter Gruchow (WCAA) over Jay Mindermann (NYM) (Fall 0:51)
138: Solomon Wales (WCAA) over Joe Mann (NYM) (Fall 2:33)
145: Simon Snyder (NYM) over Shad Swanson (WCAA) (Fall 0:23)
152: Dane Niemi (NYM) over Ezekiel Sieckert (WCAA) (Fall 1:52)
160: Ashton Danner (WCAA) over Hunter Rust (NYM) (SV-1 4-2)
170: Anthony Sykora (WCAA) over Blake Unger (NYM) (Fall 0:44)
182: Beau Robinson (WCAA) over Mason Unger (NYM) (Fall 1:14)
195: Will Rustan (WCAA) over Braeden Peterson (NYM) (Fall 3:36)
220: Colton Lindquist (WCAA) over (NYM) (For.)
285: Justin Blascyk (WCAA) over Sawyer Wedde (NYM) (Fall 1:33)