Eagles sweep a pair to improve to 23-1 on season
Sports | Published on March 2, 2022 at 7:07pm GMT+0000 | Author: Chad Koenen
0
Team to wrap up regular season on Tuesday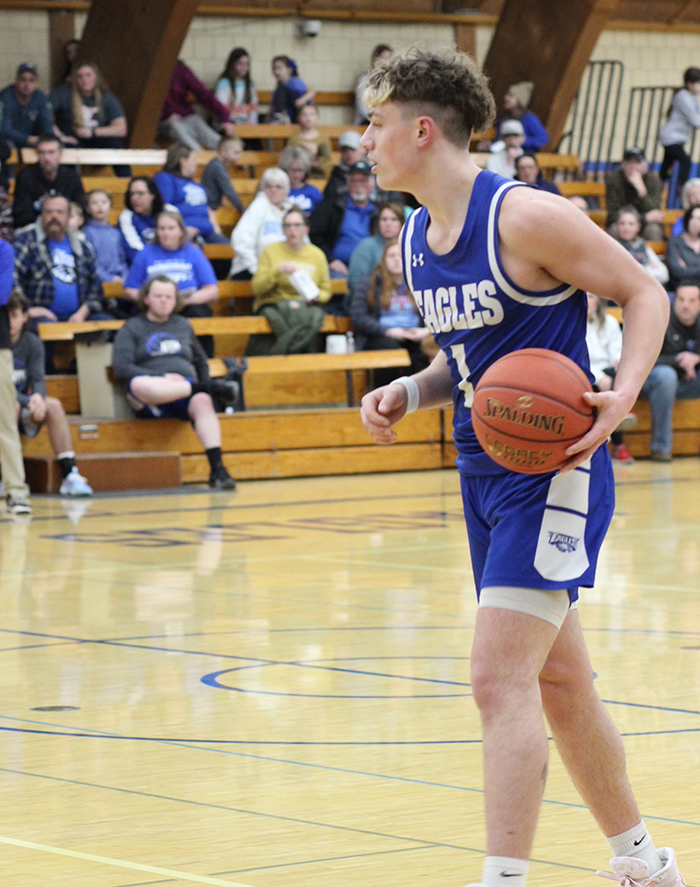 By Chad Koenen
Publisher
The weather may have been frightful last week, but the New York Mills Eagles were heating up the inside of the gym as the team picked up a pair of non-conference wins. After inclement weather brought local sports to a standstill on Monday and Tuesday night, the Eagles defeated Parkers Prairie on Thursday and Barnesville on Friday to improve to 23-1 on the season.
The Eagles are currently ranked second in the state.
This week the Eagles will wrap up their regular season when they host Sebeka on Monday and Browerville on Tuesday night. The sub section tournament will kick off next week.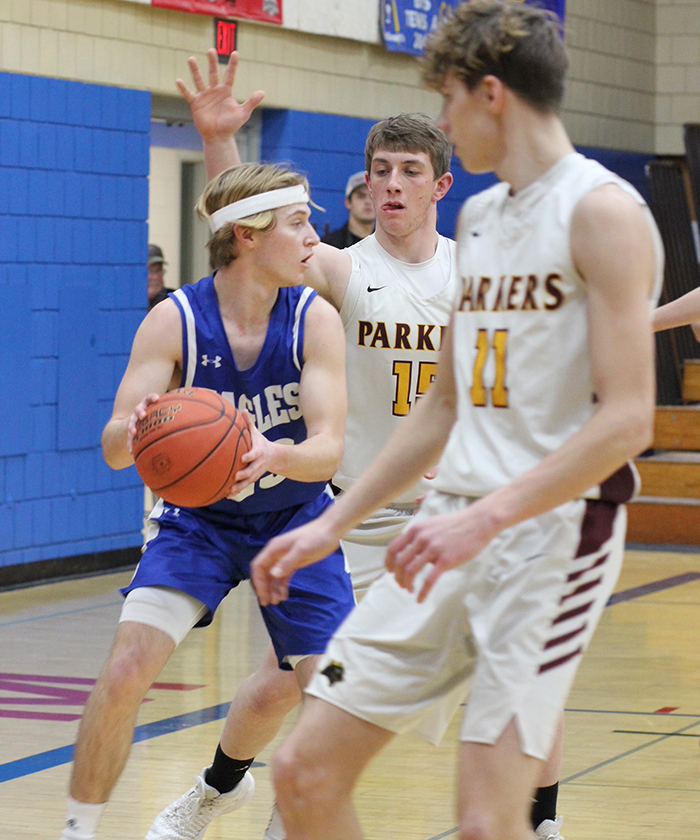 Thursday
The Eagles won their 11th straight game on Thursday night with an 80-58 win over a big and physical Parkers Prairie basketball team. NY Mills was led offensively by a balanced scoring attack featuring four players reaching double figures. That balanced attacked helped to offset the Panthers hot shooting from behind the 3-point line.
"Like many teams seem to do against us they came out on fire from three in the first half and we made the adjustments to defend it better. The law of averages equaled out to help us to a 37-20 second half finish to close it out," said head coach Mike Baune.
Tate Olson registered a double-double to lead the charge with 22 points, 11 rebounds and 8 assists. Bryan Bohn was on fire from behind the 3-point line as he hit three 3-pointers to finish with 15 points, while Noah Noffsinger matched that mark with 15 point and 4 assists.
Jack Peeters scored 12 points to go along with 5 rebounds, while Jonah Johnson scored 9 points, 6 rebounds and 3 assists, and Breck Hensch rounded out the scoring with 7 points, 7 rebounds and 7 assists.
Friday
NY Mills played up a class on Friday night as they hit the road to take on a solid Class AA Barnesville team.
Head coach Mike Baune said the Eagles played one of their best all around games of the season as they came away with a 77-49 win.
"We executed our game plan to perfection and frustrated Barnesville on offense all night long, which led to a ton of fast break points for us. It's been very fun to see the leadership and ownership of our top six seniors continue to expand and grow," he said.
Tate Olson had a monster game for the Eagles as the senior recorded a triple-double by scoring 19 points, 13 rebounds and 13 assists. He also had 7 steals in the win.
Jack Peeters also reached double figures with 16 points and 6 rebounds, while Jonah Johnson scored 15 points, 7 rebounds and 4 assists, Noah Noffsinger scored 14 points, 6 rebounds and 6 assists and Bryan Bohn scored 11 points to go along with 6 rebounds. Breck Hensch rounded out the scoring with 2 points and 2 assists.