Tumbergs ready to bowl to next chapter
News | Published on March 2, 2022 at 7:53pm GMT+0000 | Author: Chad Koenen
0
Longtime business owners reflect on years at Mills Lanes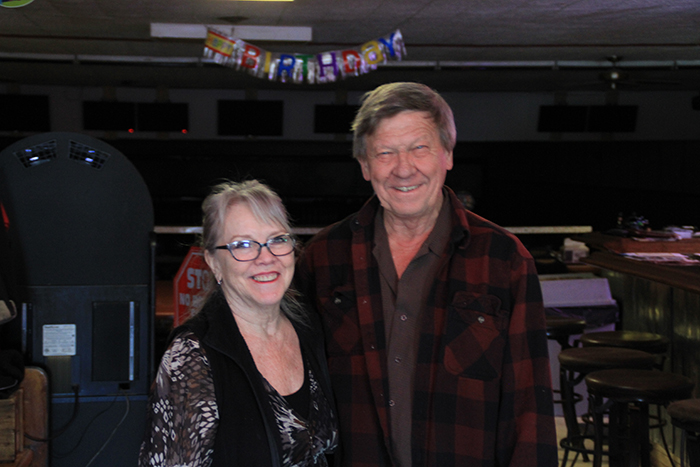 By Tucker Henderson
Reporter
After almost 22 years of serving mouthwatering cheeseburgers, scooping heaping ice cream cones and providing a friendly place for families to go bowling, Owen and Dolly Tumberg passed their keys to Mills Lanes and Lucky Strike Grill to new owners on March 1.
This doesn't mean patrons won't see Dolly cooking French fries or Owen doling out bowling shoes, however, as they will still be manning their positions during the transition. They also plan on continuing to bowl three nights a week on various leagues.
The Tumbergs purchased the business in March of 2000 after the previous owner, Mark Flemming, had planned to close Mills Lanes and move on to other ventures. Owen had heard this news on a particular Monday during men's bowling night and promptly told Flemming that he was going to buy the business from him. At the time, Mills Lanes was only open for bowling leagues and by appointment.
There was no kitchen to speak of when the couple purchased the building. Pizza ovens were the only amenities for feeding hungry customers. Dolly remembers that they even brought in their own pop in the beginning. One of the first of five additions to the business was installing a kitchen and dining room to accommodate visitors looking for a bite to eat.
When Lloyd Dreyer built the bowling alley in 1962, people thought that he was going a bit overboard with six lanes, as well as making it possible to expand to eight lanes if needed. Little did the community know how forward-thinking this was as immediately after purchasing the building, the Tumbergs added those final two lanes, making Mills Lanes an eight-lane bowling alley. Despite this early addition, success was never guaranteed.
"At our grand opening we did not know much about cooking and how much food to prepare or how many people to expect. We ran out of food, we weren't very fast in the kitchen… I understand now why people have soft openings."

Dolly Tumberg
Other challenges have presented themselves throughout the years ranging from renovations to liquor licenses. Their latest expansion has been their addition of hard liquor to their offerings. The lengthy process required a special election and bylaw changes to the City of New York Mills and turned out to be quite the endeavor, but Dolly said that it has been well worth it.
"That has really been a positive change to (Mills Lanes)," she said. "(The liquor part is) way more complicated than when we bought the place."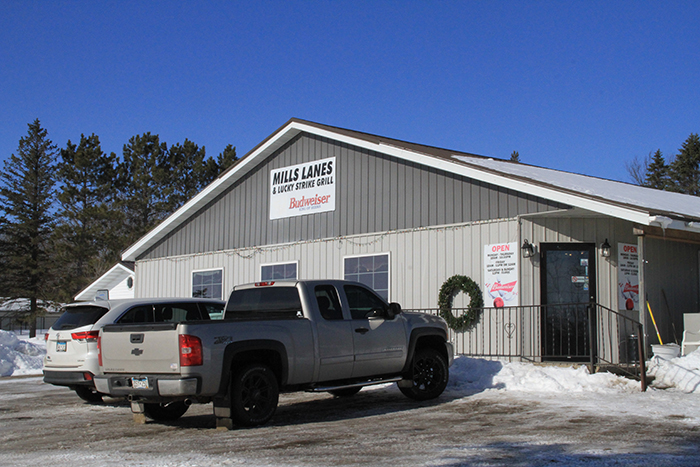 The liquor license requirements, planning and ordering food to keep up with daily demand, and maintaining the added space has kept them busy.
"Anticipating the amount of food to have on hand has been a big challenge," she explains, noting that she has a tendency to over order now, because she has been left short on supplies in the past. "It's really important to work with the other food establishments in the area and not against them. How terrible of a person would I be if I had extra hamburgers sitting here and the VFW had run out?"
She shudders at the thought of not helping out a neighbor in need.
The pair has learned a lot along the way, from their humble beginnings of serving only pizza and pop, they have made Mills Lanes a must-visit stop along old highway ten and have served over 350,000 burgers during their time there.
"I stopped counting once we hit 325,000," Dolly laughed.
They appreciate their customers and enjoy seeing both new and old faces walk through the door.
"Every person that comes in through that door is a customer for me to serve. You need to treat them all right and serve them equally. You never know if a customer is having a bad day and maybe you can give them a smile and make it better."

Dolly Tumberg
Dolly said she enjoys being able to serve her community and get to know new people that come in.
"Meeting and visiting with all the customers. I love that," said Dolly.
She said that has been the best part of her job.
Owen agreed, an easy question for him, he puts it simply: "the people that we meet."
Although Mills Lanes is equipped with a full-service bar, they have maintained a family-friendly atmosphere for customers of all ages. Dolly explained that newcomers soon realize that they can't be as rowdy at the bowling alley as they are sometimes accustomed to at other establishments.
"We just have to gently remind a few people once in a while," she said.
As the Tumbergs ease into their version of retirement, they look forward to a lot of projects that have been put on hold as they grew their business.
"I'm looking forward to completing a lot of home projects," said Dolly. "I plan on doing some traveling. It will be our 30th wedding anniversary in June, so we're planning an extended trip to the Sawtooth Mountains."
The couple won't have to worry about the day-to-day operations this year as they celebrate in Idaho.
"I have some personal projects to work on," said Owen about what he's looking forward to.
He explained that there are some maintenance items that he would like to work on at the bowling lanes as well. Certain aspects of the business will be missed by the two of them.
"I am going to miss the grandkids coming in and saying 'we like grandma's cheeseburgers the best,'" said Dolly.
Dolly is humbled to hear their parents say that Mills Lanes is the only place that the kids will finish off the whole burger. Having family close has been a privilege for Dolly and Owen while running the business. As they hand over operations to Chad Rudolph and Tiffany Ruther (Dolly's niece), they are happy to know that family will be continue to be a main theme at the bowling alley.
"With Tiffany taking over it's still going to be in the family," said Dolly, holding back tears. "It's kind of bittersweet. There have been a lot of good memories."