Governor candidate has strong ties to NYM
News | Published on March 8, 2022 at 5:40pm GMT+0000 | Author: Chad Koenen
0
Hepola family rallies behind Cory Hepola bid for governor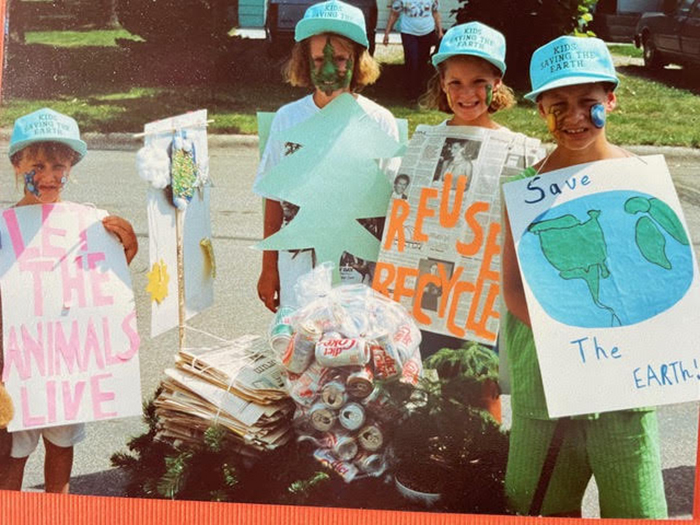 By Tucker Henderson
Reporter
Self-described as a "son of Otter Tail County," Perham-native and New York Mills descendant, Cory Hepola announced on Tuesday, March 1 that he would be running for governor of Minnesota.
Hepola will be running under the Forward Party flag, breaking off from the traditional two-party system.
The Forward Party's guiding pricipals are "effective and modern government, fact-based government, human-centered capitalism, ranked-choice voting, cash relief," as well as "grace and tolerance." He has said that the two toxic mainstream parties are not there for the people any more.
"We (the Forward Party) are a party of the people, for the people," said Hepola of the grassroots movement.
Hepola is the son of NY Mills natives, Terry and Diane Hepola. Although he grew up in Perham and graduated there in 2000, his family roots run deep in New York Mills, including being one of the very last babies born in the old hospital in October 1981. Memories of his formative years in the community still resonate strongly with Hepola.
"In the summers we went to the kiddie parade with my sister and cousins," said Hepola. "We would dress up and try to win the costume contest."
Their themes included "Save the Earth," "Three Blind Mice," and one year they even went as characters from "The Simpsons."
He also appreciated the special events held at city hall and fondly remembers the street dances held in his youth.
"After Camille and I got married in Florida, we did an event at the City Hall for the Minnesota crowd that couldn't make it to the wedding," said Hepola, noting that the location was based off of those memories.
Hepola mentioned that he was inspired by his uncle, Dean Simpson, who was a longtime mayor of New York Mills from 1979 to 2002 and also held a seat in the Minnesota House of Representatives from 2002 to 2008.
"My uncle Dean has always been one of my heros," Hepola explained. "I talked to Dean last summer about running for governor and he was so encouraging. He has always been an inspiration for me."
Another memory that Hepola holds near-and-dear to his heart, is one of his grandma, Frances Hepola, who lived in New York Mills until her passing in 2006.
"I have a very vivid memory of my grandma's house, turning around a corner there was a bulletin board full of newspaper clippings with stories about the good things people had done in the community," he said. "She said to me 'Just remember, when you're in the newspaper when you get older, make sure it is for something good and not for something bad.'"
Hepola has made an appearance on the front page of many a newspaper (and television screen) and he tries his best to live by his grandmother's wisdom.
"As a journalist, my whole goal was to tell people's stories, listen, and empower. We were gathering each side of every issue." 

Cory Hepola on his career as a journalist
He went on to say that as a journalist, "you work for the greater good of everybody."
Despite criticism from the Minnesota Democratic-Farmer-Labor Party regarding him as a "spoiler" and a "celebrity vanity candidate," Hepola said that this was the right descision and is confident that he will win the election.
"I think the spoiler comment is a bit dismissive," he said. "I'm going to earn my votes. We are going to go out there and meet people where they're at. We are going to win in November and unite the state. I will have to work harder, but I have always worked harder. That's how I have been shaped through growing up in Otter Tail County. There's a better way and I'm going to prove it."
Hepola hasn't always been so sure of this idea, but said that he now holds total confidence in his abilities.
"Three years ago I turned to my wife, Camille, and said 'I feel called to public service,'" he said. "She was so supportive. It slowly grew from there."
Hepola also mentioned that, at first, he was unsure and wanted someone to talk him out of his decision to run. Instead, he met only full support from his family.
"It's a leap of faith," he said. "I couldn't say no. I would have regretted it. For me, this is not a job, it is a calling."
While the gubernatorial candidate currently resides in the Twin Cities, he still calls this area of the state home. He places a lot of value in the helping-mentality of small-town Minnesota.
"People see the actions, they see how you live your life—you live by those morals everyday," said Hepola.
Having neighbors always willing to lend a hand and help in one's time of need stuck with him.
"Those are the values I took with me—we're in this together. If you're putting others before yourself, you're making the world a better place. I'm in a position to do that, so I am going to do that."


Cory Hepola on the values he learned from his roots in Otter Tail County
One of the shared commonalities between rural and metro areas is the importance of family and community. Hepola shared this importance and stresses his gratitude towards his upbringing.
"I won the lottery with my family," he said. "My parents are number one. They are my support system and have been since I was little. They taught me the qualities of perserverance, creativity, and ingenuity. There are others that I look up to, but none more than my mom and dad. The support from them never ends—I just love them so much."
Hepola told that his campaign team is made up of family members, noting that he and his father even came up with the logo together. He also mentioned his grandma's initial reaction to his announcement.
"When I told my grandma, she showed me total support and love," he glowed. Hepola's grandmother, Bernice Anderson, resides in New York Mills and endorsed her grandson wholeheartedly.
"Cory's faith is strong and he has excellent morals," she said.
Hepola shared that his faith shapes his choices and decision-making process.
"I would not be here today without my spirituality. It's the rock behind me and my family," he said. "I'm in constant communication. I'm always listening."
As Hepola begins his gubernatorial campaign, he promises to speak more about his platform and policies in the coming weeks.