Klinnert wraps up 45th year as official
News | Published on March 8, 2022 at 5:44pm GMT+0000 | Author: chadkoenen
0
NYM native shares love of basketball with new generation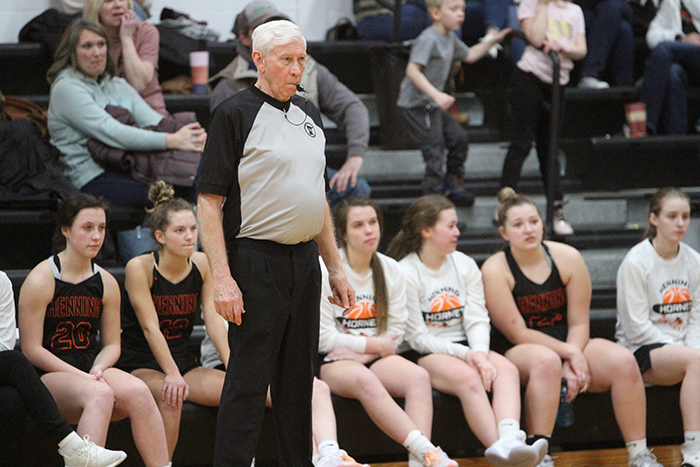 By Barbie Porter
Editor, Frazee-Vergas Forum
As the winter sports season nears completion, John Klinnert is concluding his 45th year as a referee.
Whether he is standing on the football field or basketball court, the 1965 New York Mills graduate is proud to be in the thick of things when make or break calls are made at an athletic event.
"I keep returning (to referee) for the love of the game," he said. "That, and I look at it as a way to get paid for working out."
Sports has also been a positive influence for Klinnert throughout his life. The former five-sport athlete for NY Mills (football, cross country, basketball, track and baseball) recalled how the coaches taught him about hard-work, perseverance and more. The biggest lesson he carried with him through his career as an educator, coach, business owner and referee, has to do with working with a variety of personalities.
He explained no matter where one goes in life they will need to understand how to work as a team, even with those who have different views of the world. As a referee, the old lesson has been used time and time again.  
Klinnert's referee career began in 1977
Klinnert began his referee career in 1977. The sports have seen some modifications, such as additions of a three-point line in basketball or stronger, and more skilled student-athletes all around as kids began specializing in specific sports. While little changes happened, one thing always remained constant.
"We need referees or else it is just phy. ed," Klinnert said, noting in the referee circuit he serves there was only one game when there were not enough officials.
This year, he worked with six new officials on their first year. He noted if a rookie sticks with the job for three years, then it is a good indication they will be in the black and white stripes for years to come.
"I did work with one first year official who already quit. It is not for everyone."

John Klinnert on reffing
Being a referee may put one in the line of fire from a passionate coach or fan. Klinnert said those instances happen, but most coaches and fans understand the vast majority of referees try to do the best they can.
"I think it helps in those situations when you've been a coach," he said. "For a lot of coaches, that is their livelihood. They work hard all week and put in time at practice, so they come to the game to win. We owe it to them to do the best job we can and work hard."
When passionate words began to boil over from the bench onto the court, Klinnert said empathy allows him to understand their point of view and experience has taught him how to handle it.
"Being a ref is about being a good communicator," he said. "I let them know I will watch for it (their concern) and let them know I understand and hear them. We won't always agree, but you can never take it personal."
Another consideration for potential referees is travel time. Klinnert said the area he serves stretches the state of Minnesota, from Bemidji to St. Cloud. And, referees are assigned a job, so there is no picking events to cover.
While they are paid for each game, Klinnert said he earmarks the funds for fun expenditures, such as grandchildren birthdays or taking his wife out for a night on the town.
"If you're going into refereeing to pay for your mortgage, you're going in it for the wrong reasons."

John Klinnert about reffing
Klinnert has no plans on concluding his referee career. In fact, he hopes to keep the job as part of his life as long as he is healthy. When retirement day comes, he will have a log of every game he has taken the hardwood for as a referee.
"I kept track since my first year for basketball, not football," he said. "Then I just continued. I've worked about 3,000 basketball games and I'd guess 500 football games."
His dedication to the job earned him a reputation of having a keen eye and being fair. Eventually, that led him to being a referee at playoffs and state tournaments.
"Overall, in football and basketball, I've worked 39 high school and college state tournaments," he said. "It is a good feeling when you get called, and disappointed when you don't. There are a lot of good officials."
When asked what makes a good official, aside from accurate calls, Klinnert was quick to respond. He explained in all of his years being a referee, he never enters a game with a less than excited attitude. 
"To those kids, that is the biggest game in the state of Minnesota that night," he said. "Going with that mentality, shows you are having fun too and that carries over."